An Amazing Audio Books Batch Converter
Are you tired of the DRM protection of purchased audio books? How can you get rid of it? Well, commonly speaking, there are two legal methods to liberate your purchased audio books from their incompatible state and listen to them on any device. First is burning an audio book to CD, and then rip it back to MP3 or AAC file. But this method needs a lot of blank discs, and you need to insert blank disc several times while burning. Second is using a recording software to record your audio book while playing it. It's really time consuming to wait for a 9-hour-long audio book.
A practical and easy-to-use Mac audio books converter comes to rescue you! Macsome Audio Book Converter can batch convert DRM protected and unprotected audio books which can be played on iTunes to MP3, AAC on Mac. In addition, it also can split audio books up into small pieced with ID tags preserved.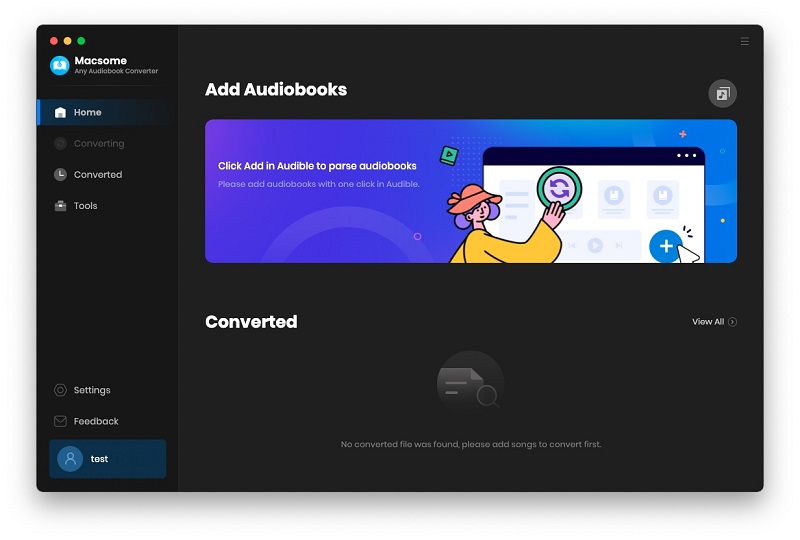 ---
Batch convert audio books to MP3, AAC on Mac
Macsome Audio Book Converter can convert audio books to MP3, AAC on Mac by batch, batch convert purchased AA files to MP3, AAC, which can save us more time and make the operation much faster and easier.
When Macsome Audio Book Converter batch converts audio books or purchased AA files to MP3, AAC, the conversion is 5X speed fast, and output can be CD quality. In addition, the ID Tags will be preserved in output MP3 or AAC files while converting. And the recording procedure is silent.
Of course, the premise of conversion is adding audio books to the file list. And the following tips is very useful for adding audio files.
Tips: When you Add files, you can choose to coordinate hot key Ctrl or Shift to select more audio files.
Split audio books quickly and easily
Macsome Audio Book Converter builds in a audio splitter which is used to split a large audio book up into smaller pieces to fit your MP3. After splitting, the ID Tags will be preserved, too.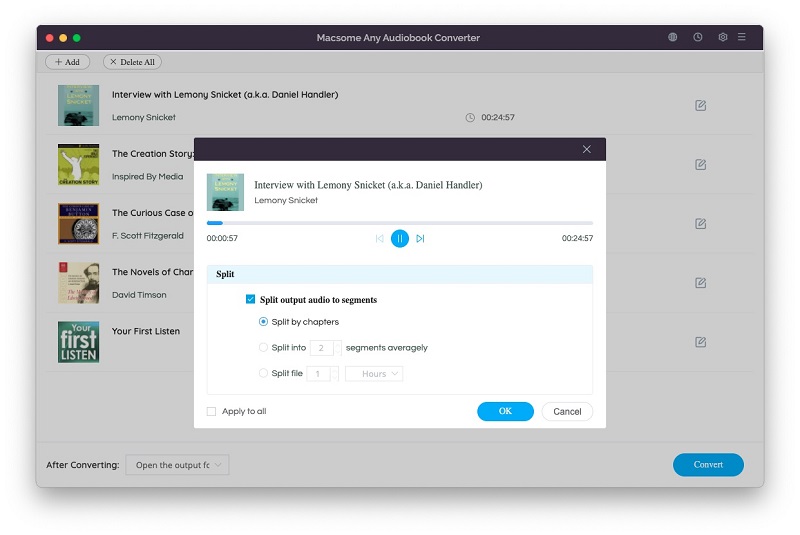 Products

iTunesConverter


Convert any iTunes format to MP3,AAC. Fast & CD quality

AudioRecorder


Record any audio on Mac

AudioBookConverter
Convert audio books to MP3,AAC. 5X speed fast

AudioEditor Free!


Loseless audio editing freeware

AudioSplitter Free!
Cut big audio file to small pieces