Tutorial of AudioBookConverter
Select audio book to convert
Set Preferences of AudioBookConverter
Start Conversion
Split big audio files
STEP 1: Select audio book to convert
Click Add button, all the audiobook in your iTunes Library of Audio Book will be listed. You could select some of them, or search audiobooks according the information such as All, Artist, Album, Composer, Song in the Search box, then select your desired audiobooks,click OK .
STEP 2: Set Preferences of AudioBookConverter
You may set the preference of your output files, by click menu "Audio Book Converter -> Preferences...".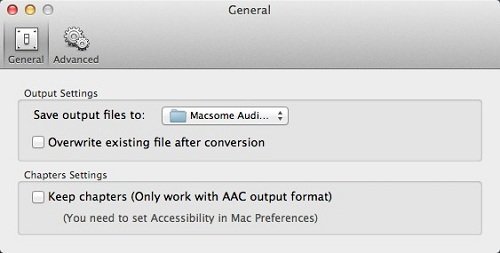 Save output files to: You can save the output files to default document Audiobooks, and choose Custom to browse the location as you like.
Cover existing file after converting: Check it, when you convert an audiobook file once again, the new converted file will conver the existing converted file, plesae be cautious.
Remove original file after split: Check it, you will lose the source audiobook after splitting, but before convertered it is exist, plesae be cautious.
Automatically check update on starup: Check it, you will automatically check update on starup every time, plesae choose it as like.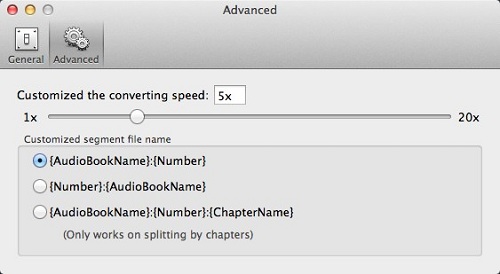 Output File Format: You can choose Custom, Same as source, For spoken word, For streaming music to set the output file format, and get the best quality. As well you can customize the Format, Bitrate etc.
STEP 3: Start Conversion
Make sure all your desired audiobooks in the filelist, then press Convert button or click the menue Control->Start Converting. If you want stop converting, please click Stop.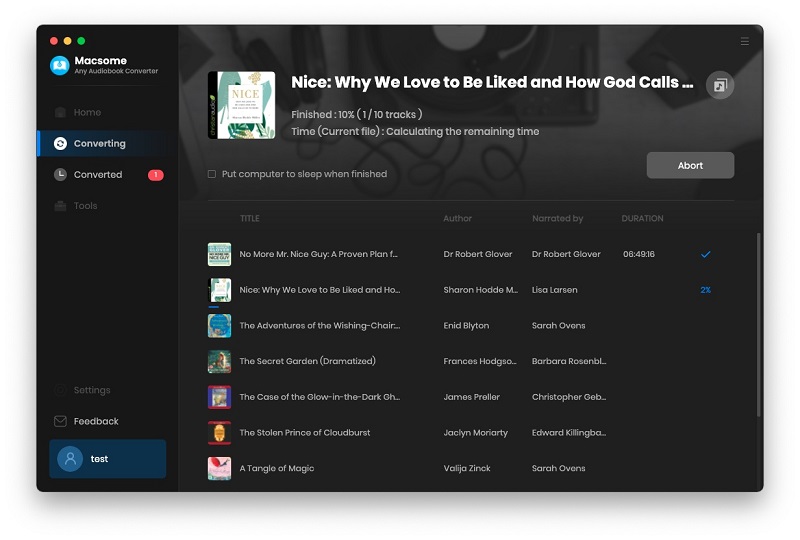 When converting finish, the context menu brings you more convenience. Right-click your mouse on an audio book on the list, the context menu will popup.
Remove: Remove one audiobook in filelist.
Remove All: Remove all audiobooks in filelist.
Show in Finder: Show the selected audiobook in finder.
Show Inspector: Show the audiobook information such as Summary, Tags, Artwork in a popup window, as well edit the tags in the window.
Split big audio files
1) Set the Split settings in Preferences as you desired.
2) Select your desired audiobooks in the filelist, press Split button.
3) Enter split interval, it will be split to your desired serval parts.
Products

iTunesConverter


Convert any iTunes format to MP3,AAC. Fast & CD quality

AudioRecorder


Record any audio on Mac

AudioBookConverter
Convert audio books to MP3,AAC. 5X speed fast

AudioEditor Free!


Loseless audio editing freeware

AudioSplitter Free!
Cut big audio file to small pieces