How to rip audio book to MP3
Why would people want to rip .aa to MP3?
The simple answer would be because you paid for it and wish to listen to it however you want.
People may just want to listen to them on their chosen player, having no intention of giving it to other people. And when people want to listen to them in the car, they could only burn audio book on CDs. Because of the CD standard, you may need 8 CDs for a 160M audio book file.
People couldn't make it future proof. When Audible.com close down or you format my computer and can't get online to enter your username and password.
If you rip your audio books into MP3 files, all the problems doesn't exist any more.
Step 1: Download and install Macsome AudiobookConverter
You may download it from our download page, or click here. Then install it. Before you bought a license, you could only convert 3 minutes for each audio books your want to convert.
Step 2: Select audio books you want to convert
Click Add button, search audiobooks according the information such as All, Artist, Album, Composer, Song in the Search box. Then select aduio books you want to convert, click OK button. You may select more than one audio books, or just select all.
Step 3: Customize preferece settings.
The following is an example of settings. You may change the setting as your prefer.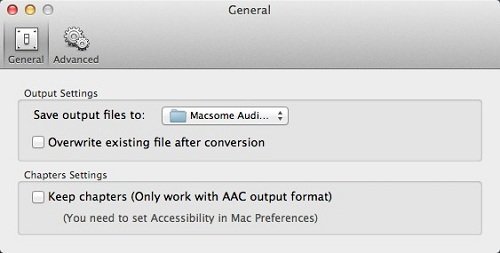 Step 4: Start converting
Press Convert button or click the menu Control->Start Converting.
Step 5: Split the output MP3 files into several small ones, if you need.
Select the Bible audiobook in the filelist, press Split button. Then enter seconds split interval, it will be split to several parts.
Step 6: Edit tags, if you need.
Right click on a output file on the list, a menu will popup. Click on menu itme Show Inspector, then you can edit the tags as you like in the popup window. Or, just click the button Inspector to open the IDTags editing window.
Products

iTunesConverter


Convert any iTunes format to MP3,AAC. Fast & CD quality

AudioRecorder


Record any audio on Mac

AudioBookConverter
Convert audio books to MP3,AAC. 5X speed fast

AudioEditor Free!


Loseless audio editing freeware

AudioSplitter Free!
Cut big audio file to small pieces