Macsome Audio Recorder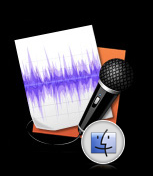 Record audio you can hear on Mac OS X, and encode to MP3 or AAC.
It records from applications like Skype, iTunes, or DVD Player. It also records from microphones and other hardware.
Macsome AudioRecorder customize Recording settings to improve audio quality from any application, set time recording, save the recording directly into MP3, AAC files, burn recorded files to MP3 CDs, and audio CDs.
You may also record Multiple application synchronously. The built-in silence monitor will help detect the muted sections and control recording the sections or not. Users can save the recording into a new file automatically by splitting, and much more - Macsome Audio Recorder does it.
---
Main Features
Recording any audio on Mac
Macsome Audio Recorder can record from two different types of sources, PC devices and applications. Click below examples for help with:
Here is the detail steps of recording audio on Mac, including:
Record Audio Flow From Line In
Record iTunes Radio Program
Record Voice Chat
Record Audio From DVD
Record Audio Flow From Safari
Options for recording
You may record audios to MP3 or AAC file format. And there are many options for output files, including file format, file size, file name, audio quality, etc.
You may add ID tags for the recorded files for easy searching & management.
Manage recorded audio files
Easily search & manage files in RecordBin. Split a big recorded audio file to small pieces. Burn audio files from RecordBin directly to CD disc.
You may also update ID Tags for recorded audio files.
---
Powerful Features
Recording from applications and hardware
Record input/source from a microphone, streaming audio from the Internet, external input devices (CDs, LP, music cassettes, phone line) as well as other applications like iTunes, DVD Player.
Multiple recording process synchronously
You can add Multiple applications and PC devices synchronously
End recording duration / file size
It enables you to stop recording automatically after a desired duration or file size.
Record to AAC and Mp3
The recorded audio files can be saved to AAC, MP3 files.
Split recorded files
You can split recording files by setting or by split button, to split a big file to small pieces!
Silence Monitor
Pause recoding during silence and start a new recording when the sound starts again. This option is especially useful when recording streaming audio and net congestion temporarily stops the stream.
Record Bin for file organization and previewing
The Record Bin is used for organizing and post-processing recorded files.
ID Tags support
The ID Tags setting allows you to add information tags to MP3, AAC files or CD Tracks. When you split a big book file to several small files, the ID Tags will be preserved, too.
Built-in CD burning
You can burn your recorded audio files to CDs.
---
System Requirements
Mac OS X 10.5, 10.6, 10.7
At least 512M physical RAM
Products

iTunesConverter


Convert any iTunes format to MP3,AAC. Fast & CD quality

AudioRecorder


Record any audio on Mac

AudioBookConverter
Convert audio books to MP3,AAC. 5X speed fast

AudioEditor Free!


Loseless audio editing freeware

AudioSplitter Free!
Cut big audio file to small pieces