Convert .AA, M4A, M4B to MP3, AAC or WAV Easily
Audiobooks from Audible.com or iTunes Store bring us wonderful audio enjoyment, while at the same time imposing some unexpected troubles on us caused by their DRM protection. For example, the purchased audio books of .AA cannot be played on Sony Walkman, Blackberry or Zune, etc.
Now what you need is an Audiobook Converter which can make a help of converting the audiobooks to MP3 or other popular audio formats.
Macsome Audio Book Converter is such an excellent Audiobook Converter for Mac users, excelling at converting DRM or DRM-free audiobooks to MP3, AAC or WAV format, with ID tags preserved. What's more, if you are bothered by your audiobooks' large sizes, you can split audiobooks into small sizes with this Audiobook Converter, and the splitting time interval is all up to you. Besides, you will shocked by the fast converting or splitting speed. Just wait a minute, you can get your satisfactory audiobooks.
Windows Version Download Mac Version Download
Free audiobooks to more portable audio player
Macsome Audio Book Converter makes it possible to enjoy audiobooks of .AA, M4B or M4A format on your Zune, Blackberry, Sony Walkman, Cell-phones, or other popular portable audio players. Just convert audiobooks to MP3, AAC, or WAV - a more popular audio format, and you can enjoy audiobooks everywhere.
This software is designed very user-friendly, and its intuitive interface will well show you how to easy operate this software. The interface is as follows: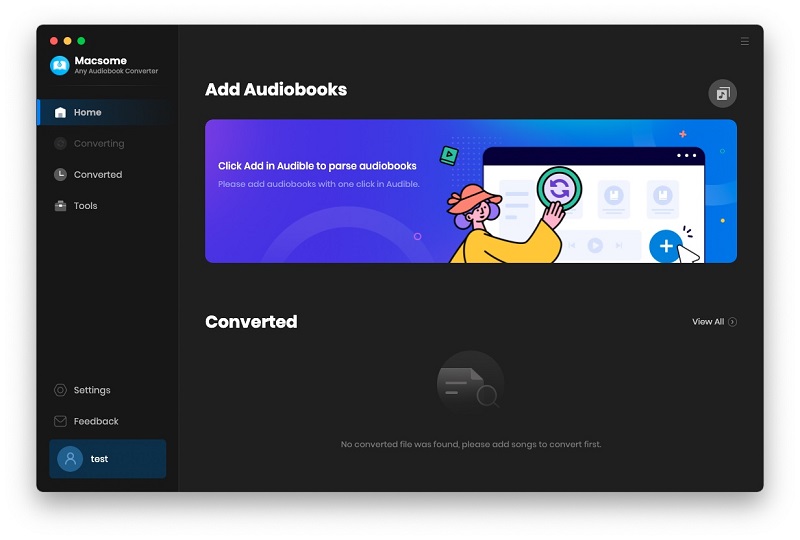 Converting .AA to MP3, M4B to MP3, M4A to MP3, W4A to WAV and others are easy and simple with Macsome Audio Book Converter.
Split audiobooks for better enjoying audiobooks
Usually, the audiobooks have large sizes which make inconvenient for us to play them. For example, it will take some time to find where we want to listen to. With this Audiobook Converter, everything becomes easy. You just split the large audiobook into a couple of small ones, and to find your favorite part of audiobook will becomes quite easy, won't it?
The operation is quite simple. Before the conversion, you just press Split button, text the time interval you like in the pop up dialog, and click the OK button.
When press Split button, a dialog as below will pop up. Here you can determine how many parts you wish to split the audiobook by filling the time interval of each part in the text box.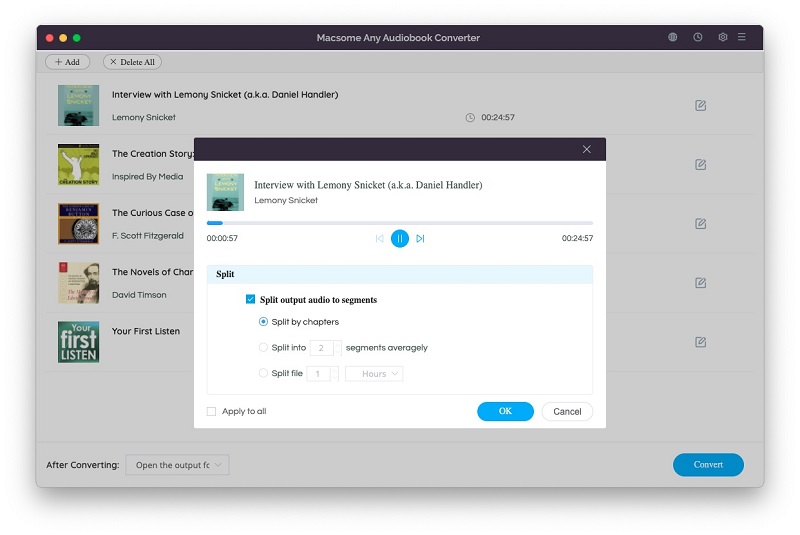 This software is for audiobook splitting only. If you want to split music, songs or other audio files, you can apply Audio Splitter, a freeware which is exclusively for you to split audio files.
Download AudioBook Converter for free:
Windows Version Download Mac Version Download Mac Version Download