Most of the audio books purchased from online distributors, like iTunes Store and Audible.com, are protected by DRM (Digital Rights Management), which restricts consumers from doing reasonable things with the audio books they own. Hence you need to convert those audio book files to a common audio format like MP3, no matter your audio books are DRM protected or not. An MP3 file can be played on almost all media players or devices nowadays, so if you convert audio books to MP3 successfully, you will get the real freedom.
Macsome Audio Book Converter is such a converter which can help you convert iTunes audio books to MP3 on Mac.
Highlights of Macsome Audio Book Converter
Convert Audible AA to MP3 to play anywhere
Convert any audio book which can play on iTunes
Customized output audio format
Keep ID tags information
Very fast big file splitter inside to split iTunes audio books
Output file can be CD quality
Keep chapters of audiobooks (just for AAC format as output)
Easy to use
Windows Version Download Mac Version Download
Convert iTunes audio books to MP3, AAC on Mac
Many consumers know how to burn protected audio books in digital format to CD first then use iTunes to rip it later. However, this method wastes CDs and cannot assure the sound quality of converted MP3, AAC, since physical intermedia is used. Moreover, burning and ripping take a lot of invaluable time.
Macsome Audio Book Converter utilizes virtual CD burning technology to simulate the burning and ripping process. With this advanced audio format converting mechanism, Macsome Audio Book Converter excellently converts iTunes audio books to MP3 or AAC. During the converting process, this iTunes audio books converter encodes MP3, and AAC files with outstanding sound quality, and allows you to strip off the DRM protection, so you can listen to your legally purchased audio books however you'd like.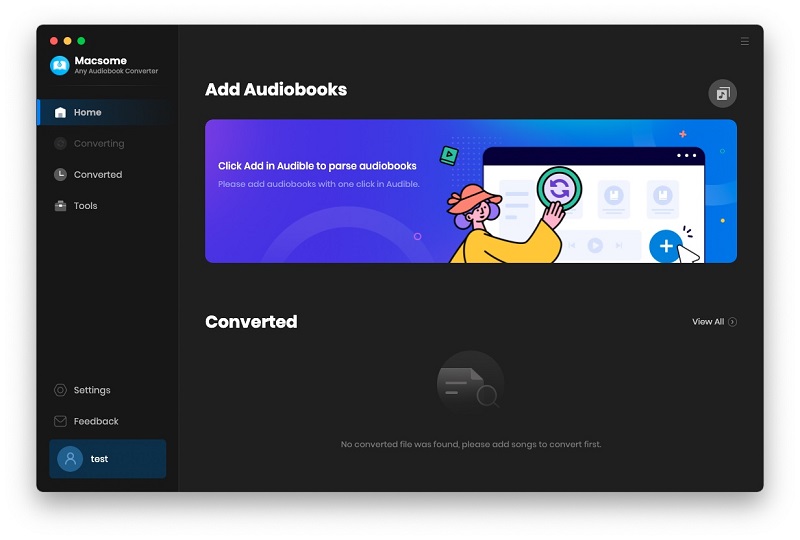 Reference of audio book
An audio book is a recording that is primarily spoken word. It is often based on a recording of commercial printed material. It is not necessarily an exact audio version of a book.
Spoken audio was available in school and public libraries and to a lesser extent in music shops. It was not until the 1980s that there began a concerted effort to attract book retailers. As publishers entered the field of spoken-word publishing, the transition to book retailers carrying audio books became commonplace on bookshelves rather than in separate displays.
Download AudioBook Converter for free:
Windows Version Download Mac Version Download