iTunes audiobooks, including .AA audiobooks and M4B audiobooks, are charactered by high sound quality which really brings us an aural delight. we enjoy audiobooks which color our daily life. We listen to them when we take sports, walk the dog, drive the car, clean clothes, and so on. Audiobooks provides us a special way to read and learn something, and to relax ourselves. However, it will be better if we can free from DRM protection of iTunes audiobooks, thus we can play them everywhere we want, and share them with others at will.
Nothing is impossible. Macsome Audio Book Converter can do us a favor. This software is designed exclusively for us to record iTunes audiobooks, and convert the audiobooks to MP3, AAC or WAV format, thus we can enjoy them freely without any limitation.
Windows Version Download Mac Version Download Mac Version Download
Legally Record iTunes audiobooks
Due to DRM protection, we can only play our favorite iTunes audiobooks on some designate audio players, like Apple iPod, Creative Zen, SanDisk Sansa, and the Amazon Kindle, and are restricted from sharing them with our friends freely.
To bypass DRM is not to break it, but to remove it in a peaceful manner.
Macsome Audio Book Converter records iTunes audiobooks by recording them in the background silently, while at the same time saving the recorded audiobooks in a more popular format, like MP3, AAC, or WAV. You see, the whole progress is completely legal.
iTunes audiobooks to MP3
MP3 is a more compatible audio format with nearly all portable audio players. If we can convert .AA audiobooks to MP3, or .M4B audiobooks to MP3, that would be perfect. Then, we can enjoy our audiobooks wherever we want, and share favorite audiobooks with our friends at will.
To convert iTunes audiobooks to MP3 is just a few mouse clicks away for Macsome Audio Book Converter. The software excels at converting iTunes audiobooks to MP3. Just import iTunes audiobooks to its file list, and with its Convert function, just in a minute, we can get MP3 audiobooks.
The picture below shows us how simple to convert iTunes aduiobooks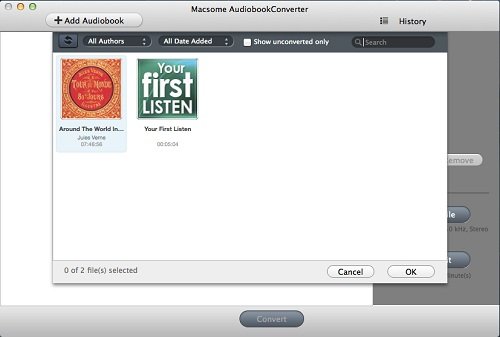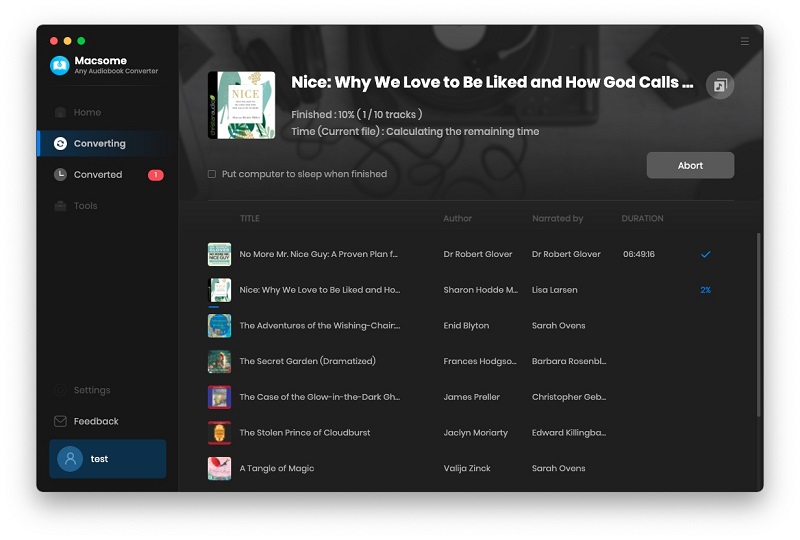 iTunes audiobooks to AAC
The software also boasts converting iTunes audiobooks to AAC format, with the process similar to converting iTunes audiobook to MP3. The only difference is that AAC output format supports us keeping the original chapters of iTunes audiobooks or re-splitting the audiobooks for new chapters, while MP3 or WAV output format only supports splitting the converted audiobooks, which also means we cannot keep the original chapters of the audiobooks.
iTunes audiobooks to WAV
Same as the two output formats above, the software is able to convert iTunes audiobooks to WAV format.
One more thing is that this software can help you convert M4A audiobooks to WAV. What you need to do is to import your M4A audiobooks to iTunes Audiobooks library, and the software will do all the rest for you.

The final decision is yours. Just convert iTunes audiobooks to MP3, AAC or WAV according to your need. Try Macsome Audio Book Converter, and it will not let you down.
Download AudioBook Converter for free:
Windows Version Download Mac Version Download