M4A audiobooks features high sound quality, which brings us an excellent aural delight. However, what this kind of audiobooks give us are not all good experiences. Some M4A audiobooks are DRM protected, which not only limits us to play the audiobooks on some designate portable audio players, like Apple devices, but also makes us disable to share our favorite audiobooks with friends at will. Converting M4A to WAV is a way for us to get rid of the DRM problems.
Macsome Audio Book Converter is an excellent M4A to WAV converter boasting converting audiobooks from M4A to WAV format easily and quickly. The software helps us bypass M4A DRM and convert M4A to WAV. What's more, after the conversion, we can re-chapter the audiobooks to our personal preference.
Windows Version Download Mac Version Download
Keep DRM problems of M4A far away form us
Macsome Audio Book Converter helps us record M4A audiobooks in the background silently, while at the same time saving the converted audiobooks in WAV format. In this way, all the problems are kept away from us.
So, with the software, it is possible and easy to play M4A audiobooks in Zune, BlackBerry, Sony Walkman, Mobile Phone and other popular portable audio players, and of course, we can feel free to share favorite audiobooks with our friends without any limitation. How cool, isn't it?
Easy to use and high WAV sound quality
Though the output WAV audiobooks comes from M4A, their sound quality are nearly the same as that of the original M4A, which attributes to the excellent quality of the software. So, there is no need to worry that the conversion will ruin the sound quality.
Besides, this software is designed quite user-friendly, and we can well handle the software just according to the simple instructions on its main interface.
The main interface of Macsome Audio Book Converter goes as follows: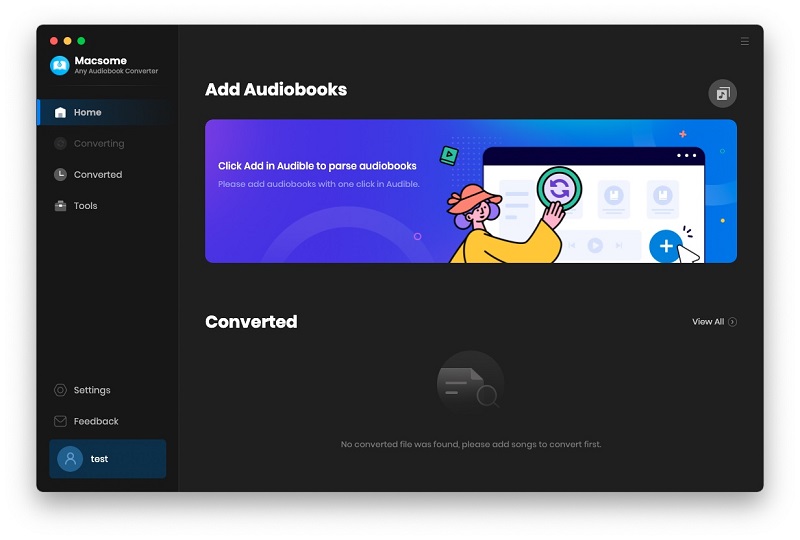 Split the converted WAV into new chapters
Another big bonus from applying Macsome Audio Book Converter is that we can split the converted WAV audiobooks into new chapters at will. The time interval of each chapter is totally up to us. By splitting the audiobook into small parts, to find an exact place where we want to enjoy again has become quite easy.
Actually, Macsome Audio Book Converter can do more than what mentioned above, such as we can convert Audible .AA to MP3, M4A to MP3, M4B to MP3, etc. It's really an all-in-one software which is exclusively for us to deal with audiobooks of every kind, no matter the audiobook is DRM .AA from Audible.com, or M4B and M4A form iTunes Store.
Once you touch it, you will never let it go. Macsome Audio Book Converter will not let you down. Why not have a try?
Download AudioBook Converter for free:
Windows Version Download Mac Version Download