Recording in 5X speed fast, and encoding while recording, this make Macsome AudioBook Converter being a legal tool to quickly convert any audio book to MP3 or AAC files, to play anywhere or any MP3 player.
Macsome Audiobook Converter is a powerful converter to convert any audio books which could be played on iTunes. The conversion is 5X speed fast, and output could be CD Quality. You may use it to convert .aa, Audible audio book you bought to MP3 or AAC format, to play them anywhere.
It support batch convert DRM protected or unprotected audio books to unprotected MP3 or AAC files with ID Tags preserved.
Macsome AudioBookConverter works with iTunes and sound recording technology to convert audio books. So it keeps the users on the legal side.
Windows Version Download Mac Version Download
How to change aa file to unprotected format
Do you ever want to listen to your Audible books on your Sony PSP or other portable MP3 player? Is there any way to get the books on your player?
There are two legal methods for liberating your Audible books from their incompatible state and listening to them on any device.
First is burning audio book to CD, then rip them back to MP3 or AAC files. But this need a lot of blank discs, and you need to insert blank disc several times while burning.
Second is using a recording software to record your audio book while playing it. It's really difficult to wait for an 9 hours long audio book.
Macsome AudioBook Converter record your AudioBook in 5X speed, and encoding to MP3 or AAC files while converting. So it's really fast.
Play audio books you purchased without limitation
The audio book you bought may only played on authorized computer, and you may only be able to authorize 5 computers.
You may want to play them on PSP, or cell phone, or Zune, etc. But they doesn't support .aa files.
You may want to split a big audio book to small ones, to fit your MP3 player.
Macsome AudioBookConverter does the job for you. After converted the audio book you bought into MP3 or unprotected AAC format, you may even split the output file into several small files.
Very Easy to Use</p>
Just as the screenshot below. You need only select the audio books you want to convert, then click "Convert".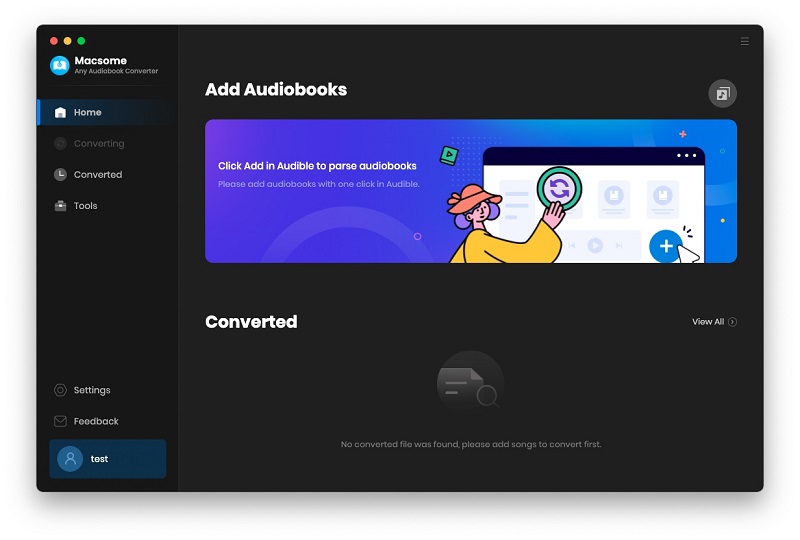 When you want to add audio books to converter, AudioBookConverter will list all the audio books on your iTunes. you may select them all, or some of them to convert.
Powerful Audible converter
No matter it's Audible audio book, or some other audio book, if you could play them on your iTunes, AudibleBookConverter could convert them to MP3 or AAC files for you. If you have several audio books to convert, you may batch convert them with it.
Very Easy to Install or Uninstall
Macsome AudioBookConverter won't install any virtual drive on your Mac, and no need extra hardware. There is no trick needed to install or uninstall it.
Download AudioBook Converter for free:
Windows Version Download Mac Version Download