Many ones may have the doubt: "Is there a free music editing software that can really get the job done?"
I'm just one of them. Somewhile i'm quite suspicious whether the free music editing program can perform similar as some of the established, well known sound editors. I have tried some free music editing programs and find one to that suits oneself - Macsome Audio Editor.
Macome Audio Editor Overview:
Macsome Audio Editor is regarded as a powerful, easy-to-use and free music editing program, which is designed and released by Macsome Inc.
Import and Export of Audio files:
Support importing MP3, WAV, M4A formats;
Exports most popular file formats especially mp3.
Main functions of this free music editing program:
Quick splits to multiple files
Manual insert split points wherever you like, then save to get multiple files.
Remove bits from audio file
To cut out ads or other bits from audio file, just highlight the content and click Remove.
Fade away
Fade audio in and out to create pleasing transitions.
Precise splits
Move split points by dragging exactly where you like, or add by timestamp
Edit ID3 Tag Info
Edit Artist, Title, Album and other metadata tags for MP3 or AAC format.
Save part of audio Select part of audio, then save to file.
Adjust volumn Select part of audio, then adjust volumn.
Freeware Free to use software, free to upgrade.
Download Free Audio Editor:
How to use this free music editing program
This software is very easy to use, with the intuitive interface, you can edit your music quickly.
1. Download, install and run Macsome Audio Editor.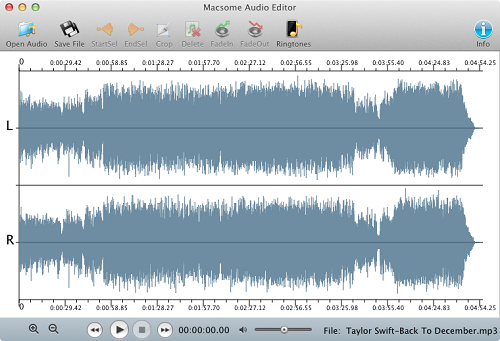 2: Select Audio
Click Open to add the music you want to edit in main window.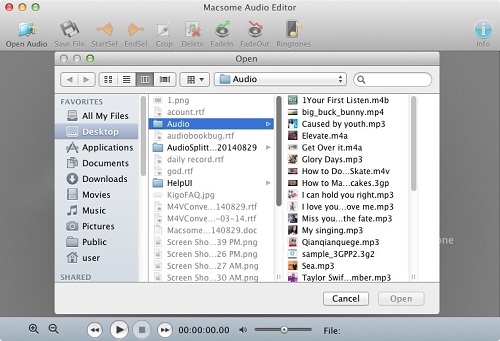 And then click Play button, and now press Start button to start selecting automatically. If you want to end selecting, press the End button. This selected audio can then be cropped around, delete, or faded ect.
3. Crop & delete audio After you select the part of the music, click Crop to leave only the selected music part, and then if there is still some segment you want to remove, select and then click Del button.
4. Fade selected audio After opening the music, select the the beginning and click "Fadein" And you may listen the volume to the end of the selection ramping up.
If you want to make the end of the music ramp down, as the above, select the end, and click Fadeout button.
5. Adjust selected audio Volume Open the music, and then select the part you want, and then click Increa or Decrea to adjust the selected audio volume.
Tips: To adjust the zoom level of the main waveform, use the zoom slider. Clicking the "-" or the "+" buttons on the end will zoom out or in by one step, respectively.
In addition to the above mentioned, Macsome Audio Editor also supports ID Tags adding and editing, Setting audio and saving. You can take a try.
Download Free Audio Editor: