Macsome AudioRecorder is sold as keycode. So you may have to download the latest trial version from our website, install it. Before you have bought and entered the registration information, you could record 3 minutes each time.
After you have received the registration information from us, please do as the following steps to register your AudioRecorder.
Step1: Run Macsome AudioRecorder. First you should click the Macsome Audio Recorder menu, and then select the Registration... option to open register window.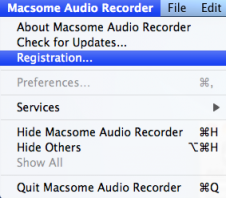 Step 2: Please input User ID and Register key in register window. You may use command+c to copy and command+v to paste in the register window.
Notice:
1. We'll send you User ID and Register Key after your payment finished. If you have not paid, please click Buy online to purchase.
2. Please enter User ID and Register key completely and correctly, then click OK button. Or, an error message will pop up as below:
Step 3: Afer registration finished, your Macsome AudioRecorder is full version without limitation.
Download Audio Recorder for Mac: