There are kinds of methods of recording audio on Mac, here we detailed show how to record audio on Mac with the help of Macsome Audio Recorder.
Overview of Macsome Audio Recorder
Macsome Audio Recorder is a powerful and useful audio recorder for users on Mac OS X. With it, you can easily record from applications like Skype, iTunes, DVD Player and from microphones or other hardwares. That is, when you hear it, you can record it.
This audio recording software also can customize Recording settings to improve audio quality from any application, set recording time, save the recording directly into MP3 or AAC files, burn recorded files to MP3 CDs, and audio CDs.
Key features of Macsome Audio Recorder:
Record audio played on your computer with less quality loss

Save recorded files in mp3 or aac format with a range of options for output files.

Record from microphone input;

Record Streaming audio;

Support all popular media players (eg. Windows Media Player, Real Audio, QuickTime) and softphones (eg. Skype, eyeBeam, Express Talk) recording.

Set record time;

Split recorded files;

Silence Monitor;

Record Bin for file organization and previewing;

ID tags editing.
Download Audio Recorder for Mac:
How to record audio on Mac with Macsome Audio Recorder
Macsome Audio Recorder can support recording from two different types of sources, PC devices and applications, eg you can record Audio Flow From Line In, record iTunes Radio Program, record Voice Chat, record Audio From DVD, record Audio Flow From Safari.
Take recording Voice Chat for example, the next steps show you how to record Program audio on Mac.
Step 1: To begin, you should click the button Add Application to add iChat AV application in the main window, and be sure to plug the microphone and headphones in.
Step 2: Select the icon, you can click the button Inspector, it will pop up the settings box, you can set General, Recording and Tags as you like.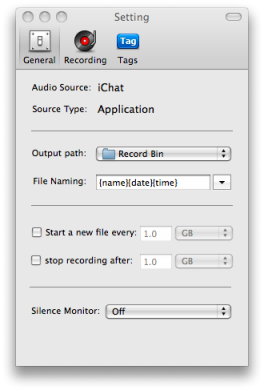 Tips:If you want to know more information about settings, you can enter in setting page.
The Tags setting allows you to add information tags to MP3, AAC files or CD Tracks.
Step 3:Please click the button Launch, iChat AV will be launched, after you entered the correct user name and password, iChat AV will be open.
Step 4:Then you can click the button Record, you will see the status is Record On.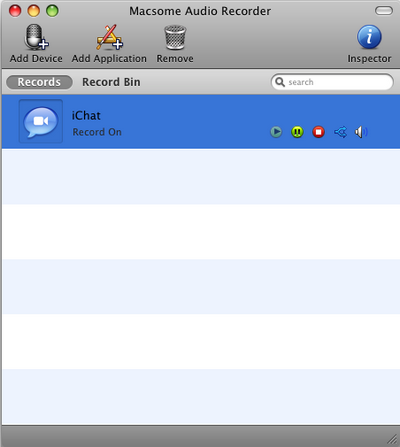 Tips: There is no fixed order between Step3 and Step4, but if you click the button Record first, there is no need to click the button Launch.
Step5:In iChat AV, please choose a friend you want to talk with, after a successful connection, the recording will be started when someone speak.
Tips: 1.When recording, you can click Spit, it will start a new recording.
2.If you want to record in quite environment, you can click mute.
Step6: When the recording is finished or you want it to stop , you can click the button Stop recording, then you will see the status is record off.
Step7:Then you may click Record Bin to view the information of the recording.
Tips: In Record Bin, you can click Reveal to see the output path of the recording, click Preview to listen the recording, click iTunes to open the recording in iTunes, click Burn to get a self-made CD.
When you use Macsome Audio Recorder to record iChat TV or other chatting application software, you will get a audio form two sides of you and your friend.
Download Audio Recorder for Mac: