Have you ever thought of splitting audio books into smaller pieces to listen to them more conveniently?
Have you ever intended to cut mp3 files to make your own music segments and set them as your cell phone ring tones?
Have you ever wondered which is the best freeware?
Great! You are just in the right position, for Macsome Audio Splitter will be your first choice and it possesses all above features. Read on please.
Macsome Audio Splitter is designed specially for Mac users and it is perfectly compatible with Mac OS X. This marvelous freeware will help you split unprotected mp3, aac (including m4a, m4b, aac) audio books into several smaller files only in a few seconds. Besides, you can create your own personalized cell phone ring tones with it. What's more, the ID tags of the audio files will be preserved and the sound quality will be kept untouched while splitting.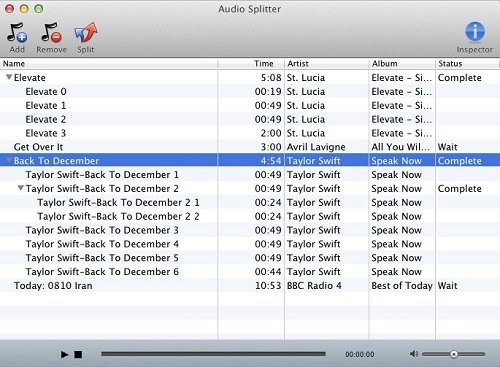 The above picture is the intuitive and user-friendly main interface of Macsome Audio Splitter. No matter you are a professional or a novice, you can certainly handle it at first sight, and you can get what you want with only a few mouse clicks away.
Download Audio Splitter for Mac:
Macsome Audio Splitter offers two ways to split audio files on Mac: by duration and by parts. In addition, it also provides two ways to save output files: AudioSplitter and Custom.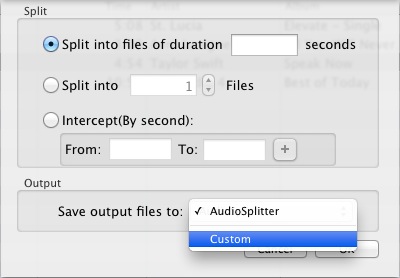 If the original audio file is very small or you want to design your own cell photo ring tones, you can split the file according to duration. What you need to do are just check the corresponding option and then input the exact duration.
If the audio file you want to cut is very large, then we suggest you to split it by parts. The operating steps are just the same as the above, check the second option and then enter your desired split parts.
As to the output, you can choose AudioSplitter to save the output files to default document, or you can click Custom to browse the location as you like.
After finishing all those settings, you can click OK button to apply to the selected audio file.
Edit ID tags
Macsome Audio Splitter can keep the ID tags of audio files preserved while splitting. Moreover, it also enables you to edit ID tags.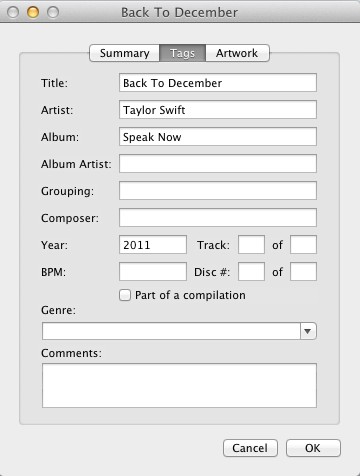 You can click Inspector button on the top-right of the main interface, or choose the audio file on the file list first and then right click it to choose Show Inspector, and then choose Tags to edit them as you like.
Download Audio Splitter for Mac: