Get 6 months free Spotify Premium with Samsung Galaxy Note 10/10+
2019 is the first year that Samsung released three Notes at the same time including Galaxy Note 10, Note 10+, and Note 10+ 5G. Even Samsung has made some controversial decisions, the three smartphones can also be known as the best smartphones Samsung has to offer right now.
The new Samsung Galaxy Note10 / 10+ / 10+ 5G has some changes from the Note 9 and so on. All of them have been removed the headphone jack, and are starting to phase out the microSD card. However, with gorgeous AMOLED displays, faster performance, and an S Pen that does more than ever before, these new Notes are certainly worth a look.
Since the 3.5mm headphone jack is no more with the Note 10, how to listen to Spotify music or watch videos on the phone? Please don't worry, you can still use wired headphones with the Note 10's USB-C port — either with the USB-C headphones Samsung includes in the box or with a 3.5mm to USB-C adapter.
If you are a music fan, the streaming Spotify music you won't want to miss. Do you know that Spotify and Samsung have joint promotion plan. Galaxy S10, S10+, S10e and Note 10/10+ owners who haven't had Premium before can get 6 months free. Any US/DC resident who is at least 18 years of age who purchased a new Samsung Galaxy S10+, S10 or S10e and Note 10/10+ between 2/21/19 and 12/31/19. No other Samsung devices are eligible for this promotion.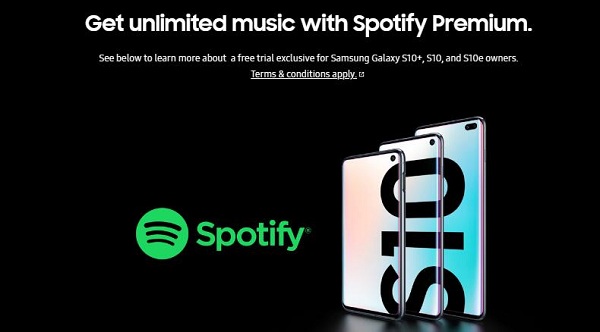 For Spotify comes preinstalled on all Samsung Galaxy S10/S10+,/S10e and Note 10/10+ devices, there is no need to install Spotify on your Samsung phone again.
Open the Spotify app preloaded on your Galaxy S10+, S10, or S10e.
Log in or create an account. If you're new to Spotify, you get the option to sign up for free.
Tap Premium . You'll be redirected to claim your free 6 months.
Tap GET PREMIUM and enter your payment details.
There's no initial charge, but your payment details are needed to confirm your location, eligibility, and to process payments after the offer period ends.
Note: When the 6 months are up, your Premium automatically continues at the standard rate. You can cancel Spotify anytime. If you want to stop Spotify Premium after the 6 months free, you have better cancel the auto pay for the next by yourself.
Still play downloaded Spotify songs on your Samsung Note 10/10+/10+ 5G
When you stop your Spotify Premium service, you may find that you can't play the downloaded Spotify music files, because Spotify Free account doesn't supports downloading for offline playing.
Want to still play the downloaded songs? You can use Spotify Audio Downloader to download the Spotify music songs or playlists on your computer and save them to MP3, AAC, FLAC, WAV, AIFF or ALAC format, then transfer the downloaded files to your phone. You can also use it to download the latest Podcasts on Spotify.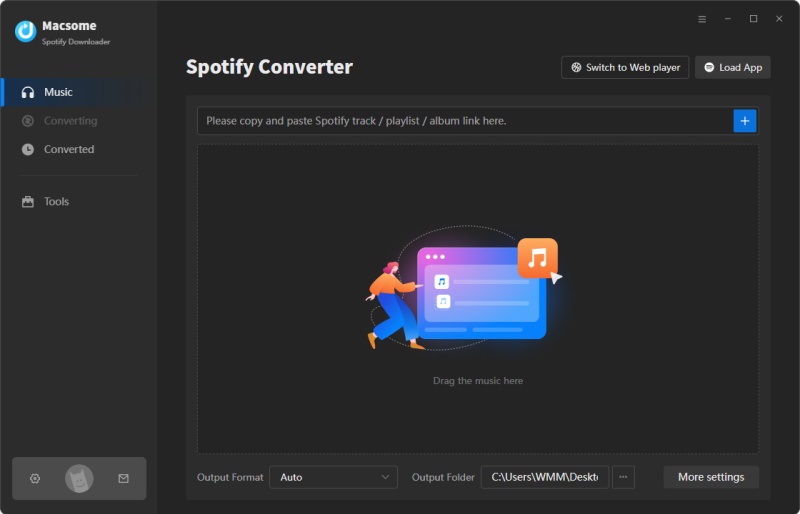 Conclusion
Until October, 2020, Samsung has released Glalaxy Note 20 5G, Note20 Ultra 5G, new Galaxy Z Phones and also Galaxy A42 5G. Now you will find the Spotify app preloaded on your Samsung Galaxy Note20 5G or Note20 5G Ultra, Galaxy S20 5G, S20+ 5G, S20 Ultra 5G, Galaxy Z Flip, Galaxy A51, or Galaxy A71 5G. Log in or create an account, and tap the 'Premium' tab on the bottom of your screen to get your first six months of Spotify Premium for free.
And then you can try Macsome Spotify Downloader, which can help you download music from Spotify and transfer Spotify songs to your Samsung phone. Once the Spotify Premium subscription expired, you can also keep the downloaded Spotify music and enjoy them on your Samsung phone.