Spotify brings us more streaming music enjoyment. You can play Spotify Music with your computer, web player, your iPhone or iPad or Android, and so on.
We can plainly know that unless you subscribe Spotify Premium service, you can enjoy the high quality Spotify Music, or you can only enjoy the 160kbit/s or less.
According your device, the audio quality of Spotify is different.
The desktop app's standard quality is Ogg Vorbis 160kbit/s. The premium subscribers can choose to switch on High quality streaming, which uses 320kbit/s:
The web player's standard quality is AAC 128kbit/s, and 256kbit/s for Premium.
On your iPhone or iPad or Android, you can choose from the following audio quality settings in the Ogg Vorbis format:
Low – Equivalent to approximately 24kbit/s.
Normal – Equivalent to approximately 96kbit/s.
High – Equivalent to approximately 160kbit/s.
Very high – Equivalent to approximately 320kbit/s.
Automatic - Dependent on your network connection.
On Chrome, the Standard quality for streaming Spotify with Chromecast is AAC 128kbit/s, and 256kbit/s for Premium.
Sometimes users like to play Spotify music by default, however this default one is not the best. They don't realize that they can play the high quality music with some audio settings.
In the following we will show you how to stream high quality music on Spotify.
How to set the audio quality on Mac/ Windows.
If you are Spotify Free users, you can only play the standard quality files with Ogg Vorbis 160kbit/s on desktop.
If you are Spotify premium subscribers, you can choose to switch on High quality streaming, which uses 320kbit/s on desktop.
The setting process is very simple, as following:
Step 1. Click the arrow in the top-right corner and select Settings.
Step 2. Under Music Quality, switch High quality streaming (Premium only) on, or off.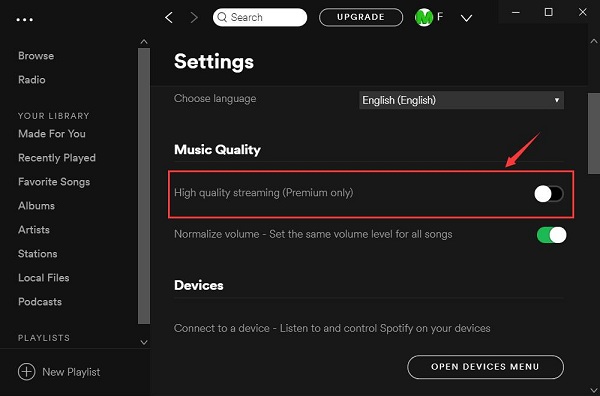 Tips to save the files to your PC for Spotify Free user
As Spotify Free users, they can't download music files for offline playing like Spotify Premium user. When you don't have internet, how to still playing Spotify music? If you download them, there is no need to worry about the internet or other accidents.
This tip will help Spotify Free users to backup their Spotify music playlist to pc / Mac or other devices.
Macsome Spotify Audio Converter Platinum is all-in-one Spotify music downloader, audio converter and Spotify DRM removal tool, which supports a simple solution to download Spotify music, playlists, Podcasts and so on, and convert these audio files to MP3, AAC, FLAC and WAV formats with ideal output quality and conversion speed.
What you need:
Spotify Free Account
A Mac or PC
Spotify Audio Converter Platinum
First, click to free download the latest version, and double click to Launch Spotify Audio Converter on Windows, and Spotify application will open automatically at the same time.
Windows Version Download Mac Version Download
Step 1. Add Spotify Music to the program
Click "+" icon to manually drag & drop any music file or playlist from Spotify into the program, then press "OK" button to add them.
Step 2. Choose the output Format
Click the setting button to select the output format among MP3, AAC, FLAC or WAV and choose output quality up to 320kbps.
Step 3. Start Conversion
Click the "Convert" button to begin the Spotify to MP3 conversion.
After conversion, you have downloaded these Spotify music files and backup them with high quality.
Get Spotify Audio Converter Platinum full version with $39.95:
Windows Version Download Mac Version Download