Some users felt regrettable, after they upgrade their iTunes from iTunes 12.6 to iTunes 12.7, which have removed the App Store, or sometimes the changes are incompatible with their particular workflow.
So they want to know are there any methods to downgrade their iTunes 12.7 to iTunes 12.6 again.
Yes, with a little effort, you can downgrade iTunes 12.7 back to iTunes 12.6 on either a Mac OS computer or Windows PC.
Before downgrading iTunes 12.7 you should know that you can manage and download apps on iPhone or iPad without iTunes, directly in iOS as detailed here, including manually copying apps to the iPhone or iPad via IPA files.
You should backup your computer before beginning this process. Failure to backup could result in permanent data loss or data removal. Do not skip backing up your computer before beginning.
This process is basically three parts: deleting iTunes, restoring the old iTunes Library file, and then downloading the older version of iTunes and installing it.
How to Downgrade iTunes 12.7 to 12.6 on Mac
If you are a Windows user, please refer to How to downgrade iTunes 12.7 to iTunes 12.6 on Windows
Back up your Mac before beginning the iTunes downgrade process. Do not skip backing up your Mac or else you may lose data, apps, music, media, or general functionality.
1. Back up the Mac if you haven't done so already.
2. Quit out of iTunes.
3. Now open the Terminal application in Mac OS, found in /Applications/Utilities/ and type the following exactly, then hit return:
cd /Applications/
4. Now you'll be in the Applications folder via command line, the next command syntax must be precisely entered to remove iTunes, make sure the syntax is exact:
sudo rm -rf iTunes.app/
5. Be absolutely certain your syntax reads the same, rm is unforgiving and will delete any file permanently it is pointed at. When certain you are pointing at iTunes.app/ only, hit return and authenticate with an admin password to completely delete iTunes

6. Now go to the Finder of Mac OS and visit your user ~/Music/iTunes/ folder and locate the file named "iTunes Library.itl" and move it to the Desktop, or another easily found location
7. Still in ~/Music/iTunes/, now open the folder titled "Previous iTunes Libraries" and find the most recent dated iTunes Library file (these are labeled as whatever date you installed the latest iTunes, for example "iTunes Library 2017-09-12.itl" or similar) and make a copy of that file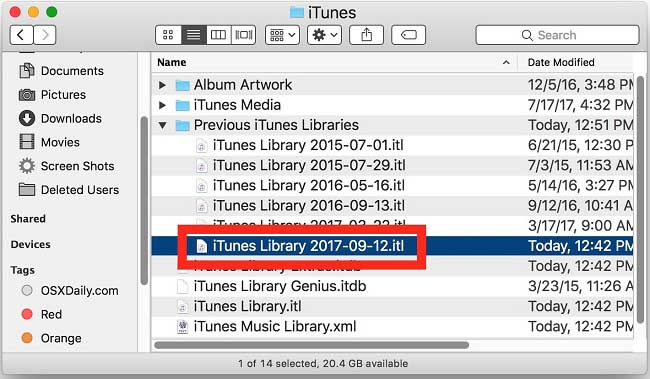 8. Drag the copy of "iTunes Library 2017-09-12.itl" to the ~/Music/iTunes/ folder and rename it to "iTunes Library.itl"
9. Now go to Apple iTunes Downloads page here and locate "iTunes 12.6.2" and choose to download that to the Mac.
10. Install iTunes 12.6.2 on the Mac as usual, then launch iTunes once complete.
That's it, you're now back to the prior version of iTunes.
To avoid downloading iTunes 12.7 again you may want to hide it from the Mac App Store or turn off automatic updates.
Source from http://osxdaily.com/2017/09/17/downgrade-itunes-12-7-to-itunes-12-6/