Advanced Audio Coding (AAC) is an audio coding standard for lossy digital audio compression. Designed to be the successor of the MP3 format, AAC generally achieves better sound quality than MP3 at similar bit rates.
It was developed by a group of companies including AT&T Bell Labs, Dolby, Sony, and Nokia. AAC files can be played on a range of non-Apple devices, including the Microsoft Zune, Sony PlayStation 3 and PSP, the Nintendo Wii, and mobile phones running Google's Android OS, among others.
AAC vs MP3 - Difference and Comparison
MP3s save storage space by compressing the data that makes up the file. This is done by removing some of audio from the original. Because some data is lost during the conversion, MP3 is called a lossy compression format. Compressing songs into MP3s involves removing parts of the file that won't impact the listening experience.
Blind tests in the late 1990s showed that AAC demonstrated greater sound quality and transparency than MP3 for files coded at the same bit rate.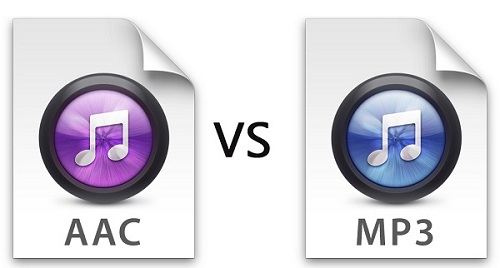 AAC format allows developers more flexibility to design codecs than MP3 does, and corrects many of the design choices made in the original MPEG-1 audio specification. This increased flexibility often leads to more concurrent encoding strategies and, as a result, to more efficient compression.
However, in terms of whether AAC is better than MP3, the advantages of AAC are not entirely decisive, and the MP3 specification, although antiquated, has proven surprisingly robust in spite of considerable flaws.
Even MP3 is more popular than AAC, if you want to get better quality for your Music files, you would to choose AAC format.
Apple Music with DRM
All the streaming music files of Apple Music are DRM locked. If you are an Apple Music subscriber, you can play any music files and free download them to listen to them offline. However you can't burn Apple Music to CD, or other audio player without Apple Music supported.
If you have some other audio player to play them or need high audio quality and audio files without limitation, AAC format is a wise choice.
Steps to Convert Apple Music to AAC format with Macsome iTunes Converter
To solve the problem easily, Macsome iTunes Converter is needed, which supports a quick way to fast record Apple Music and convert Apple Music to AAC format.
Step 1, click the above download button and free download the Apple Music to AAC Converter, install and launch it.
Windows Version Download Mac Version Download
Meanwhile the software will launch the iTunes automatically. If you have launched iTunes before running the Converter, click Relaunch iTunes to make sure that the software can work successfully.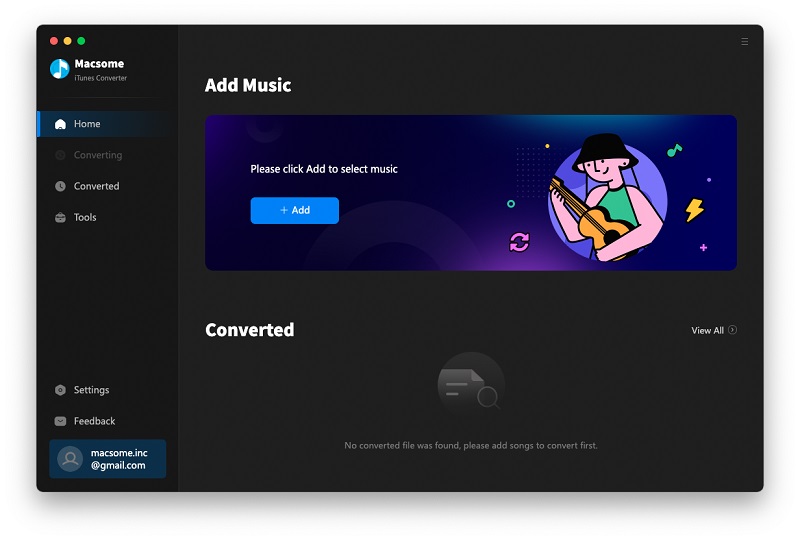 Step 2, click Add button and select "Music" library to import the audio files of iTunes.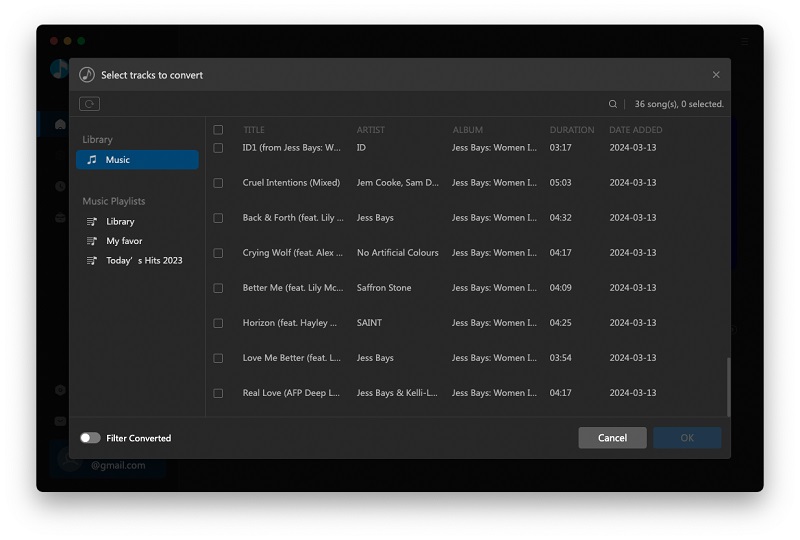 Choose the music files you select, and click OK button, all the files are in the File list of the software.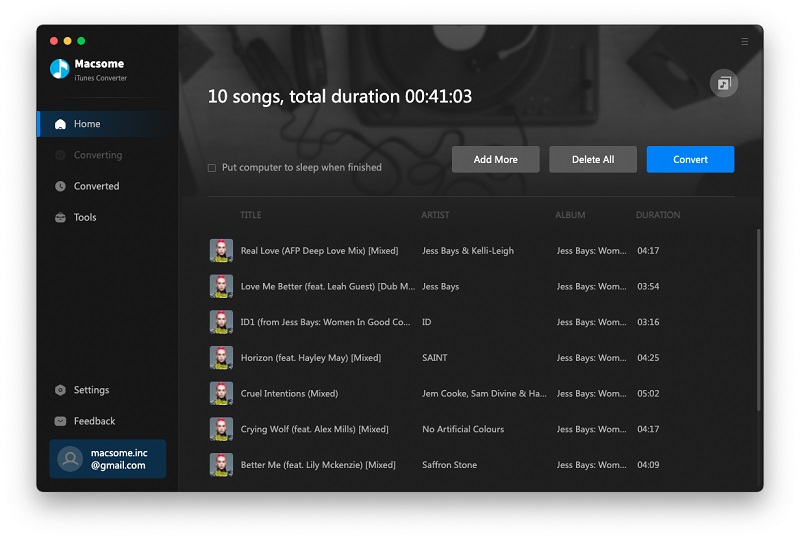 Step 3, Click the setting icon and then choose the output format - AAC.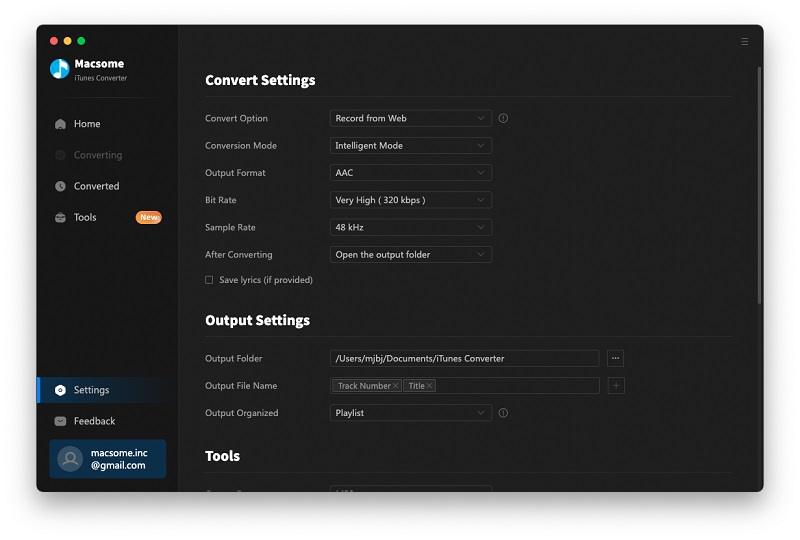 Step 4, Now you can click CONVERT button to start Apple music to AAC conversion process.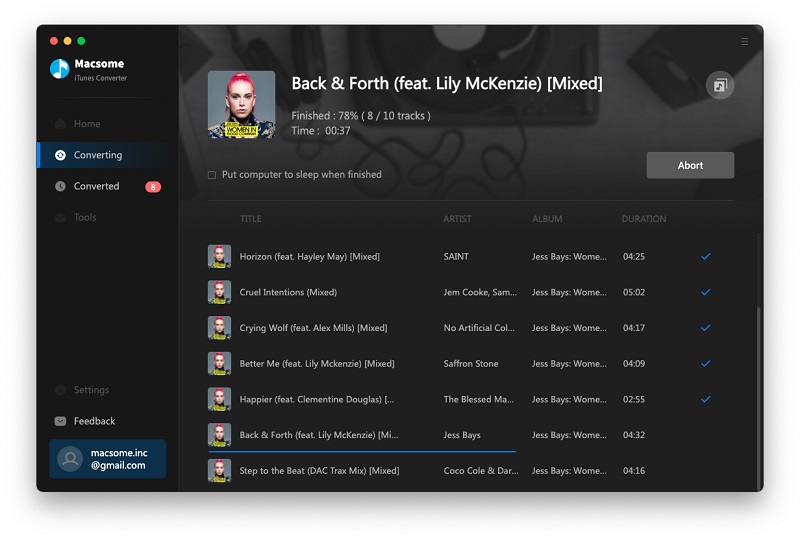 When the conversion is completed, all the Apple Music files are recorded to AAC formats. And you can play and listen to them with more freedom.
Get iTunes Music Converter full version:
Windows Version Purchase Online Mac Version Purchase Online