Starting with macOS 10.11 (El Capitan) Apple has introduced System Integrity Protection (SIP). This prevents iTunes Converter to modify Finder.app.
If you are the macOS 10.11 users with iTunes 12.6 or later, you need to do some settings to make the software work.
This article describes how to configure your machine by partially disabling the new setting, so that you can run the iTunes Converter.
There are 2 ways to make your software work successfully.
How to partially disable System Integrity Protection
Before you do this, it is important to get informed about what System Integrity Protection is, and what it means to turn it off. Technical details are well covered in the El Capitan review on Ars Technica. Apple also provide some information here.
Anyway, if you decide to partially disable SIP, you will be able to install and run it as before. Just to be clear.
Please Note that, your machine may be less secure if you do. It is entirely your decision.
1. You must boot into the Recovery OS. You do this by restarting your machine, and holding "COMMAND + R" until the Apple logo appears.
Then select Terminal from the Utilities menu. It looks like this: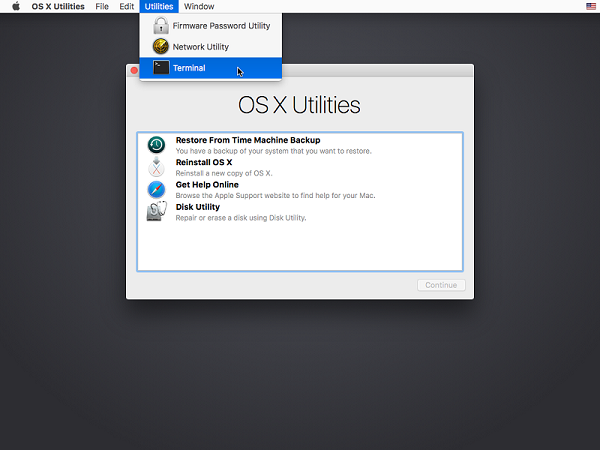 2. In the window that opens, type "csrutil enable --without debug" and press return.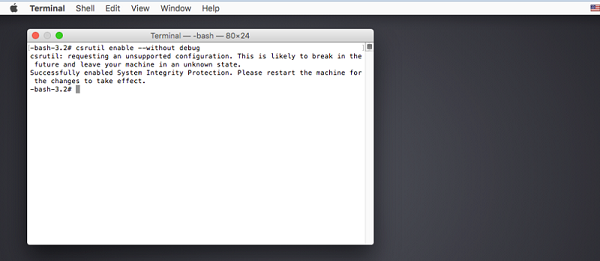 3. This turns off the part of SIP that iTunes Converter needs to run, and OS X complains that it is an unsupported configuration.
Now type reboot and press return to restart your machine. After restart you may install the latest version of iTunes Converter.
After adjust the above settings, you will be able to install and run iTunes Converter as before.
Need to enable System Integrity Protection again, refer to the guide.
Downgrade iTunes 12.6 to iTunes 12.5
If you don't want to configure the SIP settings, you could also revert to iTunes 12.5 to make the program work normally under Mac OS 10.11 or macOS Sierra. There are 3 steps:
1. Uninstall iTunes 12.6 from your Mac
2. Download iTunes 12.5
3. Reload your iTunes library
Want to know more details, please go to "How to Downgrade iTunes 12.6 to 12.5".
Install the latest version of iTunes Music Converter
Since iTunes Converter for Mac V2.1.7 has been released, and users can free download and install it to work with iTunes 12.6. There is no additional need to disable your SIP or downgrade your iTunes. And then you can use the iTunes Converter to deal with your kinds of Music files on iTunes 12.6 as you like.
Get iTunes Music Converter full version:
Windows Version Purchase Online Mac Version Purchase Online
Email Support
We want to hear from you. We welcome your comments, suggestions and requests for information. Please use the email addresses below to contact us on any question.
Support Email Contact: [email protected]