What is Spotify
Spotify is a Swedish commercial music streaming, podcast, and video service that provides digital rights management-protected content from record labels and media companies. It is available in most of the Americas, Western Europe, and Oceania. Music can be browsed or searched by artist, album, genre, playlist, or record label.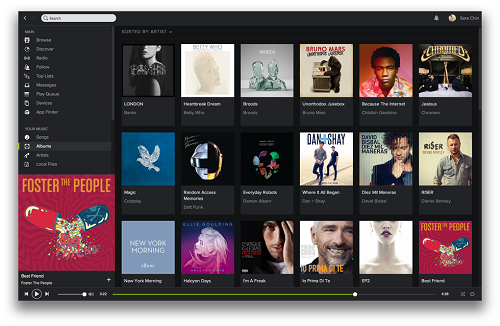 What is Apple Music
Apple Music is a music streaming service by Apple. Users select music to stream to their device on demand. The service includes the curated Internet radio station Beats 1 and the blog platform Connect for artists to share media with fans. Apple Music provides music recommendations based on user taste and is integrated with Siri voice commands.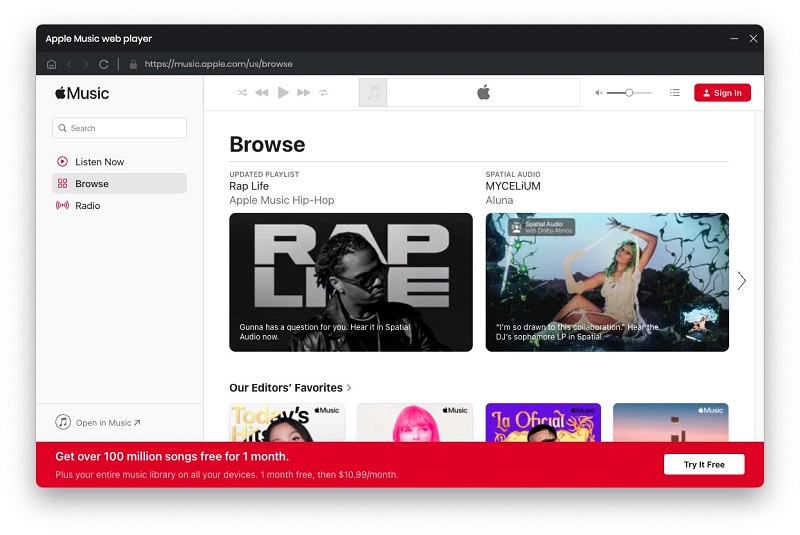 Compare Spotify VS Apple Music
Cost
Spotify operates under the freemium model (basic services are free, while additional features are offered via paid subscriptions). Spotify Premium need only $9.99/month, and new user has a 3 months for $0.99.
Apple Music costs $9.99 monthly, with a $14.99 family plan option for up to six people. With the family plan, you'll need to set up iCloud Family Sharing, if you haven't already. New users has a 3 months free trial.
How it works
Spotify uses a cache on your computer's hard drive (as well as on the hard drives of all Spotify users). A cache is a temporary holding area for tracks you've listened to - if you want to listen to a track again, Spotify draws upon the music stored in your cache so that it doesn't have to re-download the track. When the cache is full, the old stuff gets overwritten.
Apple Music works similarly to iTunes Match, the $25-per-year service which stores your music files in the cloud so you can stream them away from your computer. With iCloud Music Library, Apple scans all of the music you've purchased from iTunes or added to iTunes on your computer by ripping a CD, purchasing and downloading from another digital store or obtained from other means.
With them, you can
Spotify: Over 30 million tracks; thousands of curated playlists; Discover Weekly; Spotify Running; Radio; Chromecast, sound system, car, TV, and PlayStation integration; sharing and creating playlists with your friends. All of this is ready for you.
Apple Music gives users access to the entire iTunes library, a swath of curated playlists, and a 24-hour radio station helmed by BBC-alum Zane Lowe.
After you cancel the subscription:
As a Spotify free user, you can enjoy your favorite albums and artists, with occasional ads.
Apple Music: After you cancel an Apple Music subscription, you lose access to your iCloud Music Library along with any streaming songs you may have added, and redownloaded matched songs from your Mac's library. All of them are unable to work. You can manually add tunes to your devices' libraries again via iTunes or re-download your purchased content, but that's it.
How to choose one for yourself?
If you like music, Apple Music will work just fine for your streaming needs. If you love music, Spotify does a better job at cultivating a community amongst your music listening friends and showing you a greater range of new music from artists you won't hear on Top 40 radio. Fellow music nerds, feel free to stick with Spotify for now.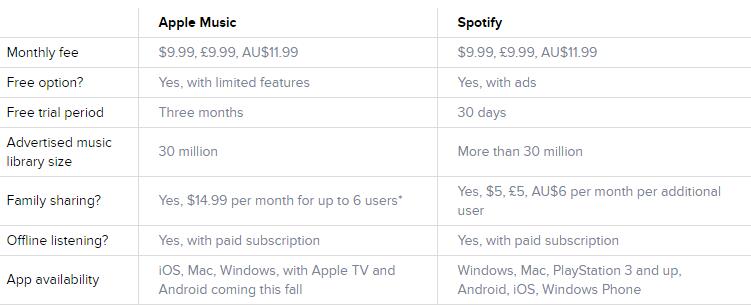 Even you choose Apple Music to get DRM streaming music, don't worry, iTunes Converter can help you record Apple Music totally. It is very economical.
Download iTunes Music Converter for free:
Windows Version Download Mac Version Download