Macsome AudioBook Converter works with iTunes. When the program starts up, then iTunes will be launched automatically. If iTunes has already started before the program starts, you must relaunch iTunes. It is closely associated with iTunes.
Corresponding to the release of Mac 10.10, Apple has updated iTunes with the new interface to make iTunes perfect on Mac 10.10. Macsome AudioBook Converter can also perfectly support 10.10 and the best experience.
Macsome AudioBook Converter can automatically launch iTunes and show all the iTunes Audiobooks library on Mac 10.10. It can auto load playable audio books from the iTunes Audiobooks library and display the details info about the files. When the iTunes Audiobooks library files changed, Macsome AudioBook Converter can immediately refresh the display just by clicking the refresh button.
On Mac OS X 10.10, When you set to keep the chapters or split by chapters for the original audio, you will see the following dialog popup if you don't set Accessibility in Mac Preferences at first.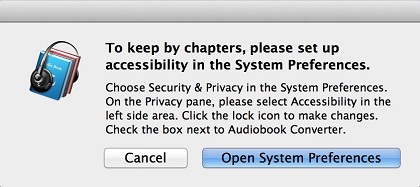 Then click Open System Preferences button and click the lock icon to make changes in the Security & Privacy window. Then Select the Accessibility and check the Macsome Audiobook Converter.app on the Privacy pane.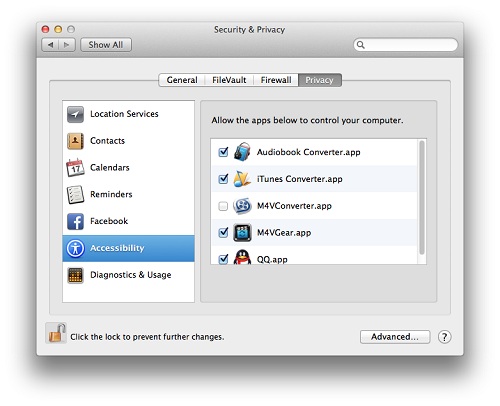 Macsome AudioBook Converter can remove the DRM protection from the purchased audible files in iTunes. It can convert any playable audio files to For spoken word, For streaming music, Common WAV, MP3, AAC(m4a) or AAC(m4b) format. Macsome Audiobook Converter is powerful and easy-to-use audiobook converting program designed for Mac OS users. Welcome to Macsome Audiobook Converter on Mac 10.10!
Download AudioBook Converter for free:
Windows Version Download Mac Version Download
Windows Version Download
Mac Version Download