With the incredible vocalist, Adele gives fans one and one famous music songs, like "Hello", "Rolling in the Deep", "Someone like you" and so on.
Whether you are her fan or not, when you listen to her music, you will fall in love with her sound and her song.
In the following, we will collect the most and top 10 music songs of Adele ever. Of course, she will release more new music songs in the future.
1. "Rolling in the Deep"
The powerful break-up song - "Rolling in the Deep" started off the singer's 21 era on a strong note and gave heartbroken listeners the rallying cry of "We could've had it all," as she sings on the chorus with gusto. The track was a Number One smash worldwide, and in 2011, it was proclaimed the biggest crossover hit of the last 25 years after charting on rock, pop/adult, R&B/hip-hop, dance and Latin charts in the United States. Adele is the only artist in history to appear across all of those charts with just a single song.
2. "Someone Like You"
The heart-wrenching, emotional ballad set the tone for Adele's musical legacy. Her pained delivery combined with the simple piano line and biting lyrics made for one of the new millennium's most universally embraced tear-jerkers. In 2012, it won the inaugural award in the new category of Best Pop Solo Performance at the Grammy Awards, and the emotional reaction the song has pulled out of audiences has been parodied endlessly, as best seen in a Saturday Night Live sketch featuring listeners bursting out in tears as soon as the song starts playing.
3. "Set Fire to the Rain"
The roaring power ballad "Set Fire to the Rain" gave Adele her third consecutive Number One song. On the massive single, Adele's voice soars like a firework flame, even though the idea of "setting fire to rain" may seem a bit ponderous. During a live show, however, the singer cleared up the title's meaning, saying that she gained inspiration after a lighter stopped working in the rain.
4. "Chasing Pavements"
Adele's second single from debut album 19 isn't as viscerally emotional as her 21 break-up songs, but it still gave a fantastic and early glimpse at the young singer's capabilities. During her first interview with Rolling Stone back in 2009, the singer admitted that the song was inspired by a vicious break-up with an ex that resulted in her punching him out at a bar. Even though the song was banned from many radio stations because its lyrics were interpreted as meaning "chasing gay men," the single still became a Top 40 hit and was nominated for three Grammy Awards.
5. "Skyfall"
Adele won an Oscar in 2012 for her epic, cinematic contribution to the hefty roster of Bond songs. The dark, moody track swept during awards season, getting trophies at not only the Academy Awards, but also the Grammys, Brit Awards and Golden Globes, as well as becoming an instant hit, perfectly suited to follow up the success of 21.
6. "Rumour Has It"
The cheeky "Rumour Has It" is one of the singer's jazziest releases and provided a change of pace following the much sadder singles from her sophomore album. Indeed, its sound turned Adele into a one-woman Sixties girl group. While the song was not as successful as the other tracks from 21, it did serve as the basis for a superb mash-up on the show Glee along with the album's second single, "Someone Like You."
7. "One and Only"
"Someone Like You" gets more attention as Adele's biggest ballad, but "One and Only" is a fine contender for 21's biggest heartbreaker. Her voice and lyrics are filled with love and desperation as she begs to be a prospective lover's sole romantic interest. It's one of five tracks Rick Rubin produced for the album.
8. "Hello"
Adele returned in a big way with this year's "Hello." The single reminded everyone just how much her voice and lyrics can express. The song's brief preview during the U.K. version of The X-Factor just a week before its official release was met with unparalleled excitement, and the single itself delivered, marking a return to the singer's lovelorn form, though Adele has promised that 25 will not be another break-up album.
9. "Hometown Glory"
"Hometown Glory" was not only Adele's debut single but it's also the first tune she ever wrote. While she's become more well-known for her torch songs, the track is a different kind of love letter, this time to her neighborhood in London. She sings wistfully about summer in the city and the people she's encountered and miraculously does so with a perfect balance of wisdom and youth.
10. "Make You Feel My Love"
The British singer's cover of Bob Dylan's "Make You Feel My Love," which appeared on her debut 19, is so resonant and gorgeous that it's easy to forget that it is not originally by her. The then-teenage singer reinvented the Dylan deep cut effortlessly, even though it has been reimagined repeatedly by everyone from Billy Joel — who released it as a single before Dylan did — to country singer Garth Brooks.
Download them from Apple Music and copy to MP3
Adele's top 10 classic music songs are listed on Apple Music as well. If you have subscribed Apple Music, and want to play these music songs from Apple Music to MP3 player, the following will help you.
To convert the downloaded Apple music songs to MP3 format quickly, you need to free download and install Macsome iTunes Music Converter, which does well in converting downloaded Apple Music songs and purchased Audio book and so on to MP3, M4A, M4B, WAV, FLAC and so on,.
Windows Version Download Mac Version Download
Step 1, click the Add button, you can choose the different iTunes library to add the audio files to convert.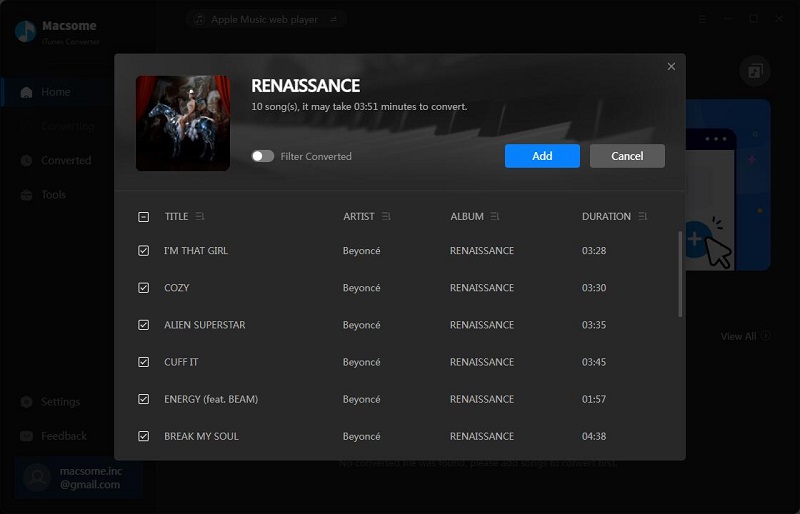 And select the file you want to convert, click OK, and then all files you selected will be listed on the main window.
Step 2, click Setting button to set the output format and output path before the conversion as your need.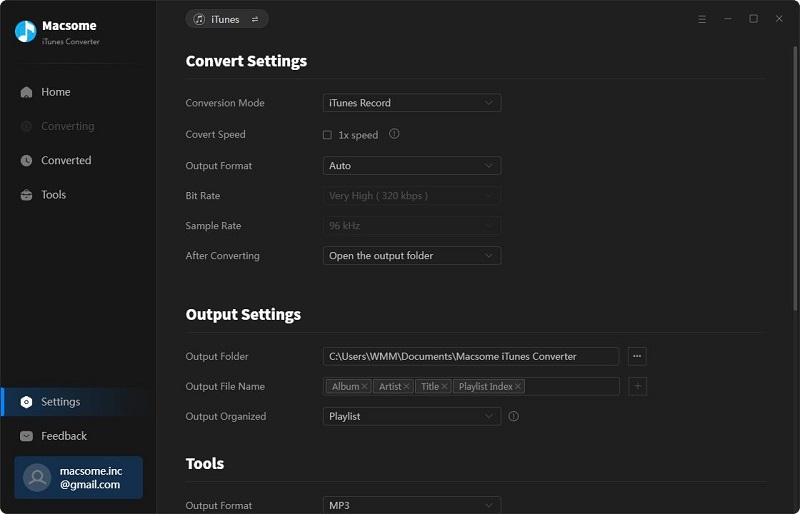 Step 3, click the Convert button to start converting.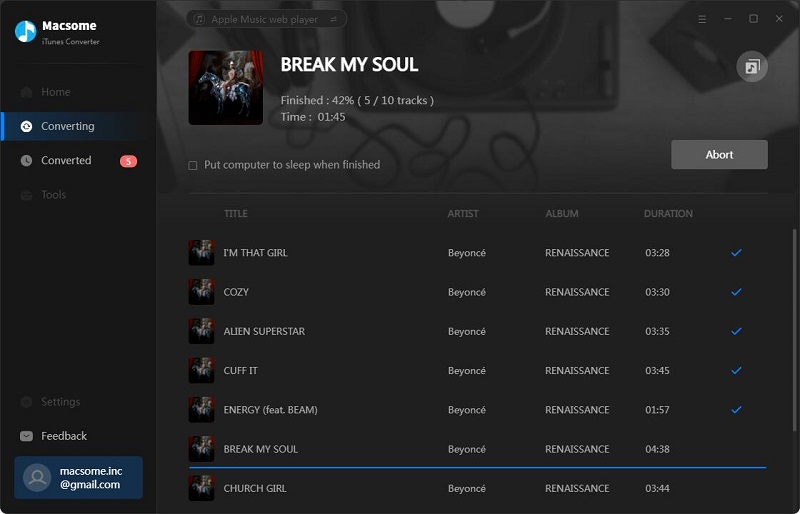 After the conversion, you can open output folder to find the converted music files in the format of MP3, And then you can transfer them to your MP3 player quickly.