For one of the biggest bands in the world, Coldplay have won numerous awards throughout their career, including nine Brit Awards, six MTV Video Music Awards, seven MTV Europe Music Awards and seven Grammy Awards from 29 nominations.
Coldplay are a British rock band formed in London in 1996. The four members – lead vocalist/pianist Chris Martin, lead guitarist Jonny Buckland, bassist Guy Berryman and drummer Will Champion – were at University College London and came together from 1996 to 1998, during which time the band changed names from Pectoralz, to Starfish, then Coldplay.
Coldplay's musical style has generally been regarded as alternative rock, pop rock, post-Britpop, and pop. Chris Martin once proclaimed the band's music as "limestone rock" in comparison to "hard rock". The band's music has been called "meditative" and "blue romantic"; it "[reflects] on their emotions" and Martin "endlessly examine his feelings".
They have sold more than 100 million records worldwide, making them one of the world's best-selling music artists. Three of their albums: Parachutes, A Rush of Blood to the Head and X&Y are among the best-selling albums in UK chart history. In December 2009, Rolling Stone readers voted the group the fourth-best artist of the 2000s.
No one is doubt that Coldplay is famous and classic. If someone ask you that which music song or album is your favorite. Each choice is different. Everyone has their own best songs of Coldplay. In the following, we collect the most classic and best 10 music song of Coldplay for most people.
1. 'VIVA LA VIDA'
Released: May 25, 2008 • Chart peak: No.1
Thanks to the Crazy Frog (ouch) and Darius Danesh (double ouch), it took Coldplay four albums to get their first No.1 single. Towering over those soaring bells and chimes while philosophising about a king who's failed his kingdom, Martin is on a lyrical high he's perhaps not reached since. It's probably the greatest song they've ever released, which makes that No.1 wait a tiny bit more acceptable.
2. 'THE SCIENTIST'
Released: November 4, 2002 • Chart peak: No.10
You'd think The Beatles had done enough for music, but we actually have George Harrison's spirited solo work to thank for encouraging Martin to write 'The Scientist'. The schmaltzy piano connects perfectly with its tale of a broken relationship, plus the singing-backwards video is just as genius. Of all the touching beauts this band are famous for, there's really only one that tops them all.
3. 'TROUBLE'
Released: October 26, 2000 • Chart peak: No.10
How do you follow up the world-beating success of 'Yellow'? With a total stunner of a ballad, that's how. Incited by some early feuding within the band, Martin has admitted that he wrote 'Trouble' to stop acting like a "knobhead". Though he's conceived many a mellow track since - four of which feature in this list - there's something about this one's rawness that makes it an all-timer.
4. 'CLOCKS'
Released: December 11, 2002 • Chart peak: No.9
While 'In My Place' was the first pointer that A Rush of Blood to the Head was taking them to new levels, the swooping 'Clocks' was the one that made even the cool kids stand up. It's not just Coldplay's only Record of the Year Grammy to this day - it also beat 'Crazy in Love' and 'Hey Ya!' to win it. But one listen back to that flying piano riff and it's damn obvious why.
5. 'ADVENTURE OF A LIFETIME'
Released: November 6, 2015 • Chart peak: No.7
From album three onwards, Disco Coldplay was always gonna happen. Synth master Brian Eno set them on a path which ultimately led to the Avicii-produced 'A Sky Full of Stars', the only upbeat moment on the heartbreaking Ghost Stories which ultimately led to 'Adventure of a Lifetime', the embodiment of Martin's new hippie, all-embracing outlook and Stargate's killer production which ultimately led to something pure bliss.
6. 'PRINCESS OF CHINA'
Released: February 14, 2012 • Chart peak: No.4
These days, it's Beyoncé who plays the role of Coldplay singing partner. But their first love will always be Rihanna. The diehards took time to be convinced by Mylo Xyloto's poppier direction (half the band did, too!) yet if you take 'Princess of China' for what it is - a bright, belting showpiece of complicated love - it's simply too good to hate on. Not to mention the awesome video starring RiRi as a "gangsta goth geisha".
7. 'YELLOW'
Released: June 26, 2000 • Chart peak: No.4
This was the defining moment where it truly kicked off for Coldplay, forever imprinting the image of a bucktoothed Chris Martin running on a Dorset beach into the minds of millions. Of course, he later admitted that all he was doing was his best Neil Young impression and that the title was inspired by a nearby Yellow Pages. But nothing will ever take away from this song's incredible timelessness. "Your skiiiiiin…"
8. 'FIX YOU'
Released: September 5, 2005 • Chart peak: No.4
Before being manipulated to eternity everywhere from reality talent shows to not-one-but-TWO Ricky Gervais sitcoms, the first time 'Fix You' was heard anywhere was in The O.C. when Caleb had his fatal heart attack. Tragic. The only person it was really meant for, however, was Gwyneth, whose father had just passed away. Seriously though - imagine being a novice and hearing those drums kick in for the first time…
9. 'MAGIC'
Released: March 3, 2014 • Chart peak: No.10
"I just got broken, broken into two," grieves Chris Martin in the opening verse, but it wasn't until a certain conscious uncoupling a few weeks after 'Magic's premiere that we all sadly realised exactly what he meant. Although he spends most of Ghost Stories aching for the times he and Gwyneth once had, it's here where he refuses to give up on the chemistry of love. Awww, what a softie.
10. 'IN MY PLACE'
Released: August 5, 2002 • Chart peak: No.2
This rousing gem was the first sign that Coldplay weren't just another Travis of the post-Britpop era. After winning over pretty much the whole world with their debut album Parachutes, even headlining Glastonbury off the back of it, most probably expected more of the same melancholic goodness. But Will Champion's crashing drums and Jonny Buckland's looming guitar line ensured this was a band who liked to evolve.
Enjoy Coldplay's top 10 music songs via Apple Music or Spotify
There is for sure that Coldplay gives us various and large music enjoyment and they've changed a hell of a lot across their seven albums. Their most music songs you can enjoy them from Apple Music and Spotify.
In addition, if you want to transfer these Coldplay's top 10 music songs from Apple Music or Spotify to MP3 player, you can try the Apple Music Converter or Spotify Audio Converter to help you decrypt DRM limitations from streaming music services like Apple Music or Spotify and convert them to MP3, AAC, FLAC and WAV format with fast conversion speed and excellent output quality. Whether you are Mac users or Windows users, you will find one suitable version to fit for you.
Simple Guide to play Apple Music files on MP3 player
To convert the downloaded Apple Music songs to MP3 format quickly, you need to free download and install Macsome iTunes Music Converter.
Windows Version Download Mac Version Download
Step 1, click the Add button, you can choose the different iTunes library to add the audio files to convert.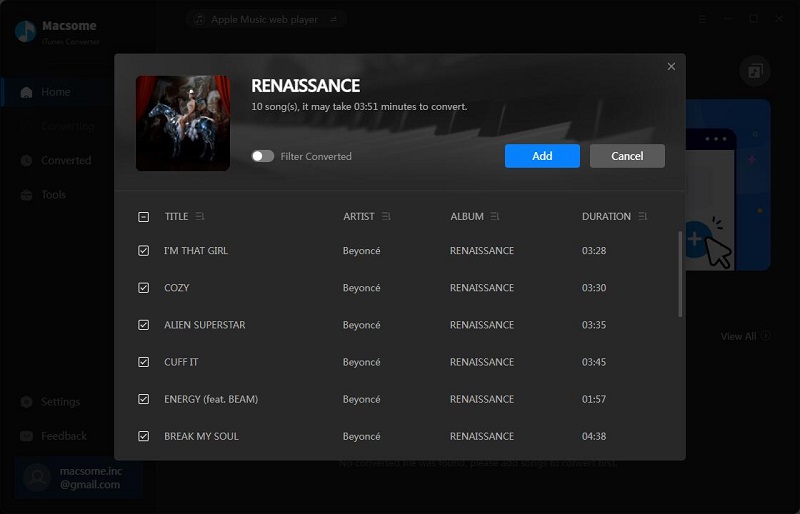 And select the file you want to convert, click OK, and then all files you selected will be listed on the main window.
Step 2, click Setting button to set the output format and output path before the conversion as your need.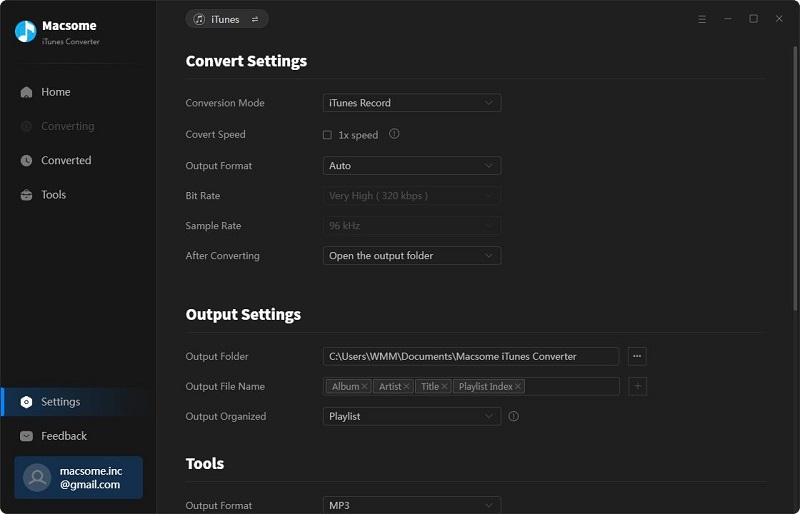 Step 3, click the Convert button to start converting.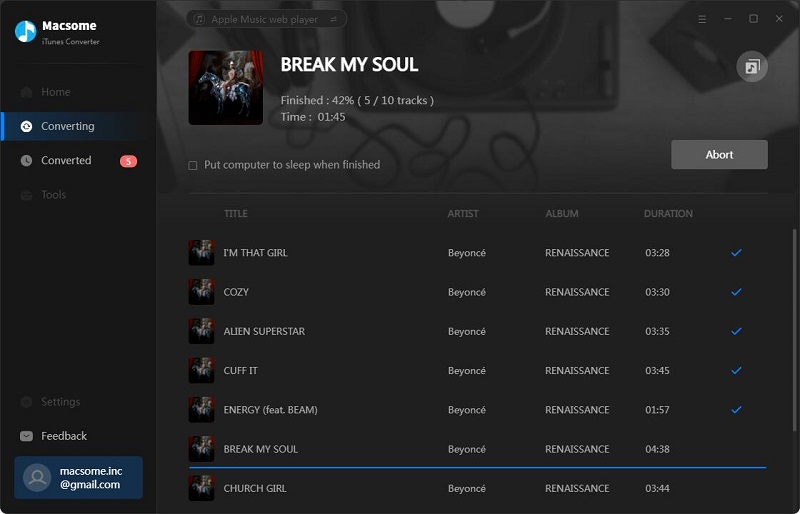 After the conversion, you can open output folder to find the converted music files in the format of MP3, And then you can transfer them to your MP3 player quickly.