Drake is one of the most popular rappers on the word. As a Canadian rapper, singer, songwriter, record producer, actor, and entrepreneur, Drake has changed the Rapper games, and has sonically, emotionally and even physically redefined what it means to be a rapper in the 21st century.
He gives us kinds of rap music songs, and here we collect the top 10 Drake songs ever.
1. Marvin's Room
This is Drake at his Drakiest, which stopped being an insult a long time ago. Marvins Room was too spartan to ever crack the Top 20, but there's no doubt it's the boldest thing the Canadian has ever recorded. Sad, sweet, a little bit funny, a leap of faith that launched Drake straight to the top.
The definitive Emotional Drake song. The best Drake song, too. The production undoubtedly adds to the emotional and tipsy (emotionally tipsy??) quality of the record, with a beat that feels as though it's been run backwards, as it weaves through Drake's revealing thoughts, the thumping bass almost heart-beat like.
2. Best I Ever Had
Long before Drake became a household name, the rapper formally introduced himself with "Best I Ever Had." The melody works on a variety of levels, but first and foremost it functions as a singularly perfect pop song with caption-worthy one-liners like: "Sweatpants, hair-tied chilling with no makeup on." And, it arrived at a stage early enough in Drizzy's catalogue for fans to feel that he was not too far removed from portraying the token Black guy on Degrassi.
3. "Forever" Ft. Eminem, Lil Wayne, & Kanye West
"Last name ever, first name greatest." With that line, Drake introduced his ubiquitous flow to the world on a song ostensibly about LeBron James. While "Forever" featured three of the biggest names in rap, Drizzy managed to tote his confidence seemingly unwavered. Over the blaring horns of Boi-1da's production, Drake reaffirmed his hunger for more to the masses that barely gave So Far Gone an earshot of a listen.
4. "Look At What You've Done"
Drake's ode to his mother and uncle belongs in the same pantheon of gratitude heavy rap classics like "Hey Mama." The introspective record finds the Toronto native being terribly honest about the ups and downs of both relationships, which makes it even more touching. By the time his grandmother's voicemail comes in while the song fades out, you're in the midst of a serious emotional overload. The brutal honesty in "LWYHD" makes the record one of the best Drake songs ever.
5. "Uptown" Ft. Lil Wayne & Bun B
While Drake is very much a Canadian, the lyricist was way ahead of the curve in 2009 with his take on the chopped-up (never slopped up) sound of Houston. With "Uptown" Drizzy tapped into the less drug-infused side of Southern rap. The organ-backed record finds Drake experimenting with a syrup-slow flow assisted by Bun B's gruff delivery and a solid verse by Wayne. It's also hard not to bop along to the chorus in which Drake heeds a fair warning: "It's okay, you can run and tell my city I'm on."
6. "Too Much" Ft. Sampha
Drake's oftentimes questionable practice of discovering artists he likes and appropriating their likeness couldn't have been better exemplified than with this track. "Too Much" literally pulls from a Sampha record in its entirety and spins the already sobering track into even more of a heart-wrenching listen.
7. "Underground Kings"
Drizzy's calculated rise to the top of the charts serves as the main theme of "Underground Kings" as he looks back on his mixtape days (and yes, those Acura days too). If there's one thing that he's never lacked, it's confidence in himself and few songs in his catalog tackle his ascent like he does here. Plus, nowhere else do you get to hear the hilarious but addictive vocal inflection that he does when he spits "I'm getting back to my ways."
8. Controlla Ft. Popcaan
In a world where Popcaan's verse never existed, "Controlla" could rightfully stand on Drake's hook alone as he bemoans the love of his life. But, the sun-dappled track has all the makings of a hit with its unruly guest spot. Speaking on how he would cry, lie and die for a woman, the record carries a sheen fitting for an affair in the heat of many summers past.
9. "Legend"
Everyone, rich or poor, must reckon with the fact that death is imminent. Drake has been questioning the burdens of his newfound celebrity for years, but it is here, on the first track off his surprise If You're Reading This It's Too Late mixtape, that he ponders this scenario with the sincerity that it deserves.
10. "Take Care" Ft. Rihanna
Long thought to be a romantic duo, Drake and Rihanna delivered a duet for the ages in the midst of their rumored love affair. The record finds both artists discussing their need for trust, loyalty and safety in one another. While the flame may have dimmed out between them, this sweet pairing makes for an incredible emotional appeal.
Download Drake's songs from Apple Music and convert to MP3
Drake's music songs can also be found on Apple Music. If you have subscribed Apple Music, and want to play these music songs from Apple Music to MP3 player, the following guide will help you.
To convert the downloaded Drake's Apple music songs to MP3 format quickly, you need to free download and install Macsome iTunes Music Converter, which does well in converting downloaded Apple Music songs and purchased Audio book and so on to MP3, M4A, M4B, WAV, FLAC and so on,.
Windows Version Download Mac Version Download
Step 1, click the Add button, you can choose the different iTunes library to add the audio files to convert.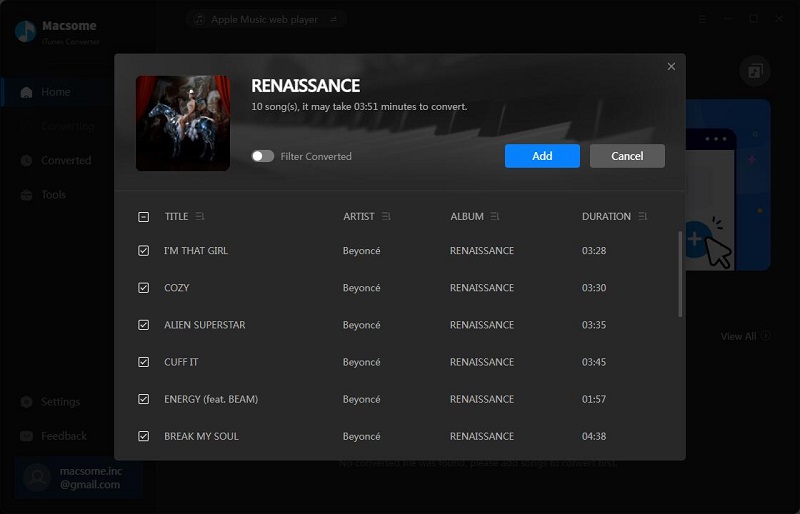 And select the file you want to convert, click OK, and then all files you selected will be listed on the main window.
Step 2, click Setting button to set the output format and output path before the conversion as your need.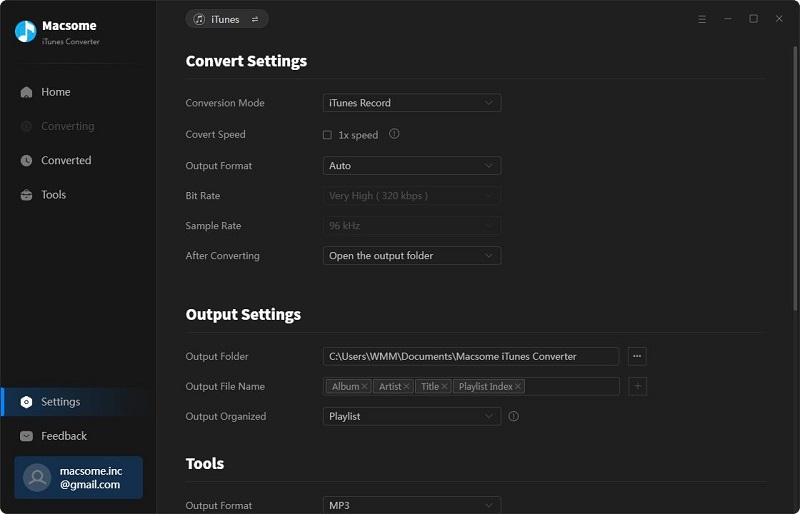 Step 3, click the Convert button to start converting.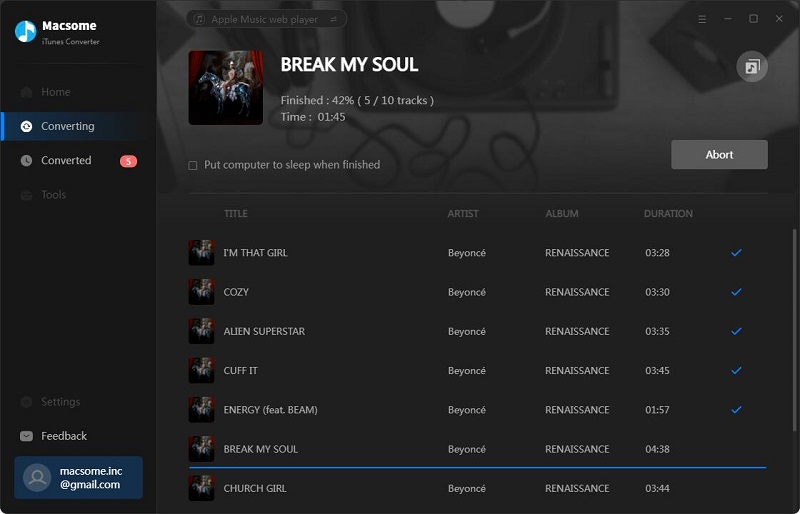 After the conversion, you can open output folder to find the converted music files in the format of MP3, and then you can transfer them to your MP3 player quickly.