Edward Christopher Sheeran, MBE (born 17 February 1991) is an English singer, songwriter, guitarist, and record producer. He sings so many famous and popular music songs, and it is hard to say the top songs in most opinion. Here we also list some favourite Ed Sheeran songs.
"Perfect"
Ed Sheeran wrote this waltz-time love song for his girlfriend Cherry Seaborn, who is an old school friend. This wedding song looks forward to a future of children and family and growing old together. The chorus of "Perfect" is quite stunningly beautiful. It describes a scenario where the couple is dancing on the green grass, barefoot, while their favourite song plays in the background, under the moonlight. They are holding tight and she says she looks like a mess. He whispers in her ears that she looks nothing sort of perfection tonight.
"Give Me Love"
"Give Me Love" is about missing something from a relationship but being unable to talk about it. Ed paint spotted tear drops" on his clothes in the morning from where his girlfriend has been crying, without realising that he is "craving more" and being unable to decide whether to end the relationship. Best lyric: "Give a little time to me, we'll burn this out, we'll play hide and seek, to turn this around."
Shape of You
"Shape of You" is a song by English singer-songwriter Ed Sheeran. It was released as a digital download on 6 January 2017 as one of the double lead singles from his third studio album ÷ (2017), along with "Castle on the Hill". "Shape of You" is a pop, dancehall and tropical house song with "strummy acoustics." In the song, Sheeran sings over a marimba-fueled percussive sway about a budding romance.
"Supermarket Flowers"
The pointillistic account of a woman packing up her recently deceased mother's belongings is one of the quieter moments on ÷ (divide). Written from the point of view of Sheeran's mother, the ballad's verses portray the mundanity of life in the face of death, while its chorus reflects on the presence of angels on earth. "My grandmother was very ill during the time I was making the record and passed away at the end of me making the record, so we wrote this song as a tribute," Sheeran told Beats 1's Zane Lowe. "My grandfather just turned to me [at the funeral] and he was like, 'You have to put that out – that has to go on the record.'"
"Bloodstream"
This tensely paced x track traces Sheeran's first time taking ecstasy, which happened while he was at a pal's wedding in Ibiza. "It was a wedding, and I was having a mojito, and my mate was like, 'Do you want to try it? It tastes really bad if you put it in your mouth, but I'll just put it in your drink and it'll be fine,'" Sheeran told Spotify in 2014. The heightened emotion brought on by the drug is reflected in the lyrics, which portray the guilt he felt over a recent heartbreak. "During it all I felt a lot of things: I felt anxiety, I felt love, I felt warm, I felt a bit weird," Sheeran said. "And afterwards, you spend all day just thinking about what you've been through."
"The A Team"
Sheeran made the slightly unusual decision to introduce himself to the world with an acoustic tale about a drug-addicted prostitute, and it worked. Written after a visit to a homeless shelter, "The A Team" was the lead single from the + album and helped launch the singer to stardom. A gripping song that deals with a powerful subject, "The A Team" remains the best Ed Sheeran song to date.
"Don't"
Co-produced by Benny Blanco and Rick Rubin, "Don't" takes Sheeran in more of an up-tempo, hip-hop-inspired direction. "Don't f--- with my love," he sings, directly addressing a former girlfriend (rumored to be Ellie Goulding.) She may not appreciate the song, but audiences will. It's a great tune to get heads bouncing.
"I See Fire"
Written for the film "The Hobbit: The Desolation of Smaug," the brilliant "I See Fire" gives the initial impression that it's a simple ballad, as Sheeran sings a cappella and then over an acoustic guitar. But patient listeners are rewarded with a slow build to an explosive vocal climax.
"Wake Me Up"
Sheeran puts down the guitar on "Wake Me Up" and instead sings a tender piano ballad to a special someone. The album track from + features lyrics that document all the little quirks about the object of his affection, like her love of "Shrek." "You should never cut your hair / Cause I love the way you flick it off your shoulder," he sings.
"The Man"
On "The Man," Sheeran raps over a mellow beat, sounding a bit like Mike Skinner of the Streets as he reveals a personal story about discovering a crushing infidelity in his relationship. "I don't love you, baby," he sings, trying in vain to convince himself that he's moved on.
Play Edward Sheeran's songs from Apple Music on MP3 player
You can download or purchase these songs from iTunes Store, or also stream them from Apple Music, or download them for offline listening. Here we show you how to convert downloaded these Apple Music songs to MP3 format..
To convert the downloaded Apple music songs to MP3 format quickly, you need to free download and install Macsome iTunes Music Converter, which supports so excellent solution to convert all your iTunes playlist, both music and audiobook files.
Windows Version Download Mac Version Download
Step 1, Open your iTunes Music Converter, click "+" button, and find your whole music album of La La Land. And then select all the audio files and click "OK" button to add them.
Step 2, after you add these music files, now you can click the setting icon to set the output format and output folder.
Except MP3 format, you can also convert these music files to AAC, FLAC, WAV as you like.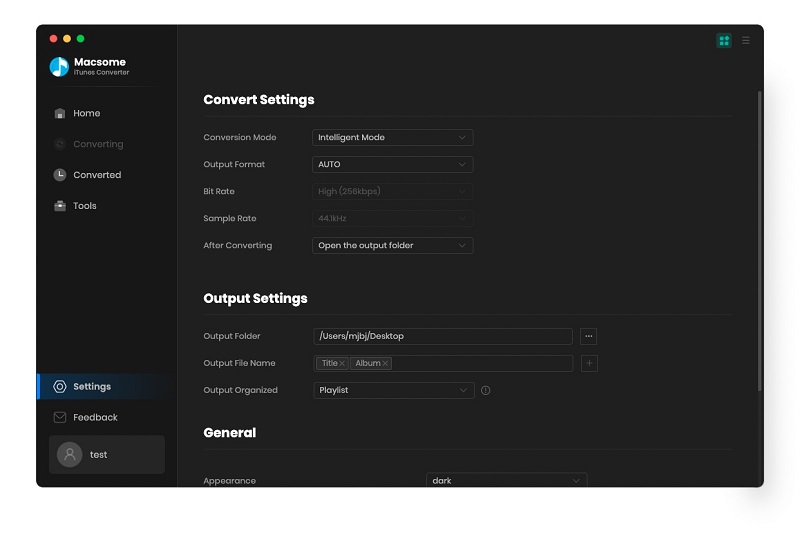 Step 3, After the above steps settings, you can click "CONVERT" button to start.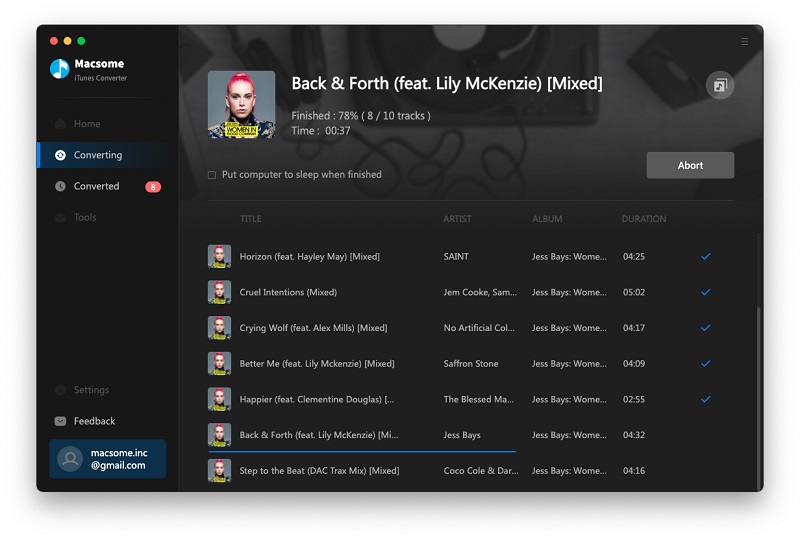 After the conversion, you can open output folder to find the converted music files in the format of MP3, And then you can transfer them to your MP3 player quickly.