"What is Spotify Premium", "How much is Spotify Premium", and "How to subscribe Spotify Premium", and "How to Cancel the Premium subscription." Whatever you want to know, this article will give you answers.
It is well known that Spotify is a digital streaming music service that gives you access to millions of songs. It is different from Apple Music, and it supports two account types Free Account and Premium Account for users to choose.
Spotify Free VS Spotify Premium
Spotify is free to use on mobile, desktop or tablet - so it's accessible with ease, wherever you are. You can access the free version using the smartphone app, desktop software or website.
Yes, users can use Spotify for free, but its features are limited. With the free plan, music songs can be played in shuffle mode and you can skip up to six times per hour, every hour. Spotify Radio isn't available, but you can access Daily Mix playlists.
With the Spotify free plan, you can access all playlists, discover new music, share playlists with friends, listen to music songs picked by Spotify's Radio feature. You can also play any playlist, album, or artist but only while in Shuffle Play mode.
Spotify's Premium service gives you access to everything like listening to Spotify offline with no ad interruptions but doesn't force adverts - whether you're listening on desktop, mobile, or tablet.
Spotify Premium users can play any song they want (on demand), as well as find and hear playlists, discover new music, create and edit playlists, share music and playlists, and listen to tunes picked by Spotify's Radio feature.
Spotify Premium users can also skip any track, listen offline, hear high-quality music and use the Spotify app on their mobile device as a computer remote control.
Pros of Spotify Premium subscription
Unlimited high-quality streaming access to over 82 million songs.
Play music without an internet connection.
Travel abroad with no limitations.
No ad interruption.
Unlimited skips.
How to get Spotify Premium Subscription
At first, log in to your account page.
Please note that, if you don't already have an account, you need to sigh up firstly.
1. Click Subscription in the menu on the left.
2. Click GET PREMIUM.
3. Enter your payment details and click START MY SPOTIFY PREMIUM.
How to Cancel Spotify Premium subscription
You can cancel your Premium subscription any time. This will revert your account to our free, ad-supported service at the end of your current billing cycle.
If you have Premium for Family, you can choose to downgrade to standard Premium.
1. Go to your account's subscription page.
2. Click CHANGE OR CANCEL, then REMOVE FAMILY.
Note: All members will revert to the free, ad-supported service except for you and you will be charged the standard Premium rate at your next billing date.
To switch from a Premium plan with another company (eg. your mobile / broadband provider or iTunes), you need to cancel your subscription with them, then reupgrade through our website when your account reverts to our free, ad-supported service.
How to Download Spotify songs with Free Account
From the above we know if you are Spotify Premium users, you can easily download music songs on Spotify for offline. If you are Spotify Free account, is there any way to download them?
Spotify Audio Converter comes to help you to download Spotify playlists and music songs even you are Spotify Free account.
Before conversion, please go to free download the latest version of Spotify Converter, install and run it.
Windows Version Download Mac Version Download
After you run the program, you need to login with your Spotify account so as to view Spotify more.
Step 1. Output Settings
Click "Setting" button to set output format, output quality, customize output path, organize the output files, and so on.
Step 2. Add Spotify Playlist to the program
Select one playlist or album, click "Add" button and choose the song you want to convert.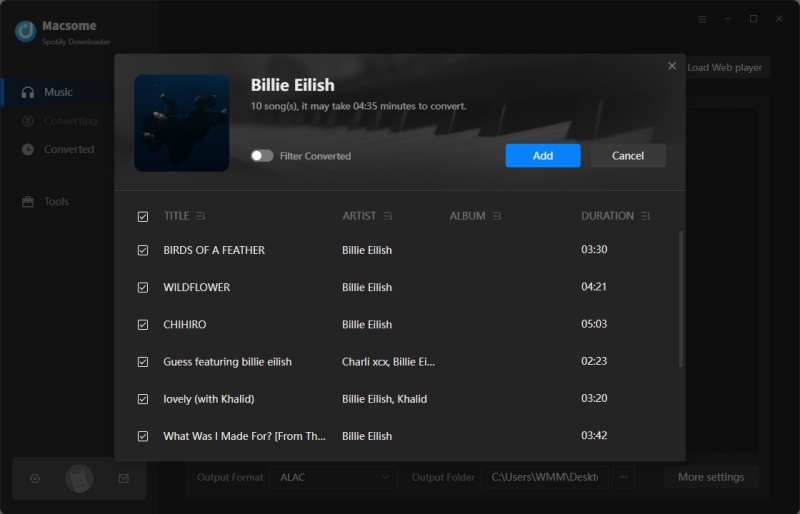 Step 3. Start conversion
Now you can click "Convert" button at the bottom to convert your Spotify playlist or music files.
You can check the conversion history and find the converted music songs by click "History" button.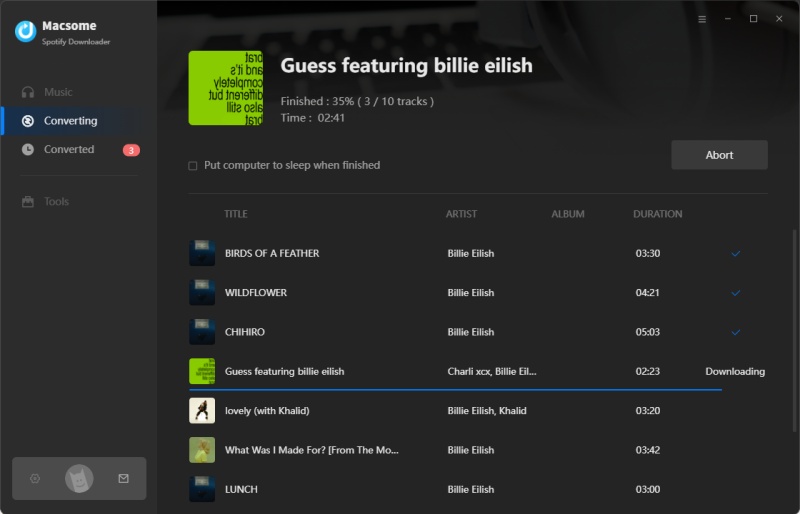 After the conversion, you have downloaded all the Spotify music and you can play them freely as you like.
Get Spotify Audio Converter full version as low as $14.95:
Windows Version Download Mac Version Download