iTunes Radio
iTunes Radio was an Internet radio service by Apple Inc. that let users listen to automatically generated playlists based on direct input as well as collected data on music preferences. It was launched on September 18, 2013, as part of iOS 7 and was available in the Music app on iOS devices and Apple TV (2nd generation and newer) as well as in iTunes 11.1 on OS X (10.7 Lion; it requires Mac OS 10.7.5 or newer to run) and Windows.
It was a free, ad-supported service available to all iTunes users, featuring Siri integration on iOS. Users were able to skip tracks, customize stations, and purchase the station's songs from the iTunes Store. Users could also search through their history of previous songs.
The number of track skips was limited like Pandora Radio's service. iTunes Match subscribers could be able to use an ad-free version of the service.
The service has pre-loaded stations, including a playlist of trending songs on Twitter. The service also generated a radio station based on input like a single artist with songs by them and others similar.
The service's selection was expected to learn the user's preferences from input whether the user likes or dislikes the track.
With the release of iOS 8.4 and iTunes 12.2, nearly all functions of iTunes Radio have become part of Apple's music streaming service Apple Music and was henceforth called just Radio or Apple Music Radio. So someone said that iTunes Radio is the predecessor to Apple Music.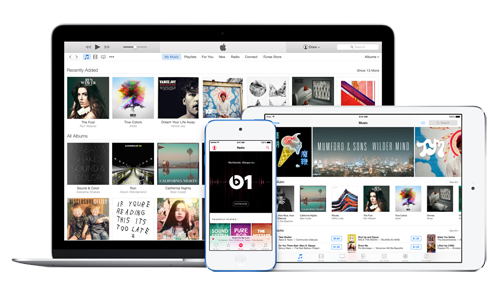 Apple Music
Apple Music is a music and video streaming service developed by Apple Inc. Users select music to stream to their device on-demand, or they can listen to existing, curated playlists.
The service also includes the Internet radio station Beats 1, that broadcasts live to over 100 countries 24 hours a day. The service was announced on June 8, 2015, and launched on June 30, in over 100 countries worldwide. New subscribers get a three-month free trial period before the service becomes paid-only.
Apple originally sought to enter the market at a lower price point for the service, but the music industry rejected the plan. The service debuts as an iOS device exclusive alongside the same-day iOS 8.4 update. Apple TV and Android device support is planned for a Q3 2015 launch.
A previously unreleased song by Pharrell Williams entitled "Freedom" was used in promotional material and has been announced as an exclusive release on the launch of the service.
The "History of Sound" advert for the launch of the Apple Music service was soundtracked by the tune "There Is No Light" by Wildbirds & Peacedrums, from their 2009 album The Snake. Upon its launch, Beats Music subscriptions and playlists were migrated to Apple Music, and the service was discontinued.
On January 15, 2016, Apple announced that effective January 28, 2016, iTunes Radio stations, barring Beats 1, will only be accessible by Apple Music subscribers. On January 29, 2016, the iTunes Radio channel was automatically removed from all Apple TV devices (3rd Generation and earlier).