Kanye West is an American rapper, singer, songwriter, record producer, fashion designer, and entrepreneur. Kanye is one of the greatest artists of our time and these are his greatest hits so far.
There are so many popular songs of Kanye West, it is difficult to make all the people think that this is the best, this one is better and so on. It's hard to compare "Touch The Sky" with "New Slaves."
And in his late 30s, we can't talk that those songs are his best songs, we just said that the top songs in most opinion ever.
1. Ultralight Beam (2016)
"Ultralight Beam" is shrouded with the sort of transcendence that makes art critique feel extremely disposable. There are far too many moments — the beautifully clipped choir bursting from the shadows and immediately dissipating, the bookend prayer from one of the cutest kids laid to tape — but mostly we hang our hat on the Chance the Rapper verse. Kanye has a surprisingly generous history of welcoming up-and-comers on his albums but nobody has ever looked better than the 23-year old "Coloring Book" rapper from Chicago. Pure joy, the sound of a young man who's waited his whole life to share a studio with the city's prodigal son.
2. Ni---s in Paris (2011)
Peaking at No. 5, 3 million digital units sold, dozens and dozens of performances of the same song at every stop of his "Watch the Throne" tour with Jay Z. And, most importantly, nobody — from New York City to Paris to outer space — will think of fish filet the same way ever again.
3. New Slaves (2013
)
This is the gauntlet thrown at the beginning of the "Yeezus" cycle. An ugly, gristly slab of Trent Reznor-esque Goth-pop, with Kanye standing resolute, unfurling haymaker after haymaker on an unexpecting America. When we watched him perform this song on "Saturday Night Live" in its live debut, it was proof that the fun and games were officially over. It never charted, it was never even released as a single. It didn't need to be.
4. Lost in the World/Who Will Survive in America (2010)
People make a lot of noise about "Runaway," "Power," "Blame Game" and "Monster," but no song cuts to the life blood of "My Beautiful Dark Twisted Fantasy" quite like the closing suite of "Lost in the World / Who Will Survive in America." You've got Bon Iver eclipsing his beard-folk roots into some sort of intergalactic god, and there's Kanye leaving the last words of the album to Gil Scott-Heron, instead opting to go out on this awesomely cringe-y line: "If we die in each other's arms, still get laid in the afterlife."
5. Runaway (2010)
It's not even particularly well sung. And certainly not the first thing you'll reach for to break someone into Kanye's universe. "Runaway" is very meta, resurfacing after a long absence from public view, still brokenhearted about his (deserved) rejection from the American public following the great Taylor Swift feud. Kanye paints himself as sympathetic, but not overwhelmingly so. He's resigned to being conceited, rude, angry, vain. It's not all he is of course, but this is the one moment where he's not making excuses. "Runaway" never received overwhelming radio play, but it absolutely set a precedent for Kanye's second era.
6. Real Friends (2016)
That changed with "Real Friends," nominally the first single from "The Life of Pablo." A gorgeous, haunted twinkle underscores a laundry list of doubts, confessions and insecurities. It's classic backpack Kanye — a return to his human roots, far removed from the deifying effects of the fashion industry. In a way, "Real Friends" was the most radical thing Kanye could've done after "Yeezus" and "My Beautiful Dark Twisted Fantasy;" talking on the TV like it's just you and me.
7. Power (2010)
It's hard to remember now, but Kanye buried himself deep underground and out of sight following the great Taylor Swift / VMAs debacle. Well, underground isn't quite right — he was in Hawaii. But when he did finally resurface in 2010, with "Power," it seemed incomprehensible that we'd spent the previous handful of years without him. Yeezy is one of the few rappers in the world who can take a King Crimson sample all the way to 22 in the Hot 100. Let's hope he keeps that fire stoked.
8. Gone (2005)
This track has his trademark high-minded classical bent (Those strings! That Otis sample!) and his boastful, regretful, unlikable, magnetic ethos on full display in the verses. "Gone" was never released as a single — it features a particularly mediocre Consequence verse — but there's no better representation of what makes Kanye interesting.
9. Waves (2016)
Those first few ticks on "Wavves," where a stunning, stuttering choir burns from the gates of heaven and the problematic Chris Brown swoops by in the greatest verse of his career and all of a sudden you realize the light in your soul is back on. Kanye's core manifesto (or insecurity) is to show the world exactly how great he is. And when he hits, boy does he hit.
10. Flashing Lights (2007)
Kanye has done backpack rap. He's done highbrow, Very Serious arthouse cinema. He's made club jams and aloof, singer-songwriter Auto-Tune slumps. But some of the best Kanye is the Kanye we got in 2007, when the greatest rapper alive became a Eurodance sensation. "Flashing Lights," in all its dusky-pink synthetic beauty, never quite took the reins from "Stronger" as the marquee single on "Graduation," but it's certainly the better song.
Source from https://www.redbull.com/ie-en/20-best-kanye-west-songs
Download them from Apple Music and convert to MP3
Kanye's top 10 classic music songs can also be found on Apple Music. If you have subscribed Apple Music, and want to play these music songs from Apple Music to MP3 player, the following will help you.
To convert the downloaded Apple music songs to MP3 format quickly, you need to free download and install Macsome iTunes Music Converter, which does well in converting downloaded Apple Music songs and purchased Audio book and so on to MP3, M4A, M4B, WAV, FLAC and so on,.
Windows Version Download Mac Version Download
Step 1, click the Add button, you can choose the different iTunes library to add the audio files to convert.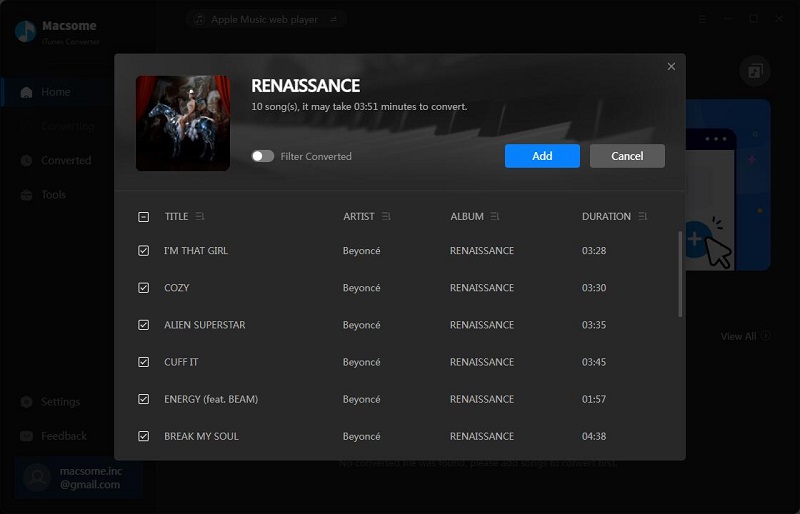 And select the file you want to convert, click OK, and then all files you selected will be listed on the main window.
Step 2, click Setting button to set the output format and output path before the conversion as your need.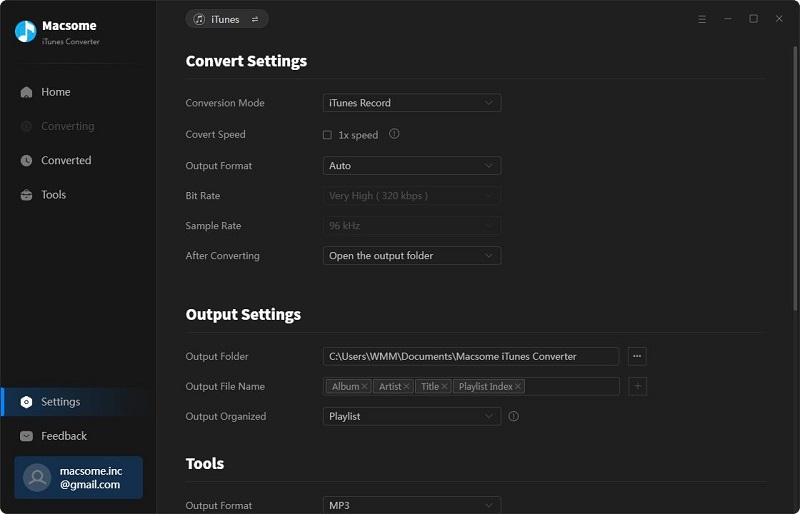 Step 3, click the Convert button to start converting.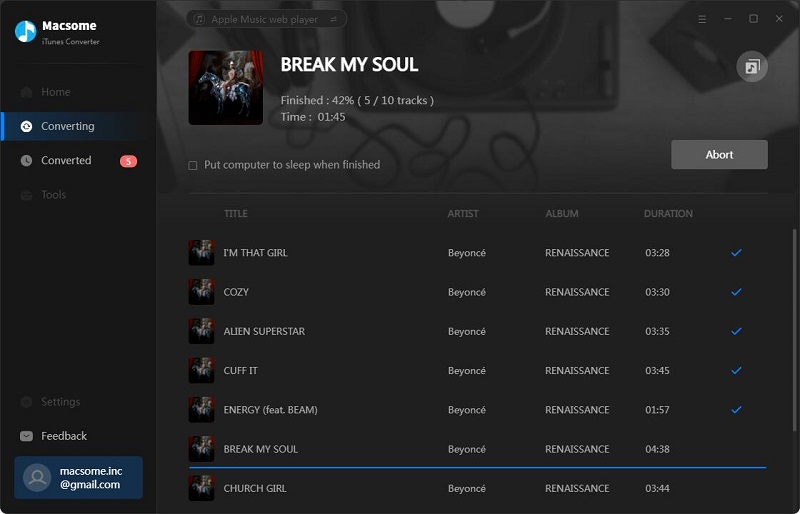 After the conversion, you can open output folder to find the converted music files in the format of MP3, and then you can transfer them to your MP3 player quickly.