What is Spotify
Spotify is a music, podcast, and video streaming service that was officially launched on 7 October 2008. It is developed by startup Spotify AB in Stockholm, Sweden. It provides digital rights management–protected content from record labels and media companies. Spotify is a freemium service; basic features are free with advertisements or limitations, while additional features, such as improved streaming quality and music downloads, are offered via paid subscriptions.
There's no doubt that Spotify is becoming more and more of a marketplace force in country music and beyond, despite much controversy among the artistic community. With the music streaming service - Spotify, people can play and listen to any music song whenever they want. In addition, they can play these music songs for as many times as they want.
Pros of Spotify
It provides with 2 music membership: Spotify Free And Spotify Premium
With Spotify free, you can listen to the music you love on the go, create your own playlists, discover new music, share the music and the playlists with your friends, and more. But, if you choose to subscribe to Spotify Premium, you get to enjoy the full Spotify experience.
If you have been using Spotify free, or you have never used Spotify Premium before, as a first-time user of the premium service you will get a one-month free trial. The first month free goes for the individual plan.
Spotify Premium service offers noticeably better fidelity than Apple Music.
With Spotify Premium features, you can listen to the music when you are offline, access to more than 82 million songs, travel to other countries with the music you love, an ad-free experience, play Spotify through your TV or car.
Support various of platforms.
It is available for most modern devices, including Windows, macOS, and Linux computers, as well as iOS, Windows Phone and Android smartphones and tablets.
Large music catalog supported and large users
Spotify provides access to more than 30 million songs. As of June 2017, it had more than 140 million monthly active users and more than 60 million paying subscribers as of July 2017.
Easy to use
When it comes to Spotify, everything is so simple. You will easily find all the things you need, organize your playlists, explore new music, listen to the radio, and more. Exploring all its features and things it offers is quite an enjoyment.
Cons of Spotify
Every thing has 2 faces. Spotify as well, which has some drawbacks as following:
Have no its own lyrics
Many of us love reading the lyrics when listening to the music. Spotify had its own lyrics feature, but they decided to remove it. You can use Genius' Behind the Lyrics if you want to know the meaning of the lyrics, and you can also use SoundHound to read see the lyrics of your favorite songs.
The song can't be downloaded even with the Spotify Premium plan.
By subscribing to Spotify Premium service, you are able to enjoy Spotify music offline with the device that installed Spotify app. However, if you need to listen to Spotify music on your music player, you are out of luck. Spotify does not offer an option to download the music as MP3 files. Thus many people asked how to extract MP3 audio from Spotify for freely enjoyment or other questions like that
Now you have known the pros and cons, and this will help you online streaming music choices. Enjoy your time.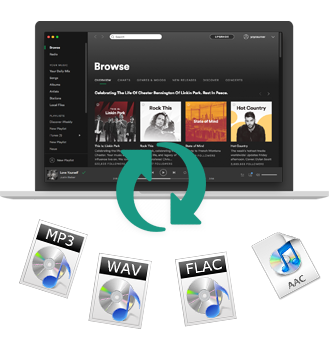 Spotify supports users kinds of conveniences to listen to music, but you can't transfer them to other MP3 player devices, which is protected by DRM.
If you want to transfer and copy Spotify Music files to Apple Music, PSP, Walkman, iPod and so on, Spotify Audio Converter can free download the Spotify songs and convert them to MP3, AAC, WAV, FLAC with a faster speed and lossless quality.
Download Spotify Downloader for free:
Windows Version Download Mac Version Download