Robyn Rihanna Fenty (born February 20, 1988) is a Barbadian singer, songwriter, and actress. Born in Saint Michael and raised in Bridgetown, she first entered the music industry by recording demo tapes under the direction of record producer Evan Rogers in 2003. She ultimately signed a recording contract with Def Jam Recordings after auditioning for its then-president, hip hop producer and rapper Jay Z. In 2005, Rihanna rose to fame with the release of her debut studio album Music of the Sun and its follow-up A Girl like Me (2006), which charted on the top 10 of the US Billboard 200 and respectively produced the singles "Pon de Replay" and "SOS".
At just 27 years old, Rihanna has dropped her eighth studio album Anti -- meaning we have seven previous albums worth of songs to choose from to find her 10 very best.
Here are her 10 best music songs so far, NOT including tracks on Anti -- since that album just dropped.
1. "Umbrella" (ft. Jay Z) (2007)
RiRi's ride-or-die anthem is memorable from the first fat hi-hat. An easy metaphor and some "ellas" later, the world was under Rihanna's spell. The-Dream and Tricky Stewart had concocted yet another R&B crossover hit -- and the Jay Z assist didn't hurt either. Undoubtedly the song that established her as a mainstream force to be reckoned with, "Umbrella" remains as simultaneously fresh and sweeping today as it did nine years ago.
2. "We Found Love" (ft. Calvin Harris) (2011)
However you feel about Calvin Harris, this soaring house single is undeniable. It's Rihanna's diva moment -- simple, but still unstoppable. It's no wonder that this is her biggest single so far.
3. "Pon De Replay" (2005)
"Pon De Replay" may have been Rihanna's debut single, but it was built on top of an already too-big-to-fail framework: Lenky's undeniable "Diwali" riddim, the guts of crossover hits "Get Busy" (Sean Paul) and "No Letting Go" (Wayne Wonder) among many others. Stripped down, sexy and impossible not to move to, it's pop-dancehall at its finest.
4. "Only Girl (In the World)" (2010)
An uptempo, all-purpose dance song, "Only Girl" is saved from being a flash in the pan by Rihanna's throaty, insistent singing. She manages to be both authoritatively seductive and coyly deferential, punctuating every persuasion with a breathy "uh" or "yeah" -- combined with the song's relentless pulse, it's a universally-appealing, fist-pump-ready confection.
5. "Rude Boy" (2009)
RiRi takes the reins on "Rude Boy," the least explicit of her sex-positive singles (and, it should be noted, not an indictment of anyone's politeness but rather the Caribbean's rough equivalent of "gangster"). Backed by the echoes of steel drums, the singer insists on her sexual prowess while showing off her gift for unforgettable refrains.
6. "What's My Name?" (2009)
A comparatively gentle love song, "What's My Name?" was Rihanna's half of the two collaborations that resulted from her team-up with Drake ("Take Care" was his). She outshines his rote verse by a mile with her goofy refrain, her earnest affection bolstered by StarGate's fairly restrained production. It's RiRi at her most lilting -- island-inflected R&B that's as romantic as it is radio-friendly.
7. "Hard" (ft. Jeezy) (2009)
Rihanna's swagger anthem found the singer turning up the dial on her Barbadian accent to match the street-wise growls of Atlanta's Jeezy -- and it worked. "Hard" was the sugar-free single, all clanging cymbals and ominous synths courtesy of frequent collaborators The-Dream and Tricky Stewart. "I can't just let you run up on me like that," she sang, a self-defense likely directed at the clamoring media more than even her then-recent ex Chris Brown.
8. "SOS" (2006)
Taking the best part of "Tainted Love" and putting a modern spin on its theme of crazy-making affection, "SOS" was Rihanna's first Billboard Hot 100 chart-topper. The intoxicating track confirmed the singer's status as the pop chameleon to beat -- R&B chops over a retro, synthpop beat, combined to create a dance track ripe for international success.
9. "S&M" (2010)
"Na-na-na, come on," is RiRi's unflinching invitation on this sexual provacateur's refrain. The thematic sequel to 2009's "Rude Boy,"the single was a (still irresistible) walk on the wild side for Rihanna. She approaches the taboo with a radio-friendly wink, making it impossible (no matter your own preferences) not to sing along.
10. "Diamonds" (2012)
The seventh-highest-charting single of her career, Rihanna's foray into power balladry featured one of her most memorable vocal performances to date (it formed a neat companion to "Stay," her next single off Unapologetic). "Diamonds" found the singer embracing dancefloor inflections in new way. With help from Sia, Benny Blanco and StarGate, Rihanna created an evocative pop smash that didn't need nightclub appeal to hit the top of the charts.
The above source from http://www.billboard.com/articles/columns/pop/6820746/rihanna-best-songs
Play these songs from Apple Music on MP3 player
All the Rihanna's top 10 best songs you can download and purchase from iTunes Store, you can also stream them from Apple Music, or download them offline. In the following we will talk how to convert the downloaded music files from Apple Music to MP3 player.
To convert the downloaded Apple Music songs to MP3 format quickly, you need to free download and install Macsome iTunes Music Converter, which supports so excellent solution to convert all your iTunes playlist, both music and audiobook files.
Windows Version Download Mac Version Download
Step 1, Open your iTunes Music Converter, click "+" button, and find your whole music album of La La Land. And then select all the audio files and click "OK" button to add them.
Step 2, after you add these music files, now you can click the setting icon to set the output format and output folder.
Except MP3 format, you can also convert these music files to AAC, FLAC, WAV as you like.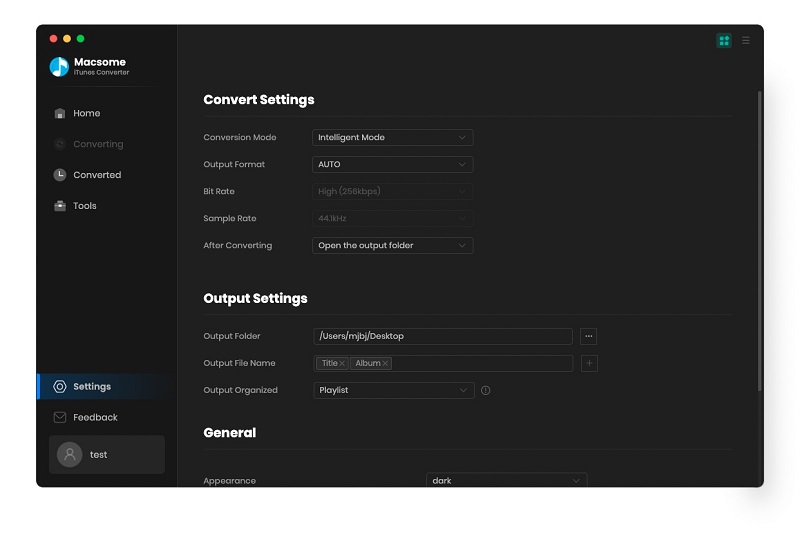 Step 3, After the above steps settings, you can click "CONVERT" button to start.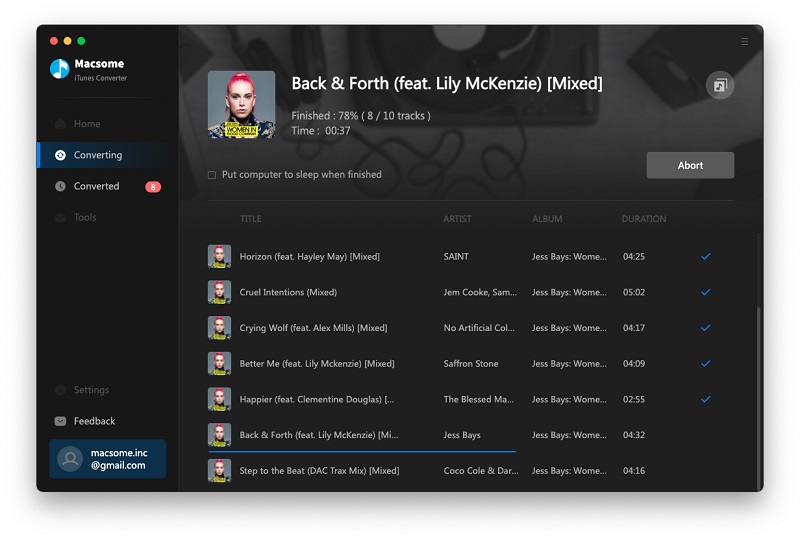 After the conversion, you can open output folder to find the converted music files in the format of MP3, And then you can transfer them to your MP3 player quickly.