2017 is going to be over in a month. And now we can collect and do some reviews of all the year, like the best music album of 2017 and so on.
In the following, we list the top 10 best music album of 2017, you may find some you like or you can also recommend your favorite.
1) Loyle Carner - Yesterday's Gone
"Basically we're bringing it back to basics." Some may have forgotten Loyle Carner's jewel of a debut record, given that it was released right at the beginning of the year. Rebel Kleff's old-school hip hop production - pioneered by the likes of Wu-Tang Clan's RZA and Q-Tip from A Tribe Called Quest— sees the album chop and change, throwing in 40-second skits and snapshots from Carner's life, not a moment wasted.
There are twangs of guitar, funk-driven bass lines, gospel choruses, poetry, a saxophone, the gospel chant on "The Isle of Arran" that recalls "California Dreamin'"…. and at the top of it all, Carner's swift flow that switches up from a languid, poetic narrative on "No Worries" and "Mean It In The Morning" to a spitfire on tracks like "OCD" and "Stars & Shards".
Like his heroes – Mos Def, Nas, Common, The Pharcyde, Benjamin Zephaniah – Carner has an astonishing ability to evoke the world that surrounds him, and he also shares their capacity for storytelling. We get a perfect balance between the influences he draws on from the best of US hip hop and the power of his own, distinctly south London voice.
Carner wears his heart on his sleeve in everything that he does; there is not one moment on this record where he hides from his emotions. Family is at the heart of everything, from the charming conversation between him and his mother, where he allows her to call him a "shmoo"; the song "Florence", where he imagines life with a baby sister; to the closing title track, which features recordings by his late, beloved step-father. Yesterday's Gone is an outstanding debut by one of the UK's finest young talents - an album you find yourself returning to again and again.
2) Lorde - Melodrama
"Unconventional pop that still bangs" was how we described Lorde's follow-up to her acclaimed debut Pure Heroine. Working mostly in New York with producer Jack Antonoff [Bleachers, St. Vincent, Taylor Swift], Lorde created an album that documents feelings of early adulthood, spanning desire, heartbreak, fear, certainty. She captures how it feels as a young person living in a huge city with millions of people, and to still feel lonely.
Her songwriting talent combined with Antonoff's production means Melodrama sounds like nothing else released this year. You hear it most on opener "Green Light" (which producer Max Martin called "incorrect songwriting") and the way she blurts out that intro with fury so tangible it makes you shiver, before throwing you head-first into the intoxicating chorus, revelling in its chaos. Non-rhymes and that key-change, possibly one of the most talked-about in music history, are superb. And it continues throughout, there is no filler on this record, and each song stands out, quite exquisitely, on its own. Read the full review here.
3) Rapsody - Laila's Wisdom
Rapsody is arguably one of the most underappreciated names in hip hop. The Roc Nation MC was one of the best features on Kendrick's To Pimp A Butterfly ("Complexion"), and has since enlisted him for her second record - the first to be released on Roc; alongside a wealth of other brilliant guest appearances including Anderson .Paak, Busta Rhymes, Amber Navran and Terrace Martin. It's an album that buzzes with life, and is impossible to pre-empt, with scope to become a classic.
Opening the title track on a sample from Aretha Franklin's "(To Be) Young Gifted and Black", she loops the church piano and regales the listener with her grandmother's advice for life. Her flow is graceful and full of light; her skilful wordplay seemingly effortless. "You won't need no toll booths, they'll pay attention, Hov do," she asserts, nodding to her label's boss Jay Z. "Pay Up" is an outstanding, funk-driven riff off TLC's "No Scrubs" or Destiny's Child's "Independent Woman".
It's an ambitious work: 14 tracks and with many passing the 4 minute mark, but rare in that it took two years to complete, with the intention apparently to produce a work that was considered, and ready, and artful. Rapsody is a natural storyteller taking the listener along for the ride, and the way she tells those stories is so utterly visual; she paints a mural of her life as a black female artist in the 21st century and tackles subjects including police brutality, social media and life in the South.
4) Perfume Genius - No Shape
On No Shape Mike Hadreas shows the gentle, sacred love of a long-term relationship. Its sheer interpretability is what makes it so special, written by a restless artist during a number of different moods, the listener is able to take from it what they will.
His writing about long-term partner Alan Wyffels is raw and passionate yet at the same time endearingly normal. On "Alan" he wonders at the state of domestic bliss he finds himself in: "I'm here," he sings. "How weird.
5) SZA - Ctrl
The long-awaited album from an artist who has written for everyone from Nicki Minaj to Rihanna to Beyonce. Originally titled A, it was meant to conclude a trilogy of self-titled releases after S [2013] and Z [2014].
SZA's voice is dreamy and fluid, navigating through themes of youth, identity and femininity. She doesn't set out with any one statement, choosing instead to explore those ideas as she goes along, wondering aloud to herself and allowing the listener to hear those musings in the same vein as Frank Ocean. On "Doves In The Wind" you hear a classic Kendrick beat before SZA comes in and sings "I'm really tryna crack off that headboard" with sweetly brazen tones that recall Prince at his sexiest.
It's the versatility that makes this album, with neo-soul and touches of indie rock alongside trap production that all settles around her voice and her words, her fearlessness to say actually, this is a s**t situation. On her debut, SZA proves that the dark times can be presented just as beautifully as the good.
6) Ghostpoet - Dark Days + Canapes
"The trip-hop rhythms may have been replaced by a more varied range of beats, from the languid funk groove of "Freakshow" to the de-syncing drum machines of "One More Sip", but the mood and manner of Ghostpoet [Obaro Ejimiwe]'s fourth album is steeped in much the same themes and textures, hauled up to date and delivered in a nonchalant deadpan akin to Roots Manuva."
The Independent's album critic Andy Gill awarded Ghostpoet's record five stars, praising how a song like "Live>Leave" uses a "shifting backdrop of flanged guitar and sporadic piano chords over an itchy drum shuffle to carry its tableau of cramped, paranoiac millennial hedonism struggling with forces beyond its control". Elsewhere he commented on how grim realities such as the drowning refugee in "Immigrant Boogie" work against the chipper mood on the likes of "Woe Is Meee", where Ojimiwe claims, "I had a dance with the devil, I couldn't keep his pace".
"Assisted by producer/guitarist Leo Abrahams, whose work with artists such as Brian Eno, Karl Hyde and David Holmes equipped him perfectly to bathe Ojimiwe's images in swaddling guitars and illuminating sonic details," Gill concludes. "The result is a great album that bodes well for Ghostpoet's future: as he says: 'Eyes wide like a flatscreen/I haven't reached my peak'." Read the full review here.
7) Kendrick Lamar - DAMN.
Wu-Tang Clan's RZA told The Independent in an interview earlier this month: "We're lucky hip hop has a Kendrick."
The release of K Dot's fourth studio record marked another masterpiece for the rap canon; the master storyteller outstripping his closest competitors once again in a work that was impossible to second-guess.
Where on To Pimp A Butterfly Lamar took a blisteringly scathing look at the world around him… on DAMN. he ventures deeper into his own mind, apparently exhausted by the pressure from fans, peers and critics to be this constant pioneer, offering up what most fans would identify as a "traditional" rap album to date, of course with his own, post-modern detours.
Throughout the record he seems to tackle his own contradictory feelings about his status as an artist. When he screams "bitch, be humble" on "Humble" you wonder if he's talking to himself or to any foolish challengers. On "Pride" he quips "I can't fake humble just 'cause your ass is insecure" and on "Loyalty" his boasts are held up as weaknesses. Just as Untitled, Unmastered was a look at his creative process, DAMN. allows the listener to peer inside the mind of a true genius.
8) Syd - Fin
Swirling blue pools and sprawling, oceanic landscapes are brought to mind on Syd's resplendent album Fin - named after the fish appendage rather than signifying the end of something.
She admitted that her solo work was "not that deep", but it did mark a descent to the depths she wanted The Internet to get into. Yet she embraces with ease the influence of 90s R&B: TLC, Aaliyah, Erykah Badu, with her husky, languid drawl and half-whispers that slink around album highlights "Body" and "Know".
In a genre dominated by heteronormative romantic cliches, it's refreshing to hear her singing from a female, gay perspective, yet still with the half-rap braggadocio flow that makes her so compelling.
9) Jessie Ware - Glasshouse
Not one of these songs sound the same. Even on the best albums that's a hard thing to avoid - often an artist wants to keep exploring a sound or thought but transfers too much across to other songs so they lose their uniqueness; Ware combats this by bringing on, at various times, the likes of Benny Blanco, Happy Perez, Cashmere Cat and Ed Sheeran.
What Ware's songs on Glasshouse do have in common is that they are all quietly, beautifully poignant. Many of them were written after giving birth to her daughter, in those weary hours of early parenthood. On "Selfish Love" her voice over the Flamenco guitar is lustful, as fiery-yet-restrained as the dance itself, nodding to our current fascination with Latin American music without
Pino Palladino's bass on the album's final track "Sam", co-written by Ware and Ed Sheeran, melts into that outro of Nico Segal's trumpet and gentle cymbals. Sheeran often works best as a songwriter for women, managing not to trigger the audience's cringe muscle with false sincerity that can appear in his own music, and instead simply guiding Ware to a sweetly disarming tribute to her husband and child.
10) Trampolene - Swansea to Hornsey
"It's taken me a whole lifetime to write this album, so maybe you can spare me 51 minutes of yours to give it a listen. That's not even an hour. It's quicker than an enema, and more fun."
It felt as though fans had been waiting an age for the release of this Welsh rock band's debut album - as their frontman admits, it's taken a lifetime to write. Led by Jack Jones, who has established himself not only as a resident poet for The Libertines, but also as the guitarist in Pete Doherty's band the Puta Madres, Trampolene's Swansea to Hornsey intersperses poetry with rock music in a way few artists dare to do today.
It's the range of classic rock sounds on this record, made at Ray Davies' Konk Studios in Hornsey, that's particularly impressive, from a Buzzcocks snarl on the chorus of "Alcohol Kiss" to the Queens of the Stone Age nods for "Primrose Hill - 5th September".
Opener "Artwork of Youth" is a poem recalling old schoolmates that Jones recites with a ready weariness. Moods that run through this record are gritty and tumultuous; disenchanted youth trying to "get f**ked for a fiver" on "Dreams so Rich, Life so Poor" and feeling as though all the doors have been bricked up. Their reference points are as versatile as any release this year - Patti Smith, Oasis, Dylan Thomas, Pete Doherty - there are frantic drum beats, screeching guitars and Jones' Welsh tones which meander from a soft rasp and up to a raucous shout on "The Boy That Life Forgot".
Few could make a song about Poundland seem as poignantly humorous or charming. So much of Swansea to Hornsey feels like self-flagellation, on a lyric like: "Please insert your meaningless life/Into the chip and pin device." Jones bleeds on these songs.
iTunes Audio Converter (Mac / Win)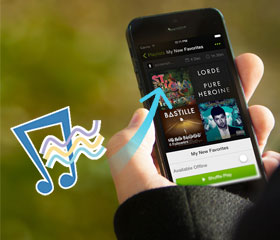 Users can purchase these music albums from iTunes Store, or enjoy them from Apple Music, they can also download them.
Apple Music supports users kinds of conveniences to listen to music, but you can't transfer them to other MP3 player devices.
If you want to transfer and copy Apple Music files to Apple Music, PSP, Walkman, iPod and so on, iTunes Audio Converter can highly record Apple Music and convert them to MP3, AAC, WAV, FLAC with a faster speed and lossless quality.
Download Apple Music Converter for free:
Windows Version Download Mac Version Download