When we talk about Halloween, how to choose a suitable music for Halloween party.
Halloween is a celebration in remembrance of the dead that occurs annually on the evening of October 31. Halloween 2019 is on Tuesday, October 31, 2019.
With Halloween Day, you can not only get some sugary sweets, you can also get some ear candy.
But which Halloween songs are the most popular? As you prepare your Halloween party playlists, we're helping to make sure that you don't miss a single graveyard smash, as the following top 10 songs for Hallween 2019.
1. Thriller - Michael Jackson
Thriller, which hit No. 4 on the Hot 100 in 1984, is the most-downloaded Halloween-themed hit of all-time, with digital sales to-date of 3.4 million, according to Nielsen SoundScan. (It's also Jackson's best-selling download, ahead of runner-up "Billie Jean," which has sold 2.7 million).
2. Monster Mash - Bobby "Boris" Pickett & the Crypt-Kickers
Though it's been decades since this kitschy, creepy faux-Frankenstein party tune scared up a No. 1 slot on the Hot 100 in 1962, Bobby "Boris" Pickett & the Crypt-Kickers' "Monster Mash" has been on Halloween party playlists ever since. Read about 50 Years of "Monster Mash"
3. Ghostbusters - Ray Parker, Jr.
When October rolls around, the clear answer to the lyrical question, "Who ya gonna call?," is Ray Parker Jr.'s "Ghostbusters," which topped the Hot 100 in 1984.
4. Deal With the Devil - Pop Evil
Here's a recent entry to the list -- Pop Evil's chugging, hard rock single "Deal With the Devil." Coming from the band's 2013 set Onyx, it topped Mainstream Rock Songs and peaked at No. 20 in Rock Airplay.
5. Werewolves of London - Warren Zevon
A perfect Halloween entry from the (late, great) Warren Zevon, who also famously sang "I'll Sleep When I'm Dead," is this howling Me Generation rocker that rose to No. 21 on the Hot 100 in 1978.
6. Superstition - Stevie Wonder
On one of his signature songs, Stevie Wonder pleads with his listeners to ignore talk of broken mirrors and walking under ladders. "Superstition ain't the way," he preaches in this 1972 song, but there's something about that funk that still sounds almost… spooky.
7. Creep - Radiohead
Though far from the creepiest-sounding dirge in Radiohead"s now-lengthy catalog, radio has always had a love for the band's breakthrough hit, which is especially relevant when Halloween rolls around. It's just too bad Radiohead's career peaked here… kidding!
8. Don't Fear the Reaper - Blue Oyster Cult
This mid-tempo rocker, which hit No. 12 on the Hot 100 in 1976 for Blue Oyster Cult, isn't spooky at all until you consider the lyrics told from the point of view of some death-friendly dude trying to induce his gal to join him and not "fear the reaper."
9. Highway to Hell - AC/DC
Pitch-black metal from down under, AC/DC drove "Highway" to No. 47 on the Hot 100 in 1979.
10. This Is Halloween - Danny Elfman
Venerable composer Danny Elfman got a big assist from the citizens of Halloween Town for this Nightmare Before Christmas favorite, which was famously covered by Marilyn Manson in 2006.
iTunes Audio Converter (Mac / Win)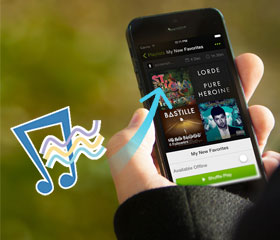 Apple Music supports users kinds of conveniences to listen to music, but you can't transfer them to other MP3 player devices.
If you want to transfer and copy Apple Music files to Apple Music, PSP, Walkman, iPod and so on, iTunes Audio Converter can record Apple Music and convert them to MP3, AAC, WAV, FLAC with a faster speed and lossless quality.
Download Apple Music Converter for free:
Windows Version Download Mac Version Download