Justin Drew Bieber is a Canadian singer and songwriter. After a talent manager discovered him through his YouTube videos covering songs in 2008 and signed to RBMG, Bieber released his debut EP, My World, in late 2009. It was certified Platinum in the U.S. He became the first artist to have seven songs from a debut record chart on the Billboard Hot 100.
Bieber has won numerous awards, including the American Music Award for Artist of the Year in 2010 and 2012. In his career, he has won one Grammy Award for Best Dance Recording for the song "Where Are Ü Now" at the 2016 ceremony and one Latin Grammy Award for Best Urban Fusion/Performance for the remix of Despacito at the 2017 ceremony. He has been listed four times by Forbes magazine among the top ten most powerful celebrities in the world in 2011, 2012, and 2013. Bieber also became the first artist to surpass 10 billion total video views on Vevo.
These years he brings us his great music talents and his music works, now in the article we will collect the top 10 music songs of Justin Bieber ever, you may find your favorite one.
1. "As Long As You Love Me"
With another successful Rodney Jerkins-produced song, "As Long As You Love Me" took Bieber's career in another direction. Heavily dubstep influenced and with a Big Sean guest spot, "As Long As You Love Me" showcased the adult, more mature version of Bieber, eventually peaking at the number six spot on the Billboard charts. Jason Lipshutz of Billboard spoke about the track, saying that it is "a massive yet somehow intimate dance track, with the drums almost reaching hair metal levels in their vibrations."
2. "Confident"
Amid a time period when Bieber was constantly running into issues with the law, he released "Confident," off of Journals, along with a music video for the track. Straying from his bubble-gum pop tendencies, noticeable from his earlier debuts of "Baby" and "One Time," Bieber presented his musical maturity, all within the song's lyricism and production value. As well, for the heavily R&B-influenced track, Bieber brought along Chicago-native, Chance the Rapper to rap a verse.
3. "Beauty and a Beat"
Bring Max Martin onto produce a track, and the formula for success has already been set into motion. Bieber, along with his collaborator Nicki Minaj, followed the formula for success with "Beauty and A Beat," as they brought on Max Martin as producer, for Believe's third single. With its heavy drumming, electrifyingly wavering synthesizers, and uptempo pace, "Beauty and a Beat" continued to demonstrate Bieber's growth and potential for reaching audiences beyond the average teenage girl.
4. "Die In Your Arms"
Serving as the first promotional single for Believe, "Die In Your Arms" was initially released on May 29, 2012. The song, which samples Michael Jackson's "We've Got a Good Thing Going," brought along ten co-writers, while Rodney Jerkins, Dennis Aganee Jenkins, Travis Sayles produced the track, according to MTV. The funky, Motown track hinted at Bieber continuing his trend of 'pop-'n'-b,' styled tracks, especially following the release of "Boyfriend."
5. "Boyfriend"
The first single from Bieber's Believe, "Boyfriend" marked the beginning of Bieber's transition from teenage heartthrob to an artist, post-heartthrob status. Ranging from coining the term 'swaggy' to offering his chivalry, "I can be a gentleman, anything you want," the single showcased Bieber as a falsetto-singing, edgier-than-usual artist, demonstrating how the younger Bieber was ready to illustrate he's grown up.
6. "All That Matters"
The second single from Bieber's Journals, "All That Matters" easily introduced listeners to the more mature, hip-hop influenced vibe that Bieber was looking for with his new music. When explaining the sensual, R&B number, Bieber noted, "All That Matters was written when I was in a great place in my relationship. And at that time, she was all that mattered." The music video, in particular, introduced viewers to a more mature Bieber, as he was depicted frequently shirtless; getting close with the female in the video.
7. "I Would"
Another one of Bieber's newer tracks on Believe Acoustic, "I Would" is a feel-good, positive-vibe song. Singing over a slick, crisp percussion beat and twangy guitars, Bieber, in his usual, season falsetto sings, "And I know it's never gonna be that easy / but I know that it won't hurt us to try." In the chorus, as Bieber presumedly serenades his muse, he sings, "If I could take away the pain / and put a smile on your face / Baby, I would, baby, I would." Between hitting his falsettos impeccably and demonstrating his range, Bieber truly shows off his vocal ability with the uptempo, uplifting, "I Would."
8. "Believe"
The title-track off of Bieber's 2012 release Believe, Bieber noted in The Making Of Believe is for his fans. Pertaining to the song "Believe," Bieber wanted to do something that was not only "inspiring," but also something that "the fans would appreciate" because he appreciates them. In his dedicatory song for the fans, Bieber sings out, genuinely, over a light piano, until strong, crisp drums enter, "Where would I be / if you didn't believe?"
9. "Nothing Like Us"
One of Bieber's more vulnerable, personal songs, "Nothing Like Us" was one of the newer songs featured on Bieber's Believe Acoustic. The track is one of Bieber's more somber, piano-heavy compositions, as the lyricism depicts the narration of a break-up, presumedly, depicting one of Bieber's break-ups with on-and-off again girlfriend, Selena Gomez. "Nothing Like Us" showcases Bieber's vulnerability, heartache, and emotionalism following the break-up.
10. "Baby"
Any Bieber-related listing would fall incomplete without the mentioning of "Baby." As the first single from My World 2.0, "Baby" launched Bieber into superstardom, portraying the then floppy-haired, fresh-faced teenager with innocence and as the heartthrob he's grown to be recognized as. With a soaring, contagious chorus, "Baby" dramatically catalyzed Bieber's career, eventually peaking at the number 5 Billboard spot.
Source from: https://www.axs.com/the-top-10-best-justin-bieber-songs-29998
Play them from Apple Music on MP3 player
All the above music songs, users can get them from Apple Music Store as well. If you subscribe Apple Music, you can free download them on your computer and then use Macsome iTunes Music Converter to convert your downloaded Apple Music songs to MP3, AAC, FLAC and WAV format with fast conversion speed and lossless quality output.
To convert the downloaded Apple Music songs to MP3 format quickly, you need to free download and install Macsome iTunes Music Converter, which supports so excellent solution to convert all your iTunes playlist, both music and audiobook files.
Windows Version Download Mac Version Download
Step 1, Open your iTunes Music Converter, click "+" button, and find your whole music album of La La Land. And then select all the audio files and click "OK" button to add them.
Step 2, after you add these music files, now you can click the setting icon to set the output format and output folder.
Except MP3 format, you can also convert these music files to AAC, FLAC, WAV as you like.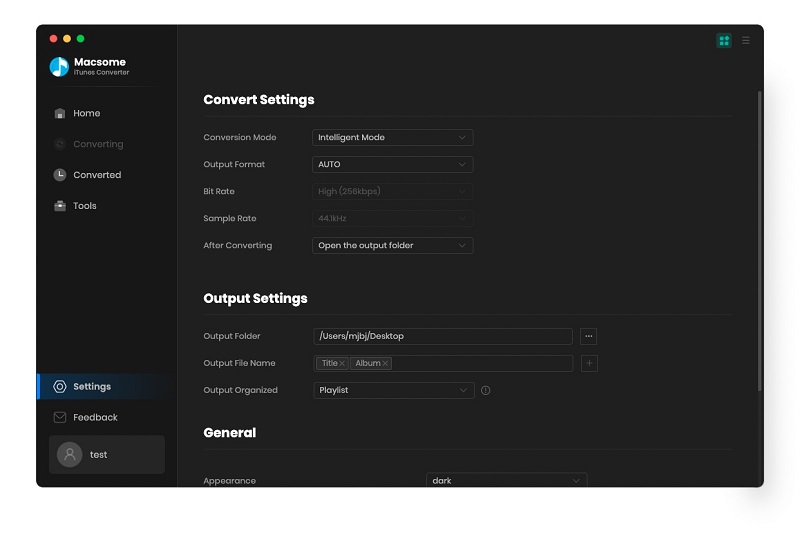 Step 3, After the above steps settings, you can click "CONVERT" button to start.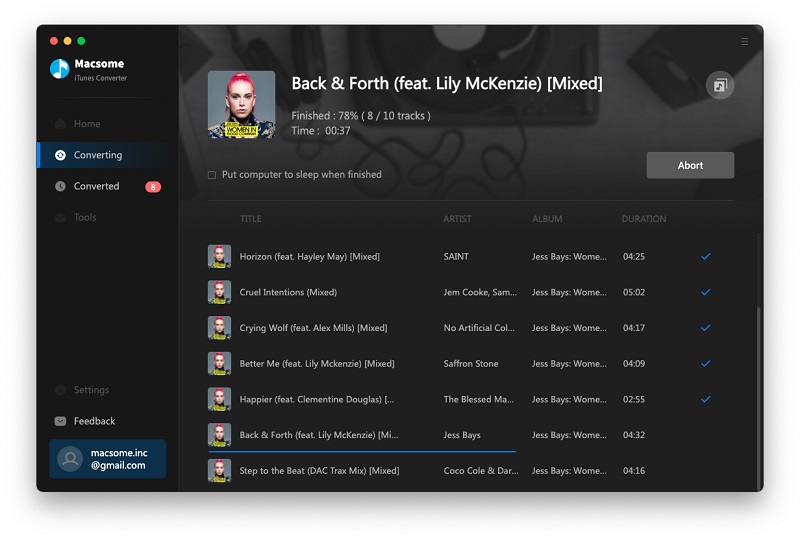 After the conversion, you can open output folder to find the converted music files in the format of MP3, And then you can transfer them to your MP3 player quickly.