Country music, also known as country and western or simply country, is a genre of popular music that originated in the southern United States in the early 1920s. It takes its roots from genres such as folk music (especially Appalachian folk music) and blues.
Country music often consists of ballads and dance tunes with generally simple forms, folk lyric and harmonies accompanied by mostly string instruments such as banjos, electric and acoustic guitars, steel guitars (such as pedal steels and dobros), and fiddles as well as harmonicas. Blues modes have been used extensively throughout its recorded history.
Nowadays Country music changes from time to time. Even when we want to recommend you the top Country songs for you, we only collects the top Country songs during a certain period. In the following, it lists the top 10 Country songs since 2018.
1. Marry Me - Thomas Rhett
"Marry Me" is a song recorded by American country music artist Thomas Rhett. It was released to country radio on November 20, 2017 via Valory Music Group as the third single from his third studio album, Life Changes (2017). The song was written by Rhett, Jesse Frasure, Ashley Gorley and Shane McAnally. It is a song where the narrator watches a desired woman marry someone else. It was quoted as "a clever ode to rejection" by StarTribune.com.
2. Broken Halos - Chris Stapleton
"Broken Halos" is a song recorded by American singer-songwriter Chris Stapleton. Written by Stapleton and Mike Henderson, it was released on April 14, 2017 as a promotional single from his second studio album From A Room: Volume 1. It won the award for Best Country Song at the 60th Grammy Awards and received a nomination for Single Record of the Year at the 53rd Academy of Country Music Awards.
3. Most Prople Are Good - Luke Bryan
"Most People Are Good" is not just a good song, it's a good country song. It's by far and away the best song from Luke Bryan's latest record What Makes You Country, and maybe the best from Luke Bryan since he made the transition as mostly a songwriter to a performer in the late oughts. And now we're able to call "Most People Are Good" a good radio single, because it's the latest selection from arguably the biggest current artist in "country" music to head to the airwaves.
4. All On Me - Devin Dawson
"All on Me" is a song co-written and recorded by American country music singer Devin Dawson. It is his debut single, and it appears on his first album, Dark Horse. Dawson wrote the song with Jacob Durrett and Austin Smith, and Jay Joyce produced it.
5. The Long Way - Brett Eldredge
"The Long Way" is a midtempo country ballad with influences of pop music. The song is "a look into what I want to find in love," according to a press release from Eldredge. Lyrically, the song describes how a lover can get to know their partner on a deeper level by exploring their history and their hometown. "The Long Way" was written at a time where Eldredge was looking for true love and his cowriter, Matt Rogers, was soon to be married, which inspired the romantic lyrics. Certain details were inspired by the writers' upbringings while others were generalized.
6. Singles You Up - Jordan Davis
"Singles You Up" is a song co-written and recorded by American country music singer Jordan Davis. It is his debut single and the first from his upcoming debut album, Home State. The song is about a man attempting to woo a woman who is currently with another man.
7. She's With Me - High Valley
"She's with Me" is a song recorded by Canadian country music duo High Valley for their fourth studio album, County Line (2014). The song was written by Seth Mosley, Brad Rempel, and Ben Stennis, and was produced by Mosley. It was released to Canadian country radio on May 13, 2015 as the album's fourth single. "She's with Me" was later included on the American track listing for the duo's fifth studio album and major-label debut, Dear Life (2016). It was released to American country radio April 17, 2017 as that album's fourth overall single and second in the United States.
8. Five More Minutes - Scotty McCreery
"Five More Minutes" is a song co-written and recorded by American country music singer Scotty McCreery. It was released in May 2017 as the first single from his fourth studio album, Seasons Change. McCreery wrote the song with Monty Criswell and Frank Rogers, who also produced it.
9. Meant to Be - Bebe Rexha feat. Florida Georgia Line
"Meant to Be" is a song recorded by American singer Bebe Rexha, featuring American country music duo Florida Georgia Line, from her third extended play (EP) All Your Fault: Pt. 2. It was released to American contemporary hit radio on October 24, 2017, by Warner Bros. Records as the second single from the EP.
10. You Make It Easy - Jason Aldean
"You Make It Easy" is a song written by Tyler Hubbard and Brian Kelley of Florida Georgia Line, along with Morgan Wallen and Jordan Schmidt, and recorded by American country music singer Jason Aldean. The song is the lead single from Aldean's eighth studio album Rearview Town.
Transfer Country songs from Apple Music to MP3 player
You know, most country songs you can find and stream on Apple Music. But you can directly transfer them from Apple Music to MP3 player if you want to play them on MP3 player
To deal with Apple Music to MP3 conversion well, we ask Macsome iTunes Converter for help, which supports Mac and Windows users an ideal solution to record Apple Music and save to the common audio formats MP3, AAC and so on with perfect quality output.
First of all, go to free download and install Macsome iTunes Music Converter, which supports so excellent solution to convert all your iTunes playlist, both music and audiobook files.
Windows Version Download Mac Version Download
Step 1, Open your iTunes Music Converter, click "+" button, and find your whole music playlist of Country Music. And then select all the audio files and click "OK" button to add them.
Step 2, after you add these music files, now you can click the setting icon to set the output format and output folder.
Except MP3 format, you can also convert these music files to AAC, FLAC, WAV as you like.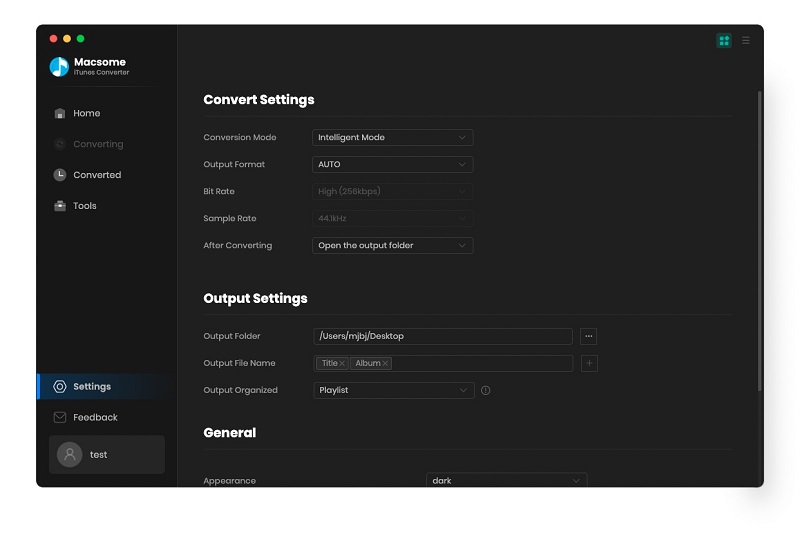 Step 3, After the above steps settings, you can click "CONVERT" button to start.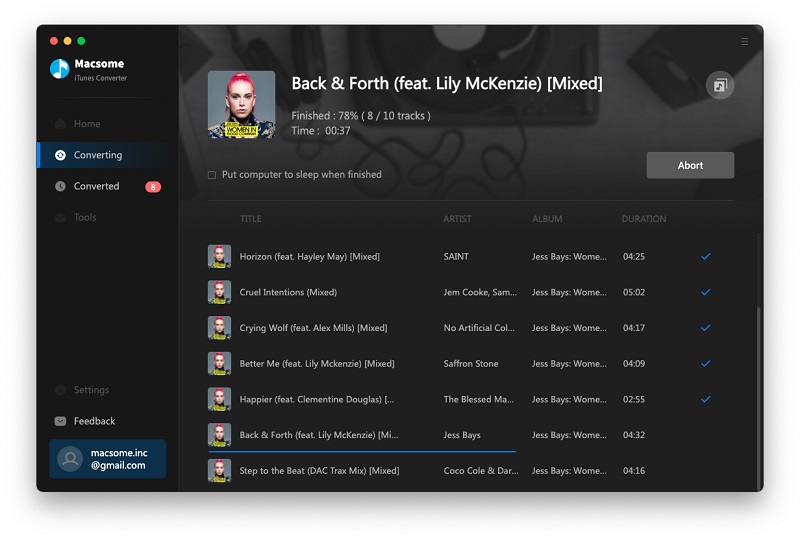 After the conversion, you can open output folder to find the converted music files in the format of MP3, and then transfer them to your MP3 player quickly.