Whitney Elizabeth Houston (August 9, 1963 – February 11, 2012) was an American singer, actress, producer, and model. In 2009, Guinness World Records cited her as the most awarded female act of all-time. Houston is one of pop music's best-selling music artists of all-time, with an estimated 170–200 million records sold worldwide. She released seven studio albums and two soundtrack albums, all of which have diamond, multi-platinum, platinum, or gold certification. Houston's crossover appeal on the popular music charts, as well as her prominence on MTV, starting with her video for "How Will I Know", influenced several African American women artists who follow in her footsteps.
1. I Will Always Love You (1992)
The song that went on to become a defining highlight of Houston's career almost never happened at all. Originally, the then 28-year-old was slated to cover Jimmy Ruffin's early Motown hit "What Becomes of the Brokenhearted" for the soundtrack of The Bodyguard, in which she also had her first major film role. It was her costar, Kevin Costner, who suggested she take on Dolly Parton's plaintive 1974 country ballad instead. (Against the record company's wishes, Houston and Costner fought to keep the extended a cappella intro, and won.) Her gospel-tinged reworking of the song — a towering showcase for the singer's phenomenal three-octave range — was an immediate global smash, topping the charts in 16 countries, and spending a record-shattering 14 weeks at No. 1 in the U.S.
2. The Star-Spangled Banner (1991)
Perhaps the most iconic, chills-inducing version of the national anthem ever rendered, it was also the only one to chart as a top 20 hit — twice. Her powerhouse performance at Super Bowl XXV stirred the patriotism of a country in the midst of the Gulf War, and did so again in the wake of 9/11; in both cases, Houston donated her share of profits from the song to servicemen and women.
3. How Will I Know (1985)
While it was first offered to Janet Jackson, the fifth single off Houston's debut album ended up being exactly the sort of buoyantly dancey hit — hey there, sax solo! — that the girl until then known primarily for stately ballads needed to be a true pop crossover star. And if you haven't heard the remarkable vocals-only version currently making the rounds online, go listen right now. No really, go. We'll wait for you.
4. My Love Is Your Love (1999)
Many had already written off Whitney as past her career prime when she released My Love Is Your Love, her first studio album in eight years. But this gorgeously syncopated soul-pop lullaby — featuring a sweet cameo ("Sing, Mommy") from her toddler daughter, Bobbi Kristina — rightfully went on to become her third-most-successful single ever, and redefined her for a younger generation.
5. I Wanna Dance With Somebody (1987)
A spirited descendant of "How Will I Know," this triumphant summer single met the gold standard of '80s pop, inspiring TIME magazine to crown her "The Prom Queen of Soul." And the music video, showcasing a shimmying, bow-bedecked Whitney who just wanted to have some fun and "feel the heat with somebody," became an indelible clip of the era.
6. So Emotional (1987)
"I don't know why I like it/ I just do," Houston giggles at the top of this giddy confession of a first-blush crush, which illuminated a naughtier, more rollicking side of the sweet-faced starlet. Ain't it shocking what love can do?
7. "I Have Nothing" (1993)
This steadily escalating stunner put the "power" in power ballad, allowing all of Houston's lyrical self-doubt and pathos to erupt into sonic tidal waves of goosebump-worthy bombast.
8. "I'm Every Woman" (1993)
Houston took the Chaka Khan original out of the disco era and transported it into early-'90s R&B funkland. It wasn't the biggest hit off the album — there was that Dolly Parton cover you may have heard of — but it's the most irresistible. By the time the last chorus kicks in, even the most Y-chromosome-laden among us were name-checking Chaka and singing along.
9. "Exhale (Shoop Shoop)" (1995)
Perhaps knowing that it would be unjustly compared with the mammoth Bodyguard soundtrack, Houston was determined not to record new songs for Waiting to Exhale. But producer Kenneth "Babyface" Edmonds persuaded her to lend her voice to this warm, simple groove. And wisely: "Exhale" became only the third single in history to debut atop the Billboard Hot 100.
10. "You Give Good Love" (1985)
This pretty bedroom ballad, the first big single from her debut, proved that soulful R&B and Top 40 pop can be hard to tell apart when the lights are off.
Play Whitney Houston's songs from Apple Music on MP3 player
You can download or purchase the top 10 best songs from iTunes Store, you can also stream them from Apple Music, or download them offline. Here we show you how to convert downloaded Apple Music songs to MP3 format..
To convert the downloaded Apple music songs to MP3 format quickly, you need to free download and install Macsome iTunes Music Converter, which supports so excellent solution to convert all your iTunes playlist, both music and audiobook files.
Windows Version Download Mac Version Download
Step 1, Open your iTunes Music Converter, click "+" button, and find your whole music album of La La Land. And then select all the audio files and click "OK" button to add them.
Step 2, after you add these music files, now you can click the setting icon to set the output format and output folder.
Except MP3 format, you can also convert these music files to AAC, FLAC, WAV as you like.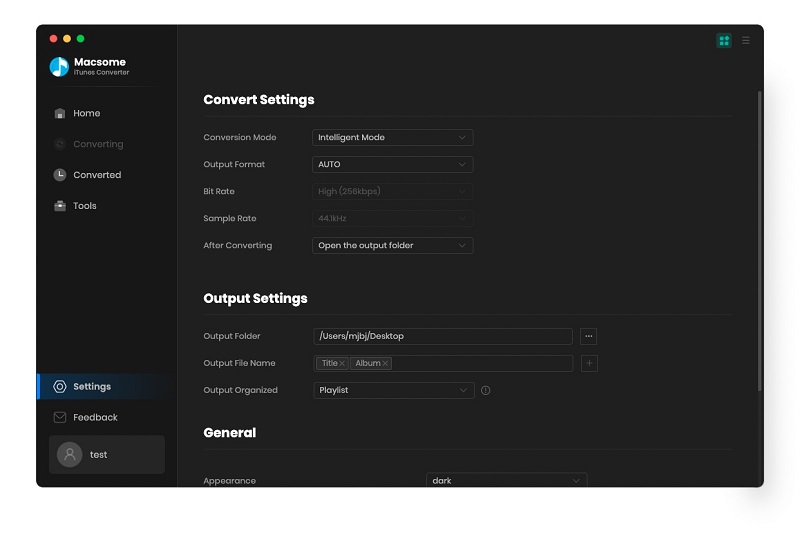 Step 3, After the above steps settings, you can click "CONVERT" button to start.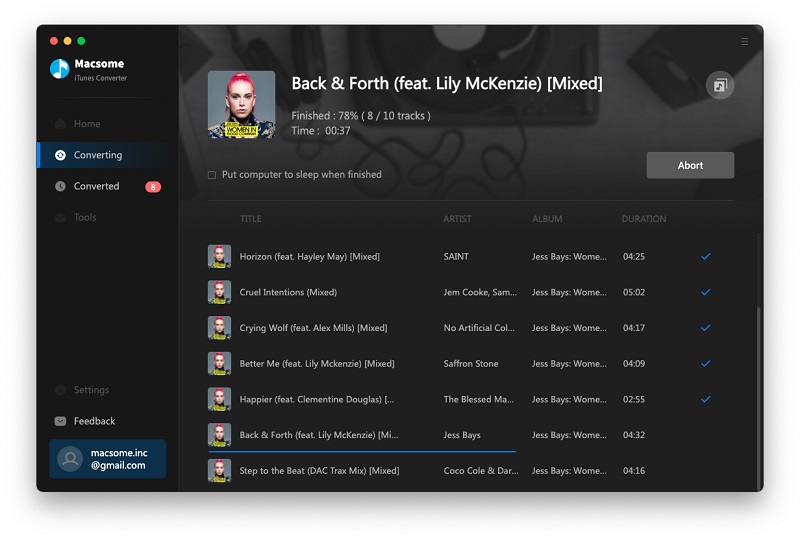 After the conversion, you can open output folder to find the converted music files in the format of MP3, And then you can transfer them to your MP3 player quickly.