DJs gives music a new taste. They play existing at least two sources of recorded music simultaneously for a live audience.
Most common types of DJs include radio DJ, club DJ who performs at a nightclub or music festival and turntablist who uses record players, usually turntables, to manipulate sounds on phonograph records.
Nowadays DJ is used as an all-encompassing term to describe someone who mixes recorded music from any source, including cassettes, CDs or digital audio files on a CDJ or laptop. DJs use audio equipment that can play at least two sources of recorded music simultaneously and mix them together to create seamless transitions between recordings and develop unique mixes of songs.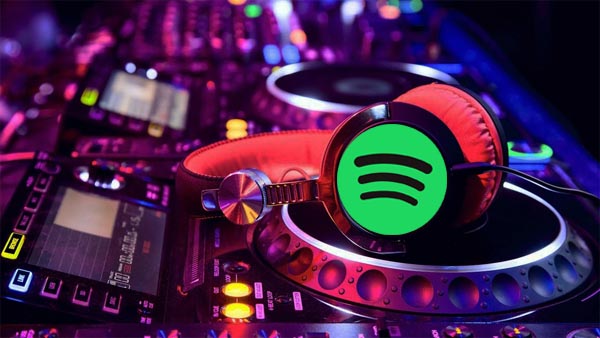 As you know that they mix kinds of music files. As the most popular streaming music service, Spotify also supports users various music sources. And as you know that Spotify supports both free and premium versions. Have you ever thought of adding Spotify music songs to DJ programs? Is it possible? If possible, how to do?
Please don't worry. This article will give you all the answers of the questions. Just follow the next.
Limitations of Spotify
Even Spotify provides users with Spotify Free version. Users can only enjoy Spotify music files with Ads, and they can't download, transfer and copy them. Of course, if you are Spotify Premium users, you can enjoy the music on Spotify without Ads, and free download them for offline playing. However Spotify Premium users can't still transfer or copy them freely.
Spotify Converter
To remove the limitations of Spotify and help DJs to edit music songs with Spotify music, we ask Spotify Audio Converter to help us. There is no need to download Spotify App on your computer, just supports users a simple solution to convert Spotify music songs to MP3, AAC, FLAC and WAV format at fast speed and excellent quality output.
Key Features of Spotify Converter
Download Songs from Spotify.
Convert Spotify songs to MP3, AAC, FLAC or WAV format.
Easily download songs from Spotify to local computer.
Keep ID3 tags and preserve lossless audio quality.
No need to install the Spotify app;
support 10X faster conversion speed.
Steps to Import Spotify Music to DJ Programs
Before conversion, users need to download Spotify Converter according to your system. It is is available on both Windows and Mac computers.
Windows Version Download Mac Version Download
Step 1. Run Spotify Audio Converter on your Windows and login in your Spotify account..
Step 2. Set the output.
Click on the Setting button button on the bottom right corner to choose the Output Format among MP3 / AAC / FLAC / WAV. And you can also set the Output Quality among 256kbps, 192kbps and 128kbps. and Output Path according to your requirements.
There is also one "Auto" option. When you choose "Auto" as the output format, Spotify Converter will convert music at the default faster speed.
Step 3. Add Files to convert.
You can open a playlist, artist or album, then click on the Add icon button on the bottom and select the songs that you'd like to convert.
Step 4. Start conversion.
Click "Convert" button to start converting the Spotify songs to the output format you chosen.
After the conversion completed, all the spotify music files you need are unprotected and you can mix them with DJ programs like Serato DJ and so on.
Mix converted Spotiy Music files with Serato DJ
Step 1. Launch Serato DJ software, click on the FILES button to open the files panel. Then click on these locations to navigate your computer and find your music.
Step 2. Once you have located your music, drag the folder or files onto the purple "All..." icon. This is located to the left of your screen at the top of the crates and playlist window.
Step 3. After few minutes, the converted Spotify music will be added to Serato DJ successfully, and you can use in on Serato DJ without any limits.
Get Spotify Audio Converter Platinum full version with $39.95:
Windows Version Download Mac Version Download