Amazon's Echo Dot is a smart speaker that packs all the technology and functionality of the original Echo into a much smaller package. Some days ago, the Amazon Echo Dot (3rd Generation) was released, which is a small but surprising product and it offers a gateway into the world of the smart home and improved audio over its previous models, as well as the Google Home Mini.
What is an Amazon Echo Dot used for?
Think of Amazon Echo Dot as your own personal assistant.
You can use it do everything else, like asking Alexa to play music, answer questions, read the news, check the weather, set alarms, control compatible smart home devices, and more. Echo Dot is designed around your privacy. You can press the microphone off button to disconnect the microphones.
Voice control your music
You can stream songs from Amazon Music, Apple Music, Spotify, Sirius XM, and others. You can also listen to audiobooks from Audible.
Use your Dot to control other devices that you might have in your home.
You can pair with a second Echo Dot (3rd gen) for rich, stereo sound. Fill your home with music with compatible Echo devices in different rooms. Turn on lights, adjust thermostats, lock doors, and more with compatible connected devices. So let's say you have a Philips Hue lightbulb, for example, the Dot can control that too. You'd just need to say "Alexa, turn off the bulb."
Connect with others
Call almost anyone hands-free. Instantly drop in on other rooms in your home or make an announcement to every room with a compatible Echo device.
Use another speaker
Connect to your own speakers over Bluetooth or with a 3.5 mm audio cable.
Alexa Supported
With tens of thousands of skills and counting, Alexa is always getting smarter and adding new skills like tracking fitness, playing games, and more.
Since Amazon's Echo Dot is so amazing, you can also try to play Apple Music on it as you like. In the following we lists two methods to help you play Apple Music on Echo Dot.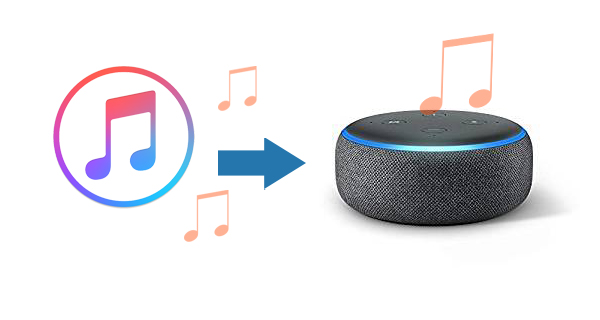 Method 1. Play Apple Music with Alexa on Echo Dot
Recently you can ask Alexa to play songs, artists, playlists, and more from Apple Music or playlists from your Library, please make sure that you are an Apple Music subscriber.
1. Open the Amazon Alexa app, then tap the menu button Menu button in the upper-left corner.
2. Tap Settings.
3. In Alexa Preferences, tap Music.
4. Tap Link New Service.
5. Tap Apple Music.
6. Tap Enable To Use.
7. Follow the instructions to sign in with your Apple ID.
And you can also enable the Apple Music skill in the Alexa skill store on the web.
Method 2: Stream Apple Music on Amazon Echo Dot via Bluetooth
Yes, you can also use Bluetooth to play Apple Music on Echo Dot. Please make sure that your devices support Apple Music playing working as well. In the next example, we take iPhone setting as an example.
Click Settings icon > tap on Bluetooth. Then you will see Amazon Echo device after searching and just pair it with iPhone.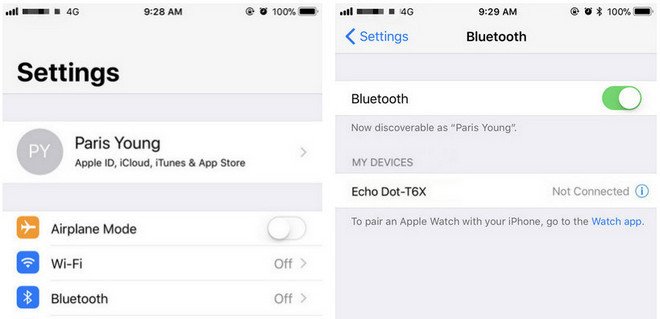 And then you can play them on Echo Dot.
Method 3. Transfer Apple Music to Amazon Music
It maybe the most simple method to play Apple Music with Alexa on some Amazon devices. However Apple Music for Alexa is available only in the United States, United Kingdom, Ireland, Australia, New Zealand, and Japan. If your country don't support Apple Music for Alexa, is there any other solution to play Apple Music on Amazon Echo Dot? Just look the following.
It is well known that Apple Music is DRM limited including the downloaded files. During the time you subscribe Apple Music, you can listen to and play Apple Music files and download them for offline playing. You can't transfer or copy the downloaded files to other devices. Or when you cancel Apple Music service, all the files can't be played any more, the downloaded files as well.
In order to solve the problem and help you transfer and copy Apple Music files freely, you need to transfer the converted Apple Music files to Amazon Music. It seems complicated. Just imagine that after you convert Apple Music files, yo can play them on any Audio players like MP3 player, Sony Walkman, iRiver, Creative Zen and so on. This looks high return.
Before the conversion, you need to know the Apple Music DRM Remover - Macsome Apple Music Converter which supports an ideal solution to convert protected Audio files on iTunes, including downloaded Apple Music files and purchased music and Audiobooks from Audible.com and so on to MP3, AAC, FLAC and WAV format with fast conversion speed and excellent output quality.
Step 1. free download the Apple Music files you want.
Open your iTunes, and find your whole Apple Music category. And then select the Apple Music files, click "..." to add them to "Playlist". After this, you can choose the Playlist and click the cloud icon to download it to play offline.
Step 2. Free download the latest version of Macsome Apple Music Converter, install and run it.
Windows Version Download Mac Version Download
Step 3, When you click "+" button, all the music files including the downloaded Apple Music files will be listed, now select them and click "OK", and all the music files has been added. Batch conversion is also supported.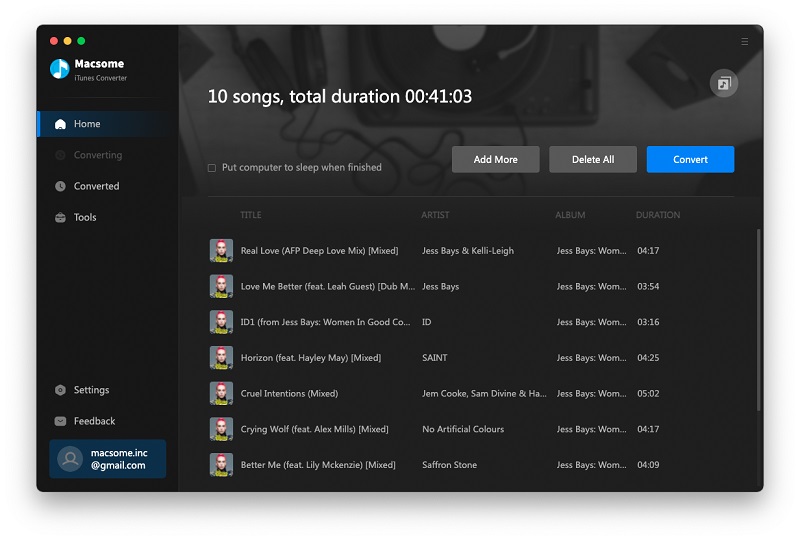 Step 4. After you add these music files, click the setting icon to set the output format and output folder. Here are MP3, AAC, FLAC, WAV for kinds of users.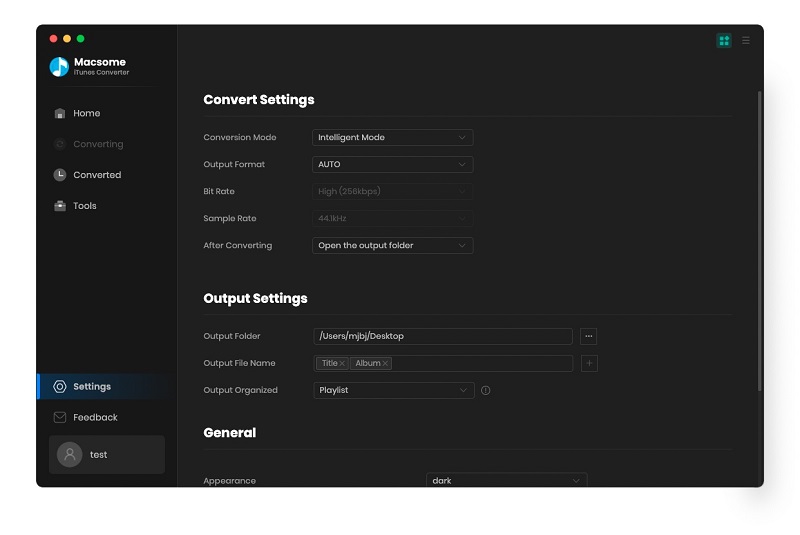 Step 5,, you can click "CONVERT" button and start conversion.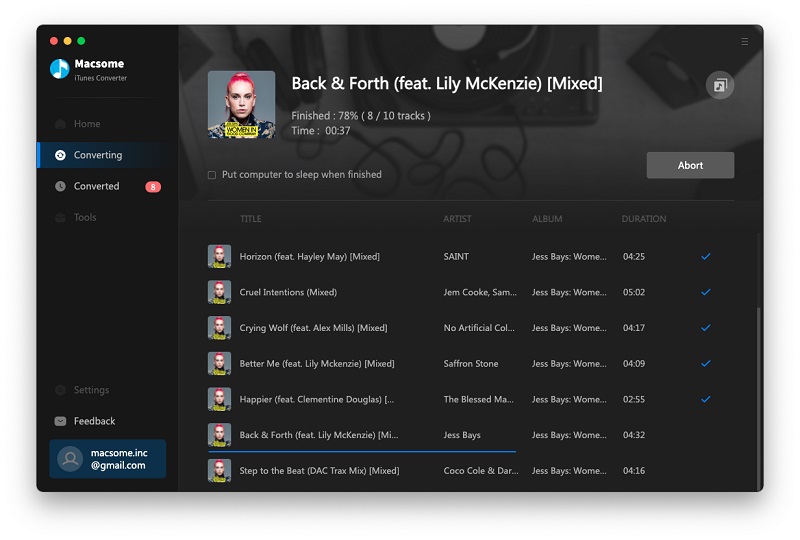 Step 6. Upload the Converted Apple Music Songs to Amazon
After the conversion, you can upload the converted Apple Music songs to My Music on Amazon from your computer. And then you can control the music playing via your Alexa device.
Amazon.inc supports free users up to 250 songs storage to My Music.
Now Run Amazon Music app on your PC or Mac and log in your ID, then drag and drop files from your computer into the Upload selection in the right sidebar under Actions.

And then Select My Music > Songs > choose Offline filter in the right navigation sidebar and click the upload icon to choose the converted Apple Music files or folder to upload. And now you can start uploading.
After the above steps, you can use Alexa to play these songs on your Amazon Echo Dot and other audio player or devices and so on.
Get iTunes Music Converter full version:
Windows Version Purchase Online Mac Version Purchase Online