Spotify is a digital music service that gives you access to millions of songs. It is well known that Spotify is the most popular streaming music services, , and it has 170 million monthly active users and 75 million paid subscribers. This quantity is far more than other sreaming music services like Apple Music, Pandora and so on.
Spotify is available in most of Europe, most of the Americas, Australia, New Zealand, South Africa, and parts of Asia. It is available for most modern devices, including Windows, macOS, and Linux computers, as well as iOS, Windows Phone and Android smartphones and tablets. Music can be browsed through or searched for by parameters such as artist, album, genre, playlist, or record label. Users can create, edit, and share playlists and tracks on social media, and make playlists with other users. Spotify provides access to more than 82 million songs.
Audio format by Spotify
There are the Ogg Vorbis media format at 96 kbit/s for "Normal" quality on mobile, 160 kbit/s for "High" quality on mobile and standard quality on desktop computers and the web player, and 320 kbit/s for "Extreme" quality on mobile and high quality on desktop computers, and is only available for Premium subscribers. "Extreme" quality is not available in Spotify's web player.
Spotify allows users to add local audio files for music not in its catalogue into the user's library through Spotify's desktop application, and then allows users to synchronise those music files to Spotify's mobile apps or other computers over the same Wi-Fi network as the primary computer by creating a Spotify playlist, and adding those local audio files to the playlist. Audio files must either be in the .mp3, .mp4 (.mp4 files that have video streams are not supported), or .m4p media formats. This feature is available only for Premium subscribers.
Spotify Free VS Spotify Premium
Spotify is a freemium service; basic features are free with advertisements or limitations, while additional features, such as improved streaming quality and music downloads, are offered via paid subscriptions.
As a Spotfiy free user, when you listen to Spotify songs, you may sit through banners and audio ads with limitations of five skips per hour as well as no access to offline playback.
In April 2018, Spotify began to allow Free users to listen on-demand to whatever songs they want an unlimited number of times as long as the song is on one of the user's 15 personalized discovery playlists.
A paid subscription is $9.99 per month, you will be Spotify Premium user, which gives you total access to everything Spotify has to offer, including offline listening and Spotify Connect, which lets you use your Spotify app as a remote to play Spotify on supported devices.
Spotify is proprietary and uses digital rights management (DRM) protection. Spotify do not permit users to reverse-engineer the application. That is to say, you can load MP3, AAC and like music files to Spotify to play, you can't move Spotify music songs to MP3 player to play, even you have subscribed Spotify Premium, and you have downloaded offline some music songs.
Is there a way to play Spotify songs on MP3 or other audio player, Spotify music downloader comes up, which is used to help Spotfiy users to download Spotify music songs or Spotify playlists and then save them to MP3 or AAC format, and then users can transfer these converted music songs and play them freely.
All-in-one Spotify Music Downloader - Macsome Spotify Downloader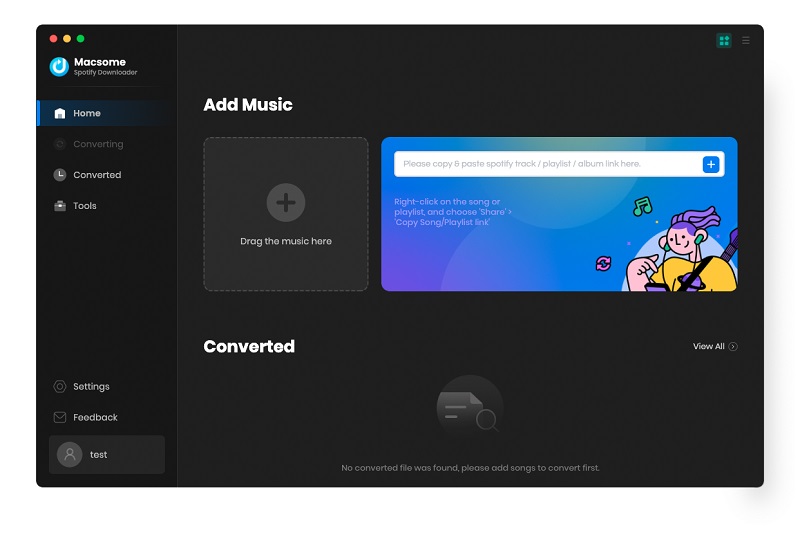 to make the process to download Spotify simple and fast, Spotify Downloader is specially designed to help the streaming music subscribers just only drag and drop the songs to the program and then choose the output format to download. All the downloading and conversion will be finished quickly.
What is more, with Spotify Downloader, users is able to convert Spotify audio files at up to 5X faster conversion speed, and keep original ID3 tags after conversion.
Features of Spotify Downloader:
Up to 5X speed to download Spotify music as MP3, AAC, FLAC or WAV;
Almost CD output quality.
Preserve ID3 tags after conversion;
Remove Ads after conversion;
Burn Spotify music to CD in one click (Windows Version).
No extra Hardware or Virtual Drive needed.
Simple to use.
Get Spotify Downloader full version:
Windows Version Download Mac Version Download