As you know that when System Integrity Protection is active, and macOS 10.13 has introduced new security measures, Macsome iTunes Converter can only convert audio files with 1X conversion speed on Mac 10.13.x.
In order to convert in 20x speed, macOS 10.13.x users need to turn SIP off. You can follow the next guide to know how to turn SIP off.
How to disable System Integrity Protection
Before you do this, it is important to get informed about "What is SIP".
What is System Integrity Protection (SIP)?
As we all know that we can make different types of user accounts on our Mac OS powered PCs, like Admin user, Standard user, and a guest user. Besides these, some accounts are already there by default which are usually hidden. One of these is root user or superuser. Prior to El Capitan, root user was awarded unrestricted status to change the system files which are usually not accessible by other normal accounts. In SIP, the root user is also restricted to modify the protected parts of the Mac operating system.
Most of the apps don't need the access to those SIP protected files. But, there are certain third-party apps which don't run properly or crash upon launching when SIP is enabled on the PC. It happens because they can't get access to the needed files present in the restricted directories.
Please note that, your machine may be less secure if you do. It is entirely your decision.
Method to turn SIP off
Step 1: Shut down the Mac.
Step 2: Turn it on but hold down the "Command + R" keys on the keyboard as soon as you hear the startup chime. You can leave the keys when you see Apple logo.
The system will boot into Recovery Mode.
Step 3: When the macOS Utilities menu appears, left-click the "Utilities" and then click the "Terminal".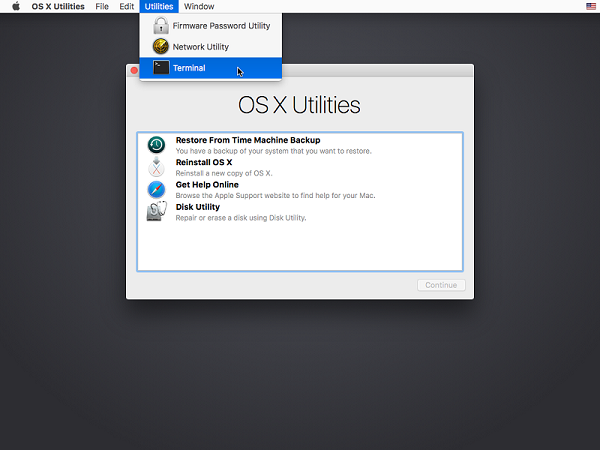 Step 4: In the window that opens, type "csrutil enable --without kext" and press return.

This turns off the part of SIP that iTunes Converter needs to run, and OS X complains that it is an unsupported configuration.
Step 5: Now write "reboot" to restart your Mac computer.
After adjusting the above settings, you will be able to install and run iTunes Converter to convert Audio files with 20X conversion speed on macOS 10.13.x as before.
Install the latest version of iTunes Music Converter
Since iTunes Music Converter for Mac has been released, and users can free download and install and run it. With the latest version, macOS 10.13.x users just refer to the above guide to turn SIP off, and then can convert audio files with up to 20X conversion speed.
Email Support
We want to hear from you. We welcome your comments, suggestions and requests for information. Please use the email addresses below to contact us on any question.
Support Email Contact: [email protected]