Spotify is one of the most popular music streaming services in the world, allowing users to listen to their favorite music on demand. Spotify is free to use, but its free version comes with advertisements that can be quite annoying. Although these ads may be crucial for the platform's revenue, they can at times disturb the listening experience and interfere with the continuity of music.
Is it possible to block Spotify ads? Thankfully, there are a number of Spotify ad blockers that can assist you in removing these annoying ads, allowing you to fully immerse yourself in your music without being interrupted. In this article, we'll take a look at some of the best Spotify ad blockers that you can use.
Part 1. Spotify Ad Blockers for Mac or Windows
EZBlocker (Windows Only)
Free and open-source
Recommendation index: ★★★★☆
EZBlocker is a free and open-source ad blocker that works by modifying the Windows hosts file to block Spotify ads. It runs in the background and automatically mutes ads, allowing users to enjoy their music without interruptions. EZBlocker is highly customizable and offers features such as automatic updates and the ability to whitelist certain ads if desired. There's no setup required - just drag it into any folder and run. To upgrade your EZBlocker, simply replace the executable file.
Pros:
Free and open-source.
Lightweight and easy to use.
Regularly update.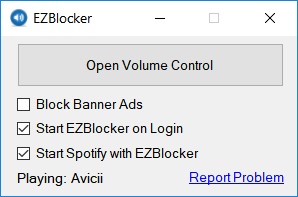 Spotifree (Mac Only)
Free and open-source
Recommendation index: ★★★☆☆
SpotiFree is an OS X app that automatically mutes ads on Spotify. It polls Spotify every 3 seconds to check if the current track has a track number of 0, which all ads have. If it does, Spotify is muted for the duration of the ad. After the ad is over, the volume is set back to the way it was before. Ads banners still appear though, but at least you don't hear the ads anymore.
If you listen to music with Spotify but want to mute the ads, you can get Spotifree at GitHub for Mac. After installation, the program is in the menu bar and is therefore very easy to access. It is a free app for Mac users. It works on Mac OS X 10.6 or later OS.
Pros:
Free.
Automatically mute ads on Spotify.
Cons:
Works on Mac only.
The app is too old.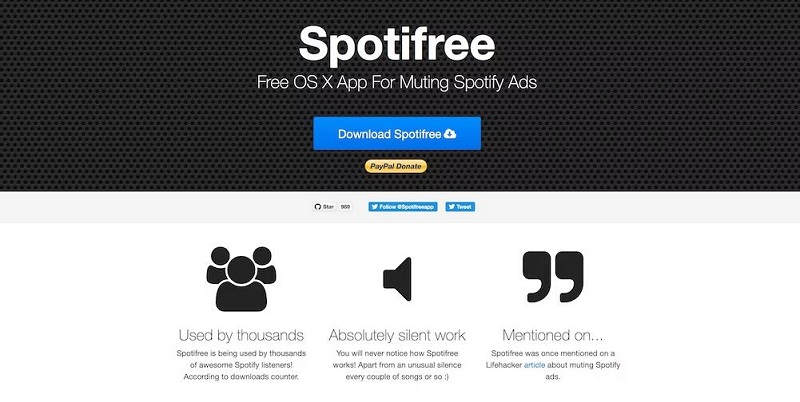 AdGuard (Windows & Mac)
Free version with limited features. Starts at $1.49/month.
Recommendation index: ★★★☆☆
AdGuard is a powerful ad blocker that not only blocks ads on Spotify but also blocks all types of ads on all web pages, even on Facebook, YouTube and other websites. It offers advanced filtering options, allowing users to customize their ad-blocking experience. AdGuard also provides additional features such as privacy protection and parental controls, making it a comprehensive solution for Spotify users.
AdGuard is primarily known as an ad blocker for web browsers, it also has dedicated apps for Mac and Windows that can effectively block Spotify ads. With its robust filtering capabilities, AdGuard ensures that you can enjoy an ad-free listening experience on Spotify. AdGuard offers a free version for mobile, Android and iOS, and most popular web browsers, yet with limited features. If you want full protection and get rid of all ads, you better choose the premium subscription. Moreover, if you want to go premium, you'll get a 14-day AdGuard free trial to taste the tool.
Pros:
Easy to use.
Doesn't interfere with device speed.
Works on Windows, Mac, iOS, Android, and most popular web browsers.
Cons:
Free version with limited features.
Ad-blocking statistics can be hard to interpret.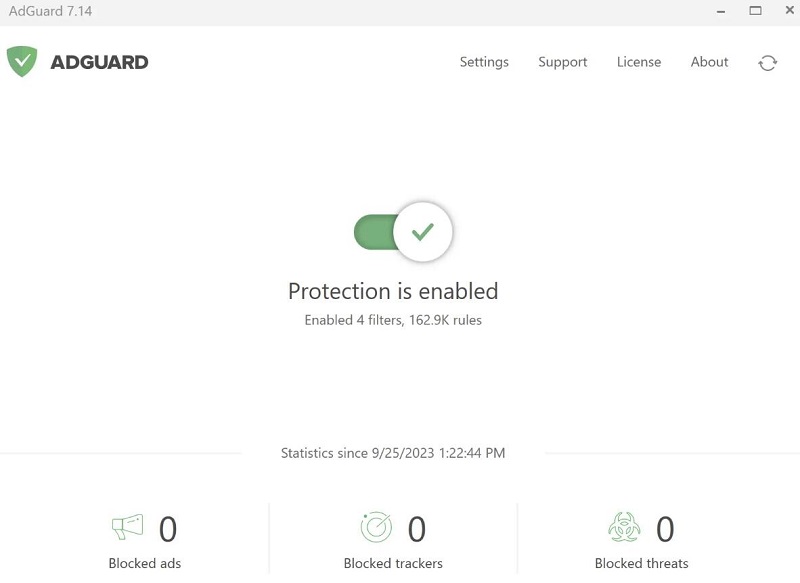 Part 2. Spotify Ad Blockers for iOS or Android
Spotmute (Android Only)
Free
Recommendation index: ★★★★☆
SpotMute is a lightweight, ad-free, permission-free, and open source app that can mute Spotify ads. It does this by reading Spotify's media notifications, and naively figuring out when an ad is supposed to play. SpotMute is a Spotify ad muter, not a blocker. SpotMute does not block ads, it simply runs in the background and mutes music volume when a Spotify ad is playing, and automagically restores the volume afterward. All you have to do is enable 'Device Broadcast Status' in Spotify settings, and enable the SpotMute service. SpotMute should work on Android 6.0+ devices.
Pros:
Free to use.
Mute the ads.
It is a silencing app that works in the background.
Cons:
Mute Spotify ads with a 90% success rate.
Only works on Android devices.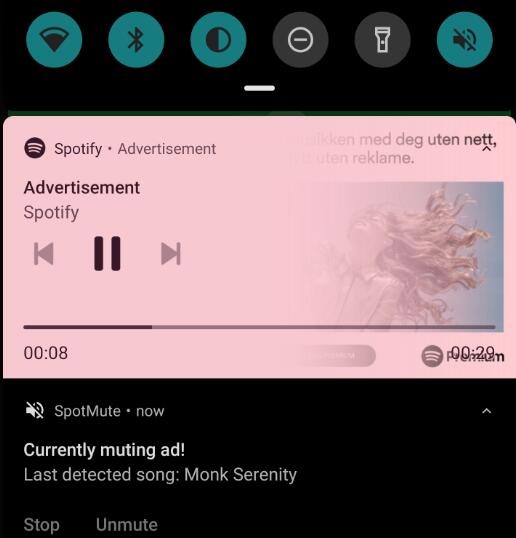 Tweakbox (iOS Only)
Free
Recommendation index: ★★★☆☆
Tweakbox is free to use and is a third-party app store that allows users to download and install a tweaked version of the Spotify app called Spotify++ on their iOS devices without having to jailbreak them. With Spotify Plus, you can use all the Spotify Premium Features for free Like playing millions of songs and podcasts without any advertisement. The biggest drawback to TweakBox is there is a risk of downloading potentially harmful or pirated content. Users should exercise caution and use Tweakbox at their own risk.
Pros:
Completely free to use.
Enjoy Spotify Premium features for free.
Block Spotify ads without limits.
A huge number of apps, and games are available to download for free.
Cons:
There is a risk of downloading content that might be harmful or stolen.
You have to bear with the ads.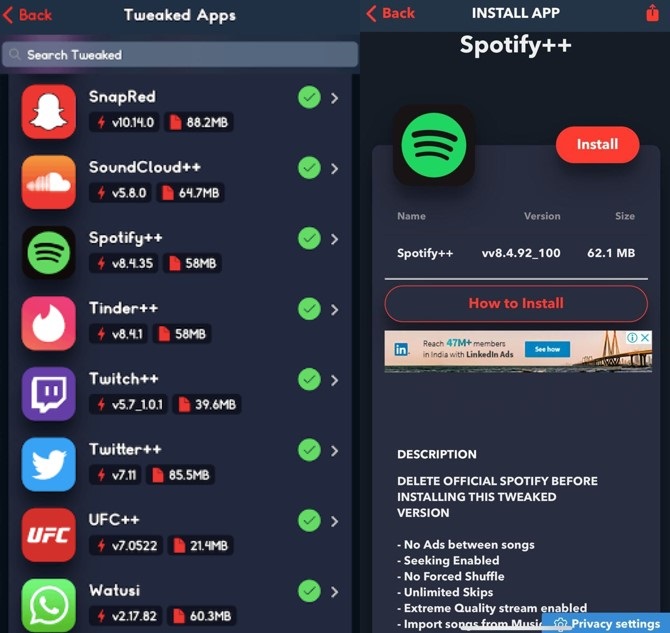 Part 3. Best Spotify Ad Blockers for Web Browsers
SpotiAds
Free
Recommendation index: ★★★★☆
SpotiAds is a free Spotify ad blocker Chrome extension that aims to block annoying audio ads from playing on the Spotify web player. It shows high compatibility with Android, iOS, Mac, and Chrome. Using it, ads will not play on the Spotify web player, and instead the next song will play. Note that this will not affect your smartphone, etc.
Pros:
Free to use.
Works with Spotify web player for any device.
Cons:
When it blocks the ads, you have to manually skip to the next song sometimes.
Sometimes it works, sometimes it doesn't.
Only works properly on the Chrome browser.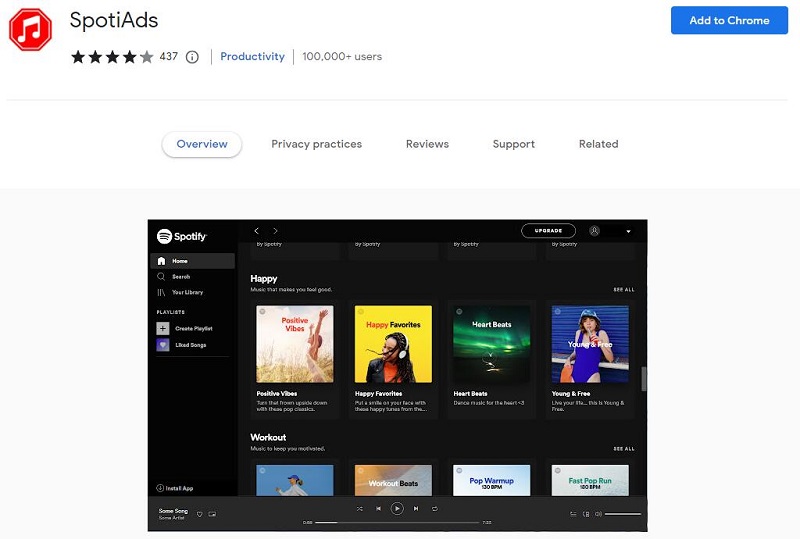 uBlock Origin
Free
Recommendation index: ★★★★☆
uBlock Origin is a popular open-source ad-blocker extension for web browsers, designed to block online ads, trackers, and other unwanted content. The extension is available for multiple web browsers such as Chrome, Chromium, Edge, Firefox, Opera, Pale Moon, as well as versions of Safari before 13. Go to uBlock Origin and add the extension to your browser. Go to open.spotify.com to enjoy any songs, albums, and playlists without ads.
Pros:
Free and open-source.
Compatible with multiple browsers.
Blocks multiple types of ads and trackers effectively.
Cons:
May interrupt other security browser extensions.
Some features require technical knowledge.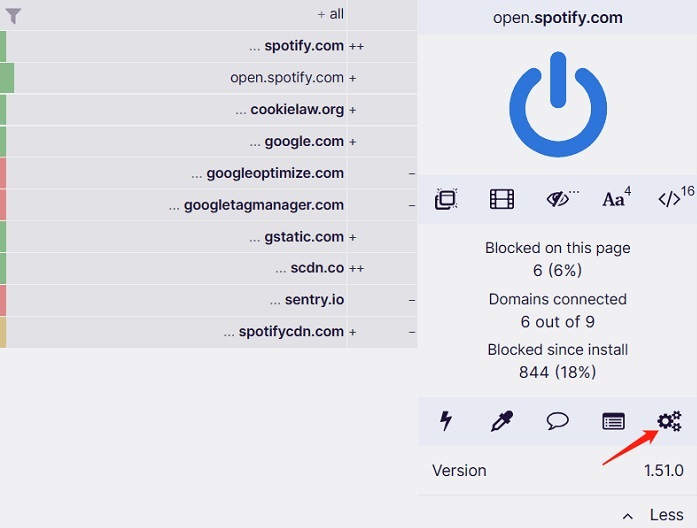 Blockify
Free
Recommendation index: ★★★☆☆
Blockify is an effective Spotify Ad Blocker extension, specifically designed for removing audio-based ads from Spotify web player. It is easy to install and use, simply install the Blockify Chrome extension, and ad-blocking will automatically get applied as soon as you visit Spotify web, then you can enjoy your playlists without the constant breaks. It works by muting the sound during ads and unmuting it when the music resumes. Blockify also has a feature that allows you to create a whitelist of songs or artists that you want to hear ads for.
Pros:
Automatically detects ads playing.
Allows users to play MP3 music over ads.
Allows hotkeys.
Automatically recognizes the Spotify app installed on your device.
Cons:
Does not work on the latest Spotify version.
Requires Microsoft NET Framework to work.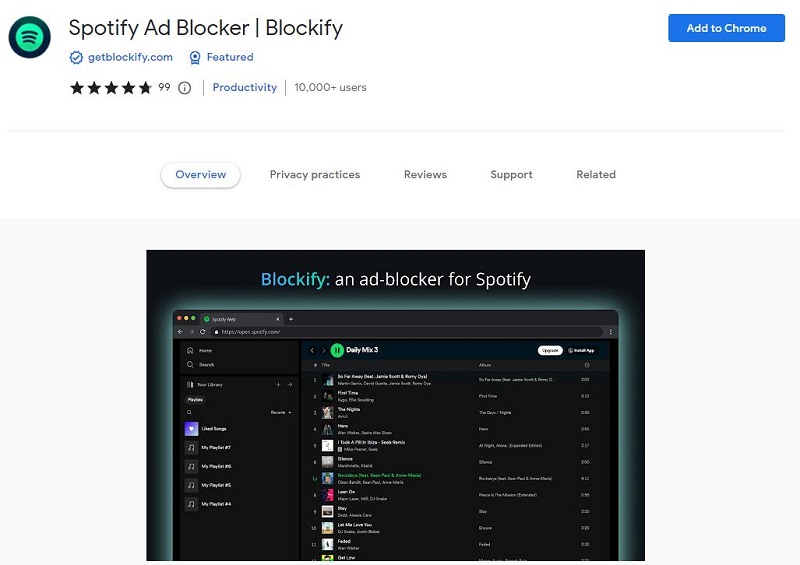 Part 4. Best Solution to Remove Ads from Spotify for Any Device
The above are some programs, plug-ins, or browser extensions that can be used to block ads on the Spotify website, desktop, and mobile apps. Spotify doesn't recommend ad blockers, so use them to block ads at your own risk. Upgrading to the Spotify Premium service is the most straightforward way to remove ads from Spotify. It offers users an ad-free listening experience. If you don't want to spend too much on it, there are a few ways you can get a Spotify Premium subscription for free. Furthermore, we also introduce an alternative solution for you to download music from Spotify to your local drive which can permanently remove ads from Spotify without Premium.
With this professional Spotify downloading tool - Macsome Spotify Downloader, you can download Spotify songs, playlists, albums, podcasts, and audiobooks to local files without paying for a Spotify Premium subscription. Besides, you are able to convert Spotify music to MP3, AAC, WAV, FLAC, AIFF, and ALAC with original ID3 tags preserved. All ads will be removed after converting and then you can transfer Spotify music to Android or iOS devices for offline listening without the distractions of ads.
How to Block Ads on Spotify without Premium with Macsome Spotify Downloader
Follow this step-by-step instruction to remove ads from Spotify by using Macsome Spotify Downloader. After that, you can enjoy uninterrupted Spotify music on all your devices.
Step 1. Add Songs or Playlists to Macsome
Download, install, and open Macsome Spotify Downloader on your computer. It offers two different download modes, Spotify App and Spotify web player. Here we'll take the web player mode as an example. When the Spotify web player mode is selected, the web player will start simultaneously. Log in to your Spotify Premium or Free account.
In the Spotify web player, select a playlist you want to download, and press the "Click to add" button to parse the playlist link. Then hit the "OK" button, and the tracks will be loaded to the main window.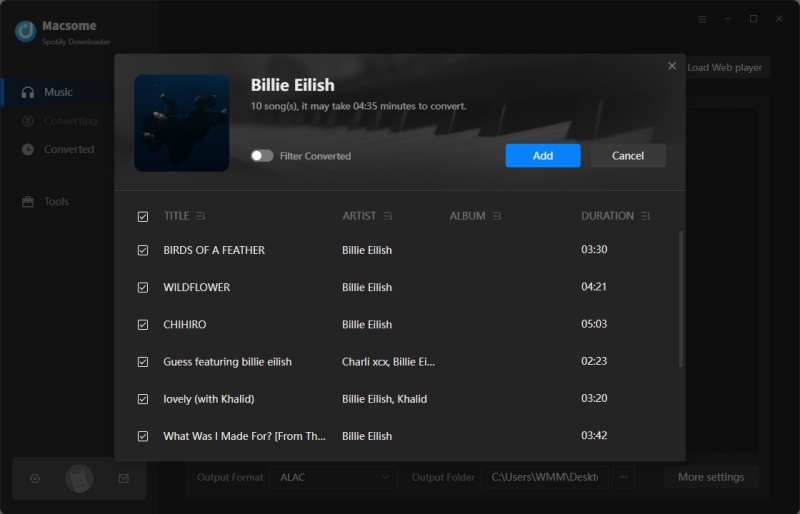 Step 2. Change Output Settings
Click the "Settings" in the lower left to change the output settings. The default output format is Auto, which will keep the same output quality as the original files. It also supports downloading Spotify Music as MP3, AAC, WAV, FLAC, ALAC, and AIFF. You can also change audio quality, output file name, output folder, etc. according to your needs.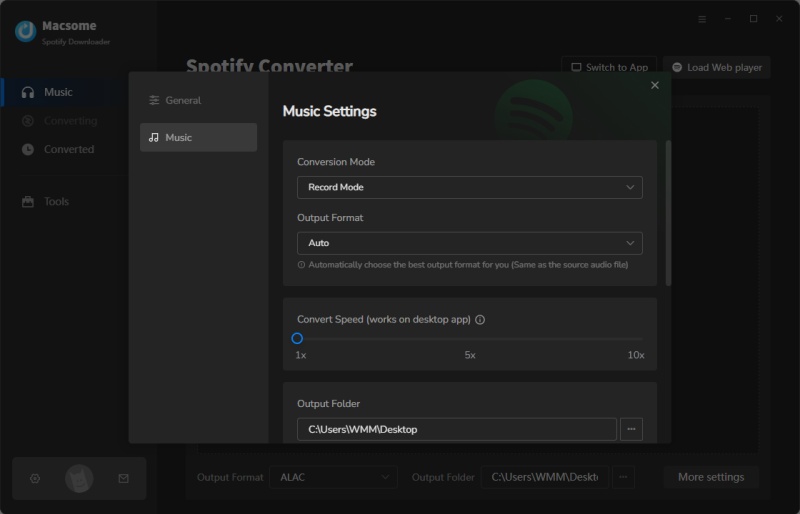 Step 3. Block Spotify Ads without Premium
After all the settings are done, you can hit the "Convert" button to download Spotify music process at up to 10x faster speed.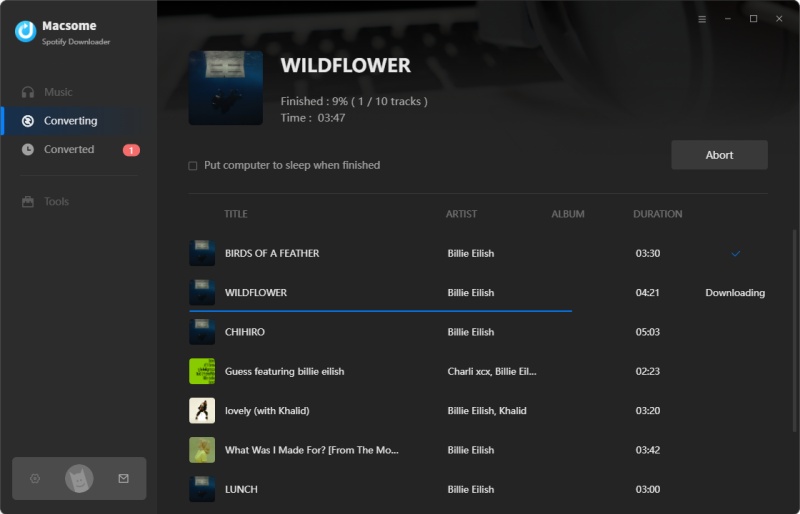 When the downloading is finished, tap the "Converted" tab, you will find the history list of all the downloaded Spotify songs here. You can locate the ad-free Spotify files on your local computer by clicking the "folder" icon after each track. Now you can play Spotify music on any player without worrying about ads.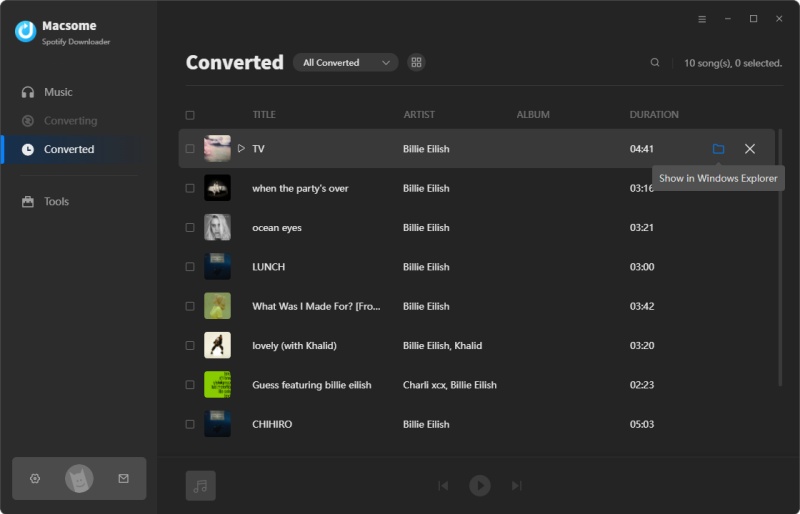 Pros:
Remove Ads from Spotify music without a Spotify Premium subscription.
Convert Spotify music to MP3, AAC, WAV, FLAC, AIFF, and ALAC.
Download Spotify songs, playlists, albums, podcasts, audiobooks, and radios.
Support downloading music from the Spotify app or Spotify web player.
Support downloading Spotify music for offline playback without Premium.
Support to download and save Spotify Lyrics for offline use.
Download Spotify music with the original output quality kept.
Keep ID3 tags including Title, Artist, Album, Artwork, etc.
One-click to burn Spotify music songs to a CD.
One-click to import Spotify songs to iTunes.
Free built-in audio converter & ID3 tags editor.
Customize the output quality up to 320 Kbps.
Batch download at up to 10X conversion speed.
Put the system to sleep after conversion.
Compatible with Mac and Windows.
Support 46 languages.
Cons:
Only 1 minute of each song can be converted if you utilize the free trial.
Need to download the app on your desktop.
Conclusion
Collectively, we have gathered a selection of the most effective Spotify ad blockers that are readily available for Mac, Windows, Android, and iOS, enabling you to effectively block advertisements on Spotify. The best one for you will depend on your specific needs and preferences. Whether you want a simple and easy-to-use app or one with more advanced features, there is an ad blocker out there that will meet your needs. With these ad blockers, you can enjoy uninterrupted music streaming on Spotify. Alternatively, you can use Macsome Spotify Downloader to get rid of Spotify ads. It enables you to remove ads from Spotify forever by downloading Spotify music to local files without Premium.
It is a standalone desktop app on Windows and Mac. Macsome Spotify Downloader has a free trial version that lets you convert the first minute of each audio file. Download the practical tool for free and try it by yourself.