How to Set a Sleep Timer on iPhone, iPad, and Android
There are various habits before going to bed for sleep. Someone maybe does some reading, and someone would like to listen to music songs before going to sleep. Soothing music is good and helpful for sleep.
However, if you do nothing and just leave it, the music will be played all night. It sounds so wasteful. Please don't worry. You can ask the sleep timer feature of Music for help, which allows you to fall asleep to Apple Music or Beats 1 radio without it playing all night.
The process to use the sleep time to set the playing time is very simple. Start playing some music files, set a timer, and watch or listen until you doze off. After the set time has elapsed, the playback will end and, in some cases, the device will power off.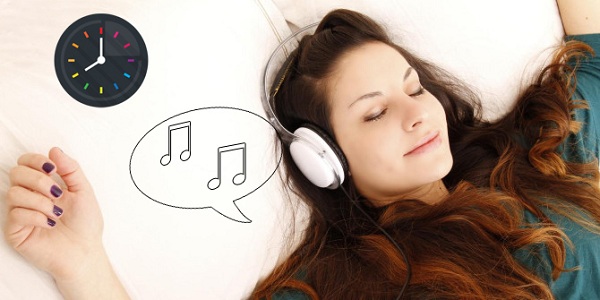 How to set a sleep timer on your iOS or Android
Step 1. Launch the Music app, and start listening to Beats 1 radio or the songs available on Apple Music.
Step 2. Now launch the Clock app from your iPhone or iPad's Home screen.
To help you have a better understanding of Macsome iTunes Converter, let's take a look at its key features below.
Step 3. Tap the Timer tab.
Step 4. Select the time after which you want Apple Music or Beats 1 radio to stop playing using the picker.
Step 5. Tap on When Timer Ends.
Step 6. Scroll all the way down to the bottom of the screen.
Step 7. Tap Stop Playing from the list of options.
Step 8. Tap Set at the top right corner.
Step 9. Tap Start to activate the sleep timer.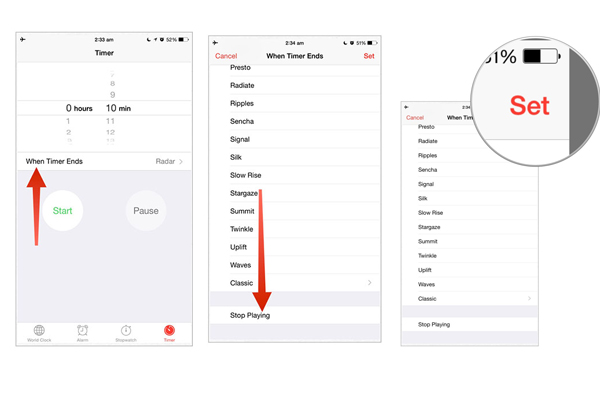 The sleep timer will start and will automatically turn off Apple Music or Beats 1 radio after the time set by you. If you take on an average half an hour to fall asleep, then set the Sleep timer for 30 minutes.
Please note that if you need to change it back to one of the Ringtones if you want to get an alarm when the timer ends, for the sleep timer isn't a separate timer.
With the above, we show you how to set the sleep timer on your iPhone, iPad, or iPod touch. If you are Apple Music for Android user, you may need a third-party app as your sleep timer for your Android phone.
From Google Play Center, there are lots of similar sleep timer apps for users to choose from, you can just choose one and download it. Here we use a sleep timer to show the steps to set the sleep time to help Android users.
Step 1. Find Sleep Timer App from Google Play, and install it on your Android phone, then launched it.
Step 2. Set the timer via the circular icon and simply click the "Start" button to start the timer.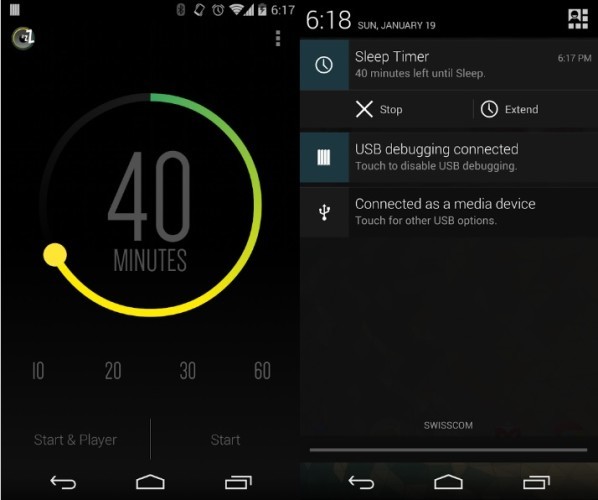 Step 3. When the time is up, this app will put your device in sleep mode and will stop playing your music.
We all know that Apple Music is a streaming music service, that is, users can only enjoy Apple Music on devices that support Apple Music App, or Apple Music for Android after they subscribe to Apple Music. Even when you have downloaded Apple Music files to your computer, and try to transfer these downloaded Apple Music files to other MP3 players or other audio player devices, you may find that they can't be played or they can't be found.
Why? All the Apple Music files are limited with DRM, which also prevents users doing copy or backup Apple Music. When you cancel Apple Music subscription, you can play them including downloaded Apple Music files.
If you want to free your Apple Music from DRM and play Apple Music on MP3 players or transfer and backup Apple Music files, you can use Macsome iTunes Converter to convert them to MP3, AAC, FLAC, ALAC, AIFF, and WAV format with a fast conversion speed.
Once you purchased the program to convert Apple Music files, you can keep your Apple Music files all time.