Plex is a client-server media player system and software suite comprising two main components. In other words, this media player helps users stream all your personal media—photos, music, movies, shows, even DVR-ed TV—to any device from your Plex media library.
Plex is a media streaming powerhouse for all of your content needs. Using the free Plex Media Server software on your computer, NAS, or favorite cloud drive (Google Drive, OneDrive, or Dropbox), plus the Plex app, you can enjoy all of your media–even that DVR-ed content!–on all your devices.
How Plex Media Player works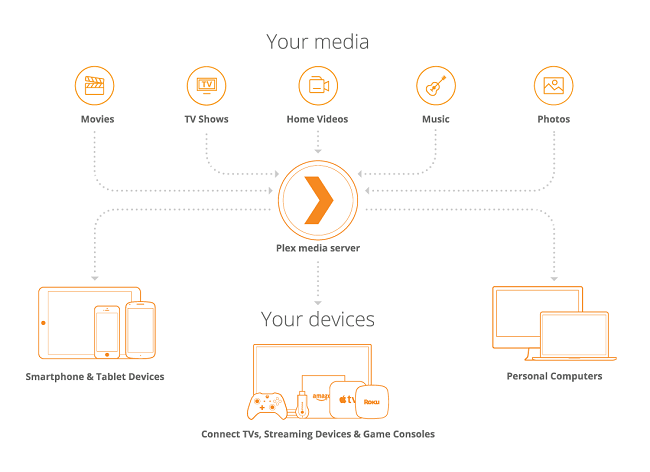 Install and run the Plex Media Server on a computer (or compatible NAS device) where all your media is stored and managed in movie, TV show, home video, music, and photo libraries.
Install and open the Plex App on virtually any device—smartphone, tablet, smart TV, streaming device, game console, personal computer, or any browser.
Wherever you are, press play, sit back, and enjoy your media as it streams from the Plex Media Server to your device.
I can't play my Apple Music songs via Plex Media Player, why?
Without any doubt, Plex Media Player is very powerful for transferring media files. It can recognize just about any kind of video, music, or photo format and displays all of your content in an easy-to-navigate interface. Apple Music users can't transfer the downloaded Apple Music songs and playing them on other devices like iOS / Android, Windows / Mac computer, game console like PS4, Xbox One, or TV console, Roku, Amazon Alexa, Chromecast etc via Plex Media Player, because of DRM limitations.
This limits Apple Music songs can only be played on some devices, and you need to subscribe the streaming Music service with the same Apple ID, not to say that you want to copy to other devices for playing.
Therefore if you want to transfer Apple Music files to play on other devices via Plex Media Player, it is necessary to delete the limitation from Apple Music files.
Here you need to ask Macsome Apple Music Converter for help. With it, you can easily rip DRM from protected iTunes audio files including downloaded Apple Music files and purchased Audiobooks, and convert audio tracks to unprotected MP3, WAV, FLAC, M4B, M4A with excellent output quality and fast conversion speed.
Quick Guide to Record Apple Music
To convert Apple Music songs well, users need to free download Macsome iTunes Converter at first.
Windows Version Download Mac Version Download
Step 1, After you download the program, double click to install the trial version of Apple Music Converter on your PC, and then run it.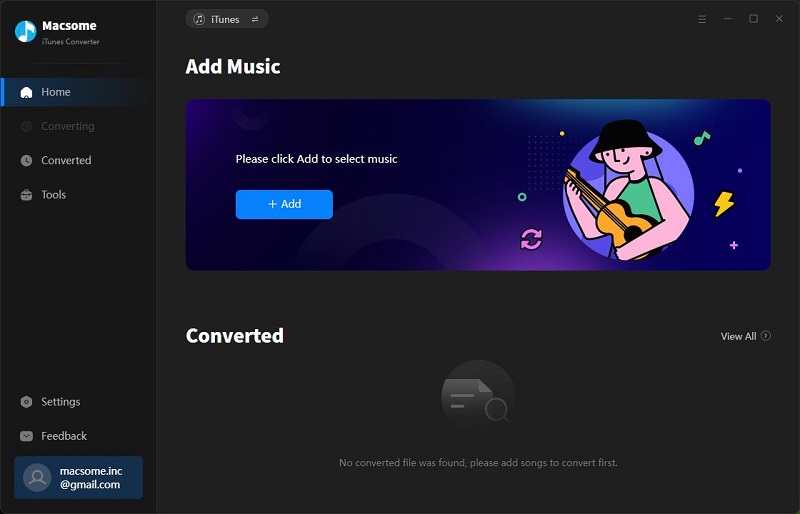 Step 2, click the Add button and select the audio files you want to convert from iTunes library.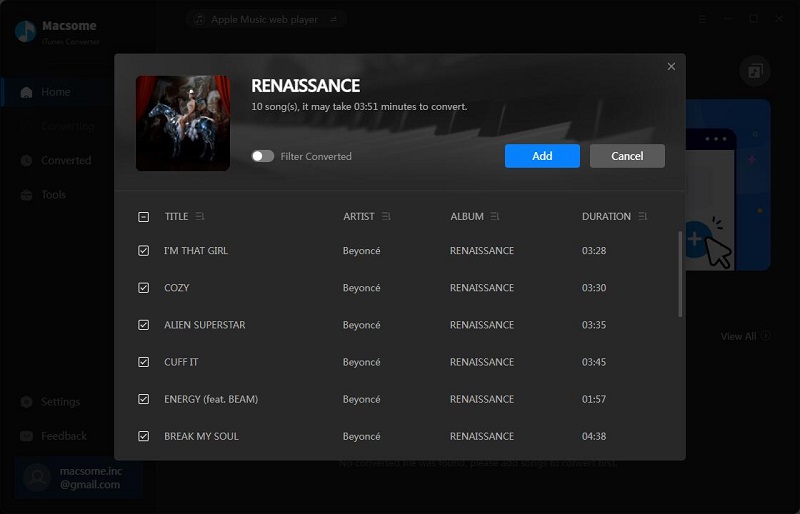 After you choose the music files you would like to convert, click "OK", and then all the audio tracks files you selected would be listed on the main window.
Step 3, Set the output format by clicking the Setting icon, here we choose MP3 format. After iTunes Converter V3.0.0, the default conversion speed is super fast. There is no need to set the conversion speed.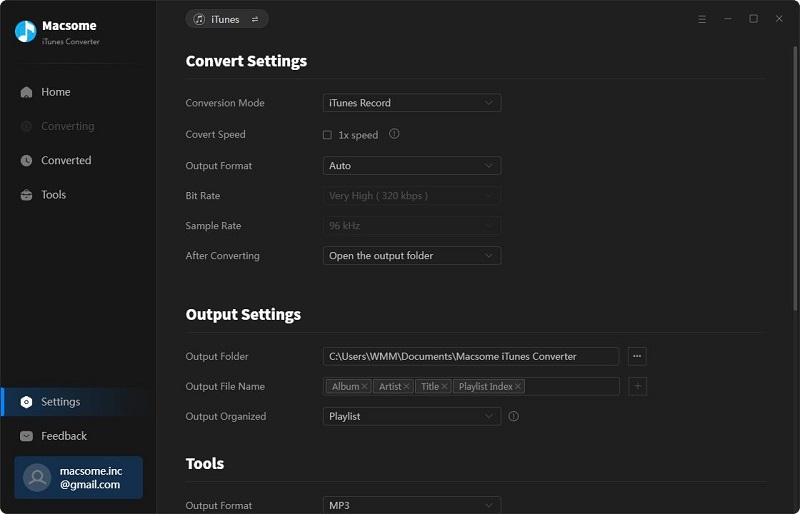 Step 4, click the Convert button to start converting.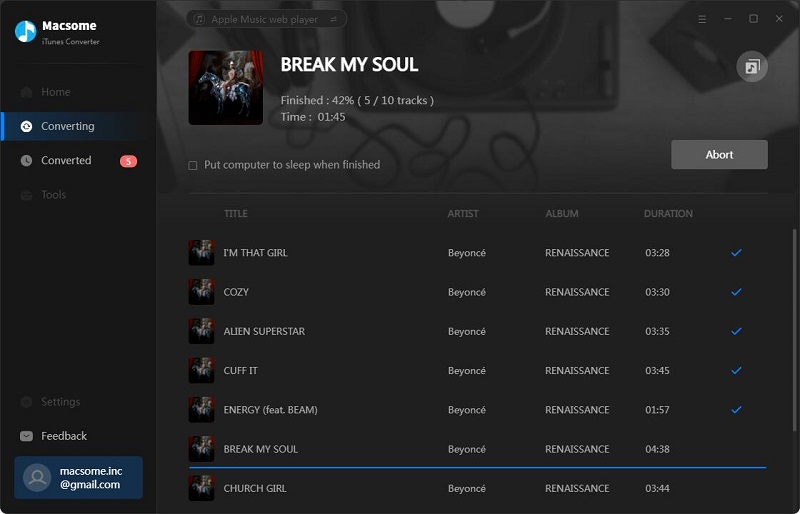 After the conversion, you get the unprotected MP3 music files from protected Apple Music files.
How to Stream converted Apple Music Files via Plex
After conversion, all the DRM limitations have been removed from Apple Music files. And all the converted Apple Music files on your PC are well organized in your media folder.
Step 1. Install Plex Media Server on PC
After the installation, Plex will be launched automatically. Then sign in your user name and password of Plex account from the prompt window, if not, click Sign up.

Step 2. Add the Converted Apple Music Songs to Plex
After the login, now click "ADD LIBRARY" > Music to add the music library you saved the converted Apple Music songs.
Then click "NEXT" button and select "Browse for media folder" and select the folder that houses your music files. Finally, you can click "Add library" to complete the adding process.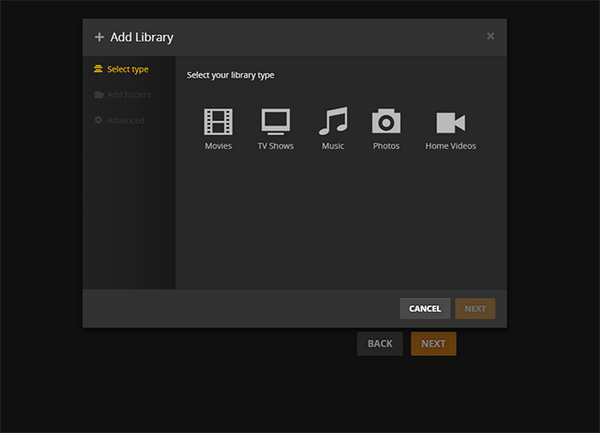 Step 3. Stream Apple Music Songs on Other Device with Plex
Take you device you want to stream Apple Music songs to and search Plex app on phone/tablet/game/Roku/Xbox One/TV's app store, then download and install it on your device. Click "Sign In" to enter the same user name and password you created when you set up your server. Finally, the media collection page will show up and you can access the files from the media server control panel.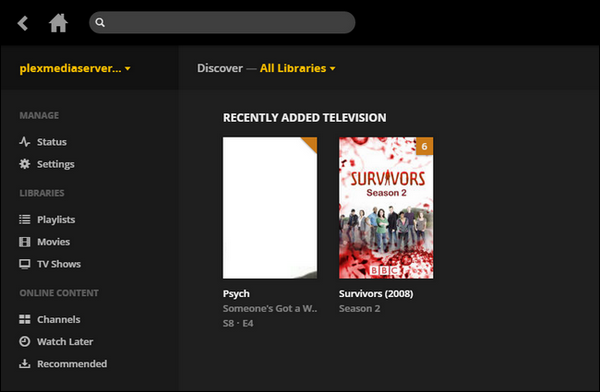 All the process is very simple, even you are a new user, you can easily use the program to convert your audio files quickly. Why not free download it and take a try.
Get iTunes Music Converter full version:
Windows Version Purchase Online Mac Version Purchase Online