Two Ways to Listen to Deezer Music on Fitbit
A Fitbit is a fitness tracker or smartwatch that people can wear around their wrist to track their daily steps, heart rate, sleep quality, and more to improve their health and fitness. What's more, Fitbit has the ability to store and listen to music, allowing you to leave your phone at home during a workout. You can also use certain music streaming apps, such as Deezer, Pandora, and Spotify, to find music to play on your Fitbit.
Deezer is one of the most popular music streaming platforms at the moment. It is also one of the earliest and fewest music apps that are available for Fitbit smartwatches. But getting Deezer music onto Fitbit devices can be a little complicated, so we've put together the ultimate guide to help you along the way. Take a moment to check out this guide, you'll figure it out how to listen to Deezer music on Fitbit at will.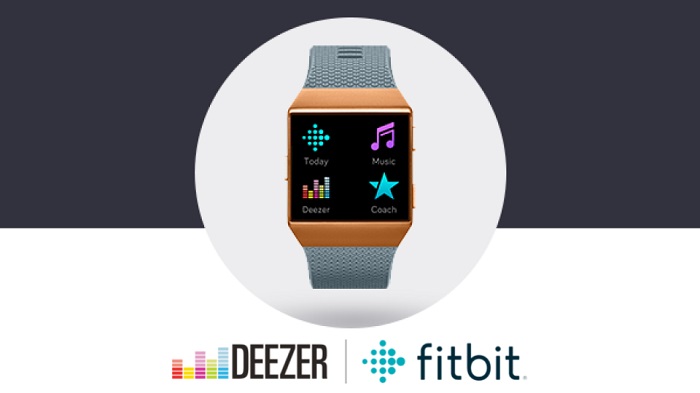 Method 1. How to Download Deezer Playlists to Fitbit Directly
If you have a paid subscription to Deezer, you can use the Deezer on Fitbit app to download and listen to over 90 million songs, playlists, and podcasts offline on your Fitbit smartwatch.
To download Deezer playlists, you first need to download the Deezer app on your Fitbit. The Deezer app is available for Fitbit Ionic, Fitbit Sense, and Fitbit Versa series. For some countries' users, the Deezer app comes as a pre-installed app on your Fitbit smartwatch. If the app is not available, you can install the app manually from the Fitbit App Gallery.
1. Open the Deezer app on your Fitbit. It will show you the activation code.
2. On your phone, tablet, or computer, go to the Deezer Activation website, and enter the activation code to pair the watch with your Deezer account.
3. Follow the on-screen instructions to log in to your subscribed Deezer account or create a new account.
4. On the watch, go to the playlist you want and tap "Download". The music will then download for later listening in offline mode.
5. Open the Fitbit app, tap on your profile picture. Go to Media – Deezer – Add Music. Then tap playlists to queue them for download.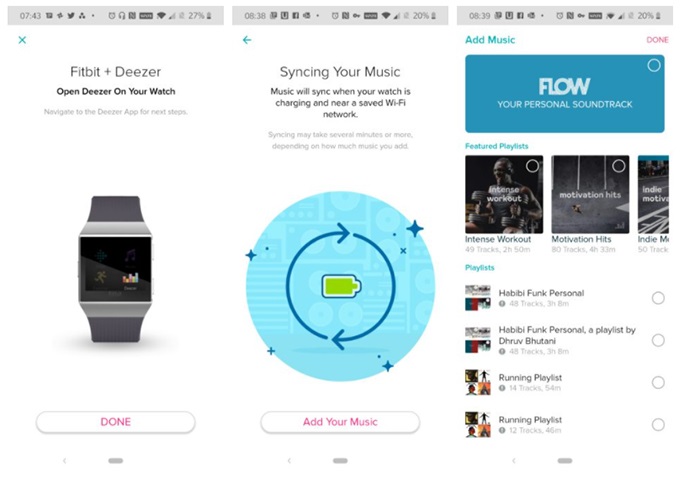 6. Now, plug your smartwatch into the charger. The music files will be downloaded automatically. You can check the download progress on the watch screen.
After you download your playlists, connect any Bluetooth audio device to your watch. Open the Deezer app on your watch and tap the play button next to a playlist to start playing the Deezer music on your Fitbit watch.
Method 2. How to Transfer Local Deezer Music to Fitbit
You can also transfer Deezer music to a Fitbit if your devices support music storage. As Deezer can only allow users to play music within the Deezer app. You can't transfer content from Deezer to Fitbit directly. The Fitbit supports MP3, MP4, AAC, and WMA audio files. Alternatively, to add Deezer music files to Fitbit, you can convert Deezer songs to Fitbit supported audio formats like MP3.
Macsome Deezer Music Converter is such a smart Deezer Music to MP3 Converter for you. With it, you can not only download Deezer tracks, playlists, albums, or podcasts at up to 10x faster speed but also convert Deezer music to the highest MP3 with the bitrate of 320kbps. Then you could transfer the converted Deezer music to Fitbit for listening without carrying a phone while running.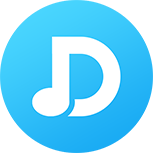 Key Features of Macsome Deezer Music Converter
Support downloading Deezer tracks, albums, playlists and podcasts.
Download Deezer Music to MP3 / AAC / WAV / FLAC / AIFF / ALAC with HiFi quality.
Support batch converts multiple playlists at up to 10x faster conversion speed.
Keep all ID3 tags information, like Track Number, Artist, Artwork, Album, Year, etc.
Transfer Deezer Music to the Fitbit, Apple Watch, iOS or Android devices, etc.
2.1 Download Music from Deezer to MP3 with Macsome
The following will walk you through the simple steps to convert Deezer to MP3 so that you can upload them to your Fitbit. First, download and install the latest version of Macsome Deezer Music Converter on your PC or Mac.
Step 1. Log into Deezer Music Web Player
Launch Macsome Deezer Music Converter on your computer, along with starting the Deezer web player. Then sign in to your Deezer account.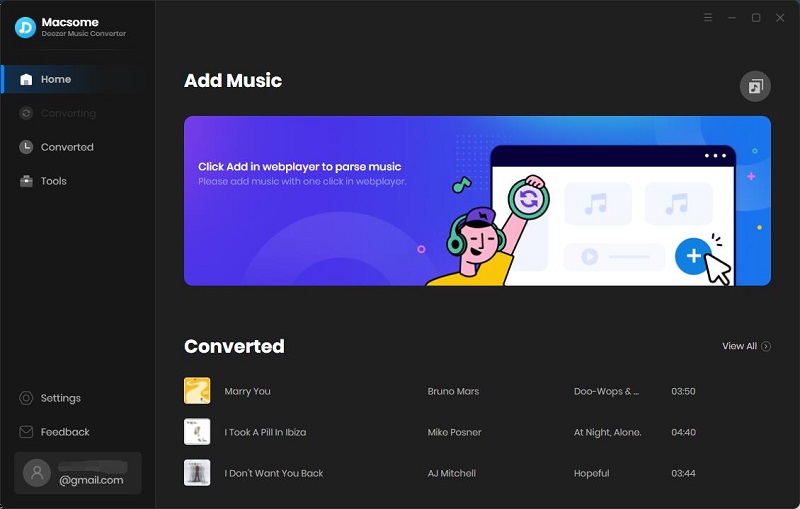 Step 2. Set MP3 as the Output Format
Click on the icon at the bottom left corner of the pane to customize the output parameters according to your need. In order to transfer music from Deezer to Fitbit, you can select the high-quality MP3 320kbps. Plus, you can also change the output folder, output file name and output organized.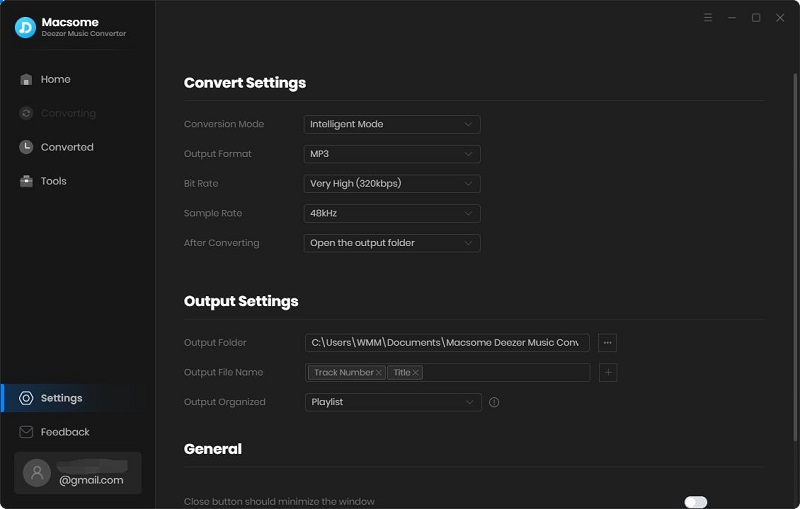 Step 3. Select Deezer Music to Convert
Browse the library to select the playlists or podcasts you'd like to convert, and then click the "Click to add" button to load the songs to wait for conversion.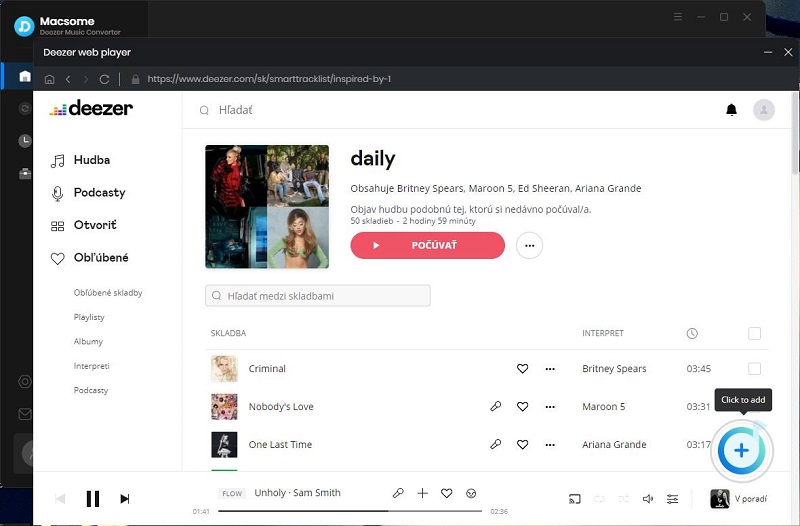 Step 4. Start to Convert Deezer Music to MP3
Finally, you can click the "Convert" button to start the Deezer music to MP3 conversion.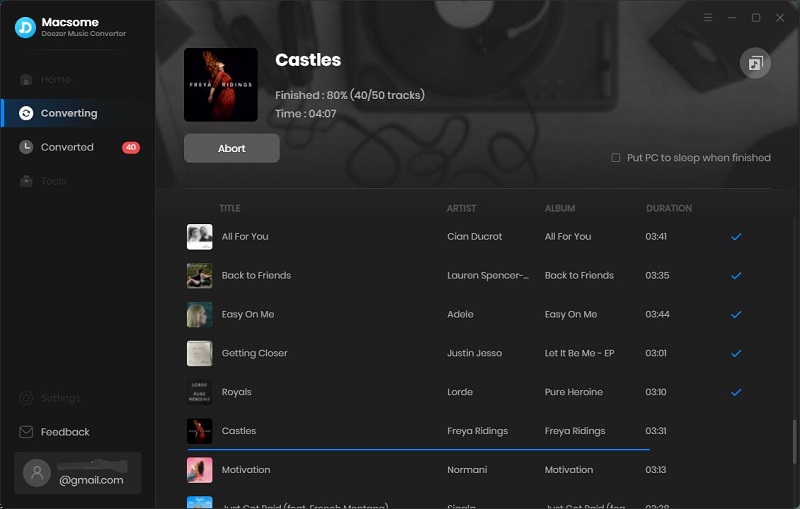 After the conversion is done, you will find the converted Deezer songs from the history panel. You could also click the "folder" icon to locate the folder where you save the converted Deezer songs.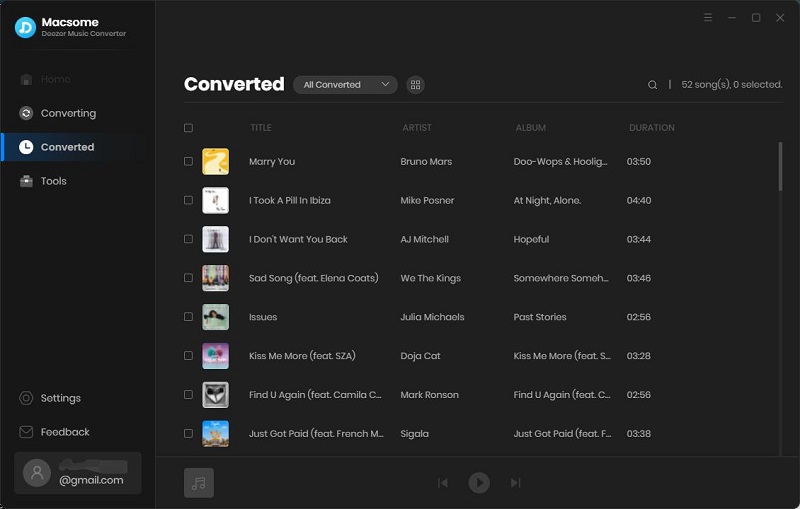 Disclaimers
This tool is only for personal or educational use.
You should not use this tool to pirate or distribute music.
You will need a Deezer Music subscription. (Any paid subscription plan will do.)
2.2 Transfer Downloaded Deezer Music to Fitbit
Since you have downloaded Deezer music files to your local computer, you can straight transfer them to a Fitbit. Fitbit has 2.5 GB of music storage for around 300 songs. Make sure your computer and Versa are connected to the same Wi-Fi network. And the transfer will not begin unless the battery is at least 25% full. Here are the detailed steps.
Step 1. Download and install the Fitbit Connect app on your PC or Mac.
Step 2. Open the app and select the Manage My Music option. Log in to your Fitbit account when prompted.
Step 3. On your Fitbit watch, swipe to the Music app. And then tap Transfer Music to switch on Wi-Fi and make your watch discoverable to the desktop app. It may take a minute or longer for your watch and your computer to connect.

Step 4. Once connected, back on the desktop app, and you can tap the gear icon in the top right corner to select the downloaded Deezer music files that you want to transfer to the Fitbit.
Step 5. Once your playlists are added, tap the circle icon next to each one to begin the transfer process.
The transferring process may take some time. When finished, your downloaded Deezer tracks should now be on your Fitbit. Now connect your favorite Bluetooth workout earbuds to listen to your tracks on Fitbit anywhere you go.
Final Thoughts
How do I listen to Deezer on my Fitbit? Once you've read through this guide, you'll know both the above methods enable you to listen to Deezer music on your Fitbit. Using Macsome Deezer Music Converter is a more effective way. With it, you can easily transfer Deezer music to a Fitbit. Besides, you can also keep Deezer audio files even if you cancel your subscription. Now it's time to enjoy Deezer Music wherever you are.
Macsome Deezer Music Converter has a free trial version, which allows you to convert the first one minute of each song and convert 3 music files simultaneously. If you want to unlock the time limitation, please purchase the full version.