Best 2 Solutions to Share Tidal Music to Instagram Stories
Instagram is one of the biggest social platforms in the world, which enables users to upload their photos, videos, and stories for friends and followers to watch. Users can also share all of their favorite tracks on Instagram. This is one of the greatest ways to make their content more engaging to connect with people and appeal more followers. So it's important to find a track – or section of a track – that fits into your post.
There are several ways to add music to your Instagram Story. You can add music directly to your story using Instagram's library. What's more, you can also grab certain songs from popular music services such as Tidal, Spotify, SoundCloud, Apple Music, and Shazam. Tidal is a popular subscription-based music, podcast, and video streaming service that offers over 100 million tracks. If you are a Tidal user wondering how to get started, we've come up with two solutions on how to quickly share Tidal music to Instagram Stories. Read on to learn how to start.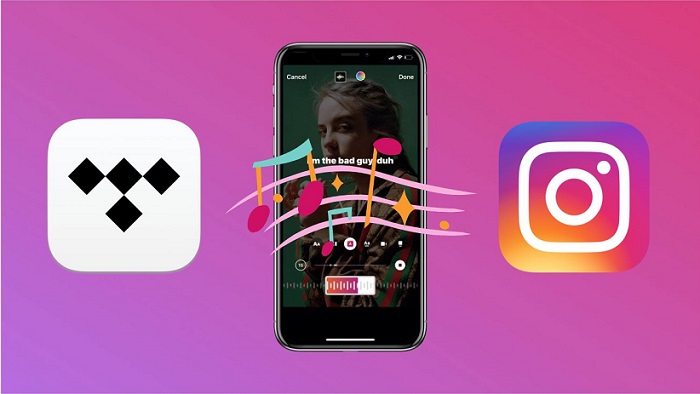 Solution 1. How to Share Songs to Instagram Stories from Tidal
Tidal offers a sharing feature so that you can share a playlist, song, artist, album, or video from Tidal to Instagram Stories. The sharing feature is only available in Tidal's Android and iOS apps. If you don't have Tidal yet, you can install it from either the iOS App Store or Google Play Store. You will also need Instagram installed on your phone if it isn't there. And you'll need to log in to both of your accounts. We will be explaining the method you can follow to quickly share songs to Instagram from Tidal.
1. Open the Tidal app, head to your favorite track, tap on the vertical three dots menu in the bottom right corner. Once the pop-up appears with a set of options, choose "Share".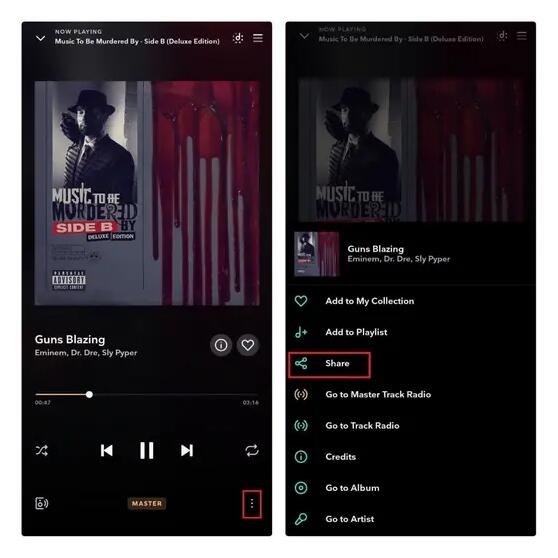 2. Then choose "Instagram Stories" from the list of available options. This will open the Instagram app and automatically populate the song icon and link in a new story post. Customize your story before posting. Look! It's so easy to share Tidal music to your Instagram story.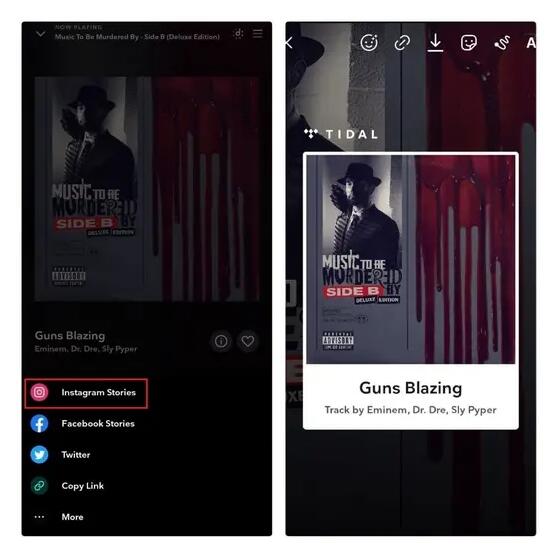 By sharing a playlist, song, artist, album, or video found on Tidal service to Instagram Stories, your friends and followers will see what you're listening to right then and there, even if they don't use Tidal.
Solution 2. How to Add Tidal Tracks to Instagram Stories Directly
With the first method, you can only share a still image of the corresponding songs, albums, and artists from the Tidal app on Android and iOS devices. On the other hand, you can also add Tidal songs to your Instagram Story by recording them in the background. Open Tidal and start playing your song through your phone speakers. Go back to the Instagram app, swipe over the story, and start recording. The microphone will pick up the song that you have playing in the background. You can add text to let people know the name of the song and where they can find it. It is a straightforward way to record Tidal music to your story, but the sound quality could be affected by time intervals, background noises, and speaker quality.
Tidal is an online music streaming service. Music fans can access its entire music catalog and playlists with a Wi-Fi or mobile data connection. In this part, we will provide another solution to add offline Tidal songs to Instagram Stories as background music. All you need is a third-party tool named Macsome Tidal Music Downloader.
Macsome Tidal Music Downloader is specially designed for all Tidal users, including Tidal Free, Tidal HiFi, and Tidal HiFi Plus users. With it, any Tidal user can download Tidal songs, albums, artists, and playlists as local files on their computer. As a professional Tidal Music Converter, it also allows you to convert Tidal music to MP3, AAC, and other common audio formats supported by video editors like Premiere Pro or iMovie so that you can create a high-quality video with fantastic sound effects for use in your Instagram Stories.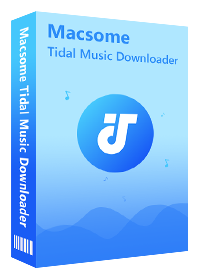 Key Features of Macsome Tidal Music Downloader
Easily download Tidal tracks, albums, artists, and playlists.
Convert Tidal songs to MP3, AAC, WAV, FLAC, AIFF, and ALAC.
Retain original ID3 tags with up to 10x faster speed.
Download Tidal songs for offline playback with a Free account.
Download Tidal music with HiFi output quality kept.
No need to install the Tidal application separately.
How to Download and Add Tidal Music to Instagram Stories
With Macsome Tidal Music Downloader, you can download Tidal music to local files on your computer easily. Read on to learn about how to download Tidal songs and use them in Instagram Stories with a Tidal Free account. It would be best to have Macsome installed on your computer. If not, please download the latest version of Macsome on your PC or Mac first.
Step 1. Log into Tidal Music Account
Macsome Tidal Music Downloader offers two download options, which let you either download music from the Tidal app or through the Tidal web player. Here we'll take the web player mode as an example. Install and launch Macsome Tidal Music Downloader, the Tidal web player will start at the same time. Please log in to your Tidal account. If the Tidal Free plan is available in your country, you can sign in with your Tidal Free account.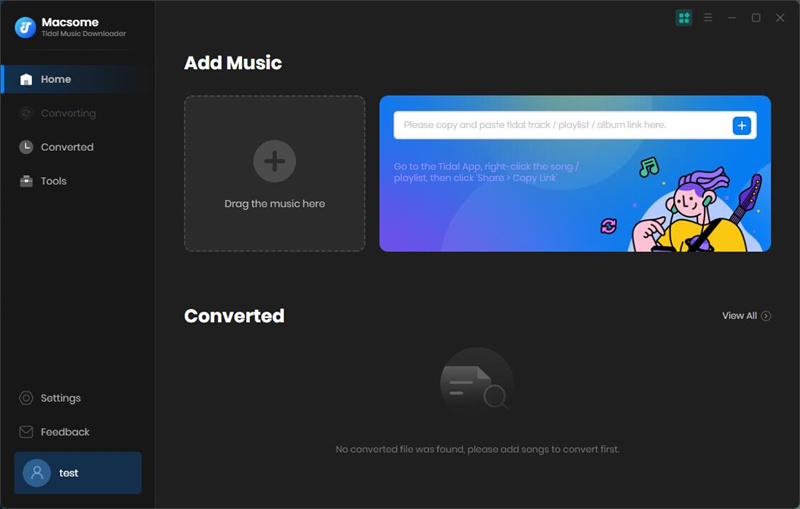 Step 2. Choose Output Format
Hit on the "Settings" at the lower-left corner of the main interface, you can choose MP3, AAC, WAV, FLAC, AIFF, or ALAC as the output format. Besides, you can also customize the output quality, output folder, and more.
Note: If you choose the "AUTO" option from the output format drop-down list, you will get the same output quality as the original files.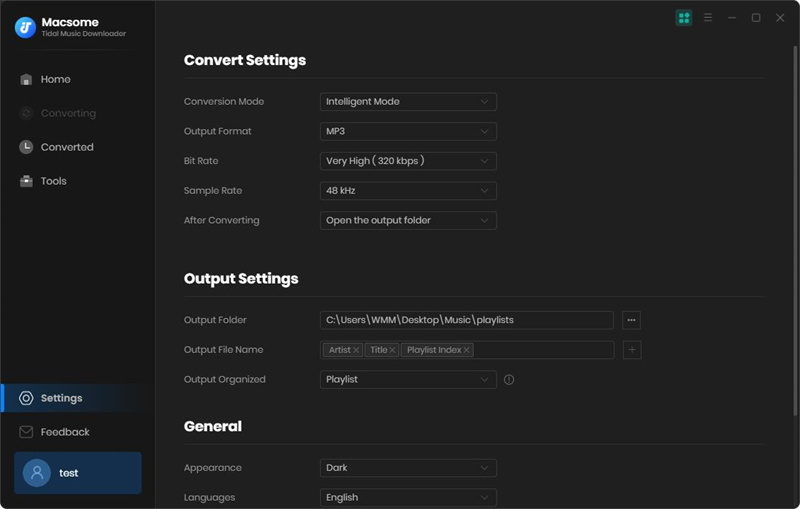 Step 3. Select Tidal Music and Playlists to Download
Browse and open an album or a playlist, hit the "Click to add" button, the whole playlist will be parsed. Tick off the tracks you want.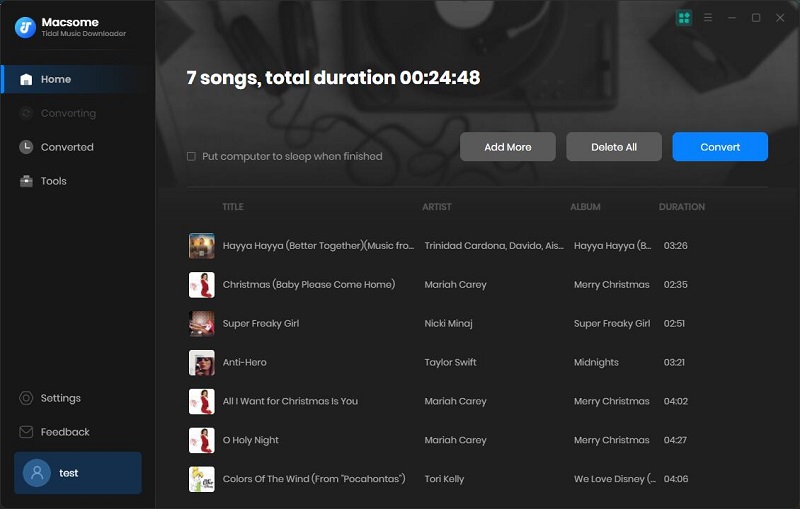 Step 4. Locate Downloaded Tidal Music
The downloading will begin at up to 10x faster speed. Once the downloading is finished, you can check the downloading history by clicking the "Converted" icon, and pressing the "folder" icon to locate the downloaded Tidal songs in your local folder.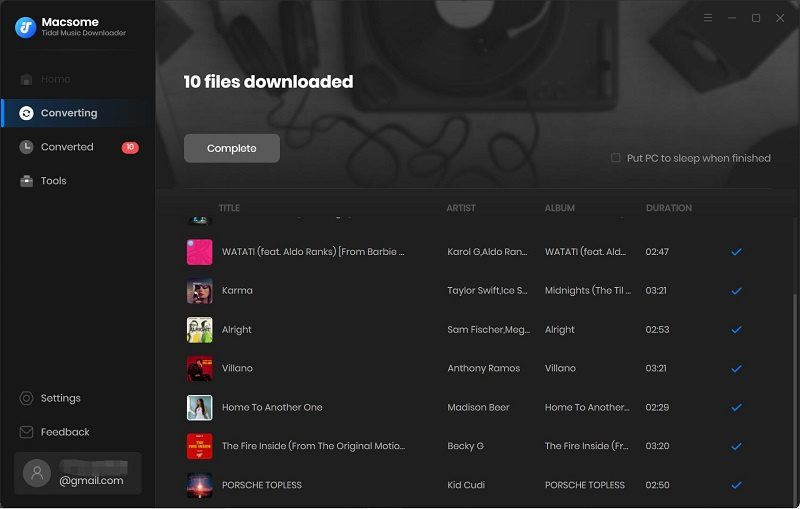 Step 5. Add Offline Tidal Songs to Instagram Stories
First, transfer these downloaded Tidal songs to your smartphone. Then you can use an app like No Crop, which can upload music to Instagram Stories for free. Or use a video editor such as Premiere Pro to create a video, and import the downloaded Tidal music to your projects directly. Please note that the Instagram Stories video can be up to 15 seconds long.
Conclusion
In conclusion, you can share a playlist, song, artist, album, or video from Tidal to Instagram Stories directly. But you should note that you can only share a still image, not a real track. Keep in mind that Tidal is a music streaming service, which prevents you from sharing content out of the Tidal app with other programs. Thanks to Macsome Tidal Music Downloader, you now have the option to download Tidal songs, albums, or playlists to local files so that you can add Tidal songs to Instagram Stories as background music.
We hope this article helps you a great deal. Also, you can use the free trial version of the Macsome Tidal Music Downloader, which allows you to download the one minute of each song. You can unlock the time limitation by purchasing the full version.