Ultimate Guide to Use Tidal with Serato DJ Pro
Serato DJ Pro is one of the most popular and reliable DJ applications globally for use with a wide range of compatible hardware. It is the best choice for professional DJs. There is a great playlist manager that let you automatically sort your tunes, build virtual crates, view previous sets, and add album art. Serato DJ can also load your iTunes library as well as support your whitelabel.net files.
Serato DJ Pro has been used more and more by DJs playing digital music. DJs can now use the music streaming services as music sources for mixing directly in Serato DJ Pro. Currently, Serato DJ Pro supports 4 music streaming services, including Beatport, Beatsource, SoundCloud, and Tidal. In the following article, we mainly introduce how to link with Tidal in Serato DJ Pro and how to use offline Tidal songs with Serato DJ Pro.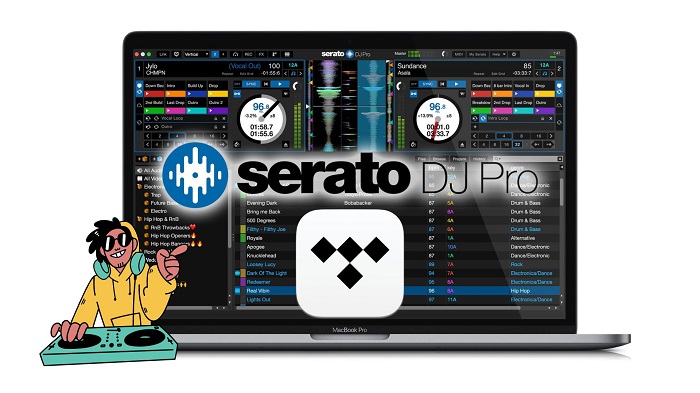 Method 1. How to Use Tidal with Serato DJ Pro Directly
Tidal can be used as a music streaming provider for use with Serato DJ Pro. Tidal and Serato integration brings you the ultimate mixing experience with over 100 million tracks and high-fidelity audio. All you need is an active Tidal subscription (either HiFi or HiFi Plus is supported), and you must have Serato DJ Pro 2.1 or above installed. Well, find out how to connect Tidal to Serato DJ Pro with the following steps:
1. Download, install and open the Serato DJ Pro.
2. Open Settings and go to Library + Display.
3. Enable Show Streaming Services, then select TIDAL from the services.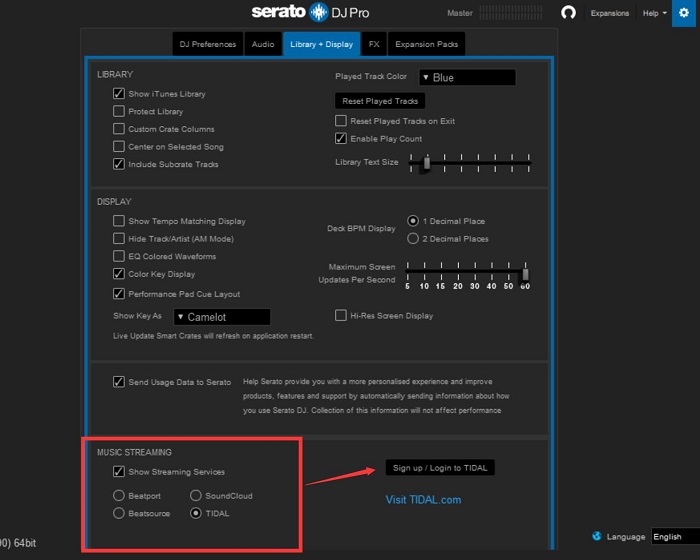 4. Then click on the Sign up / Login to TIDAL button to redirect to your browser and log into using your Tidal account.
5. Once logged in, go back to Serato DJ Pro, you'll now notice the music streaming section indicates a logged-in account. If you use the Tidal HiFi Plus subscription tier, you can also change your streaming quality option here.
6. You'll find the Tidal option in the crates/playlists pane of Serato DJ Pro, expand the Tidal to reveal your playlists, and now you can use Tidal playlists in Serato DJ Pro.
Method 2. How to Add Tidal Tracks to Serato for Offline Use
Serato and Tidal had integrated, but Tidal offline mode is not available in Serato DJ Pro given copyright considerations. Fortunately, Serato DJ Pro allows you to import local music files for mixing. If you want to add offline Tidal songs to Serato DJ Pro, you can download Tidal tracks as offline files for personal use. To do that, Macsome Tidal Music Downloader is here to help.
Macsome Tidal Music Downloader supports downloading Tidal tracks, albums, and playlists with up to HiFi quality on your computer. It is also a practical Tidal audio converter, which gives you the ability to convert Tidal music to common audio file formats, such as MP3, AAC, AIFF, and FLAC, supported in Serato. Surprisingly, if the Tidal free plan is available in your country, you can also download Tidal songs by using Macsome with a Tidal free account.
Apart from downloading Tidal tracks to MP3, AAC, WAV, AIFF, FLAC, and ALAC, Macsome Tidal Music Downloader also supports batch converting Tidal songs at up to 10x faster speed and with ID3 tags preserved, including title, album, artist, artwork, track number, etc.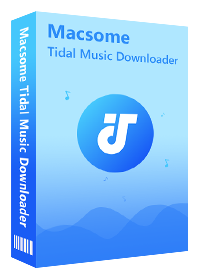 Key Features of Macsome Tidal Music Downloader
Easily download Tidal tracks, albums, and playlists.
Convert Tidal songs to MP3, AAC, WAV, FLAC, AIFF, and ALAC.
Retain original ID3 tags with up to 10x faster speed.
Download Tidal music with HiFi output quality kept.
No need to install the Tidal application separately.
Add Tidal on Serato DJ Pro, iMovie, Premiere Pro, etc.
How to Download Offline Tidal Music to Serato DJ Pro
Step 1. Log into Tidal Music Account
Macsome Tidal Music Downloader offers two download options, which let you either download music from the Tidal app or through the Tidal web player. Here we'll take the web player mode as an example. download, install, and launch Macsome Tidal Music Downloader, the Tidal web player will start at the same time. Please log into your Tidal account.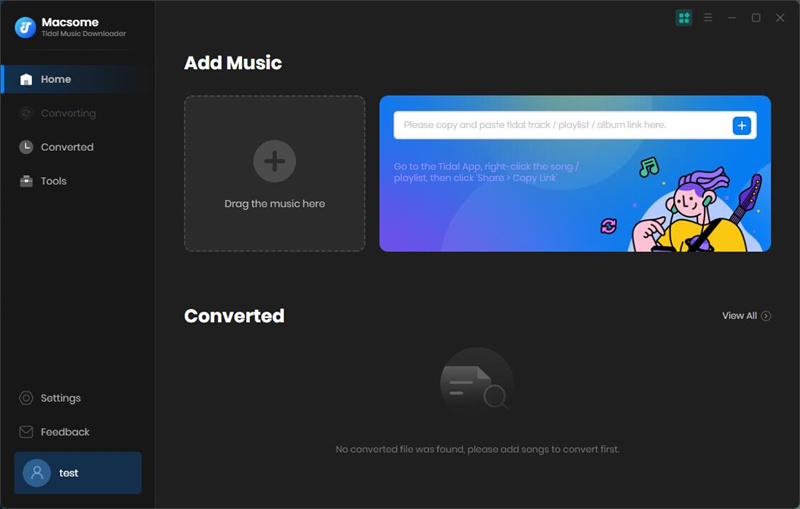 Step 2. Set the Output Parameters for Serato DJ Pro
Go to the "Settings" option in the bottom left of the main interface, you can customize the output parameters. Serato DJ Pro supports major file formats including MP3, AAC, WAVE, AIFF, and Apple Lossless files, here you can set MP3 as the output format, output quality (320kbps, 256kbps, 192kbps, 128kbps), output folder, and more.
To keep the original Tidal HiFi quality, please choose the "AUTO" option from the output format drop-down list.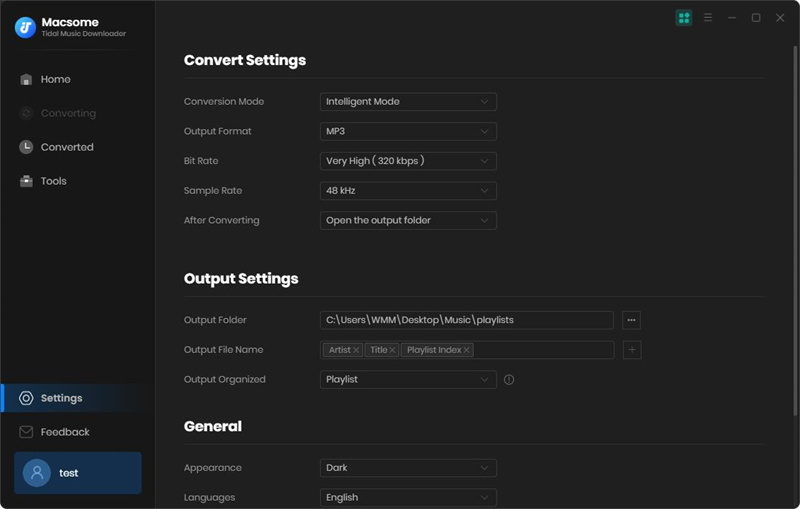 Step 3. Import Tidal Music and Playlists to Download to Serato
Browse and open an album or a playlist, hit the "Click to add" button to load the songs you'd like to add to Serato DJ Pro. Tick off the tracks you want and click on "Add" button, then all the selected songs will be listed on the main window. Finally, click the "Convert" to start the downloading process.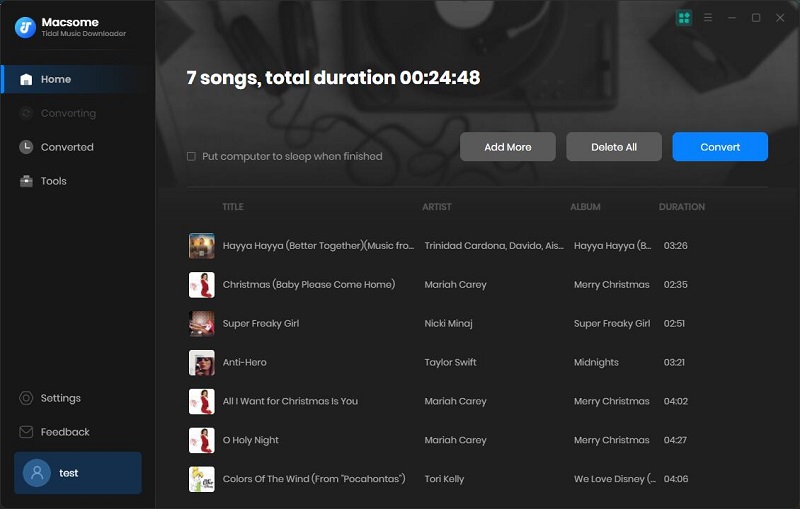 Step 4. Check the Downloaded Tidal Music
The downloading will begin at up to 10x faster speed. Please wait a moment. Once the downloading is finished, you can check the downloading history by clicking the "Converted", and pressing the "folder" icon to further locate the downloaded Tidal songs on your computer.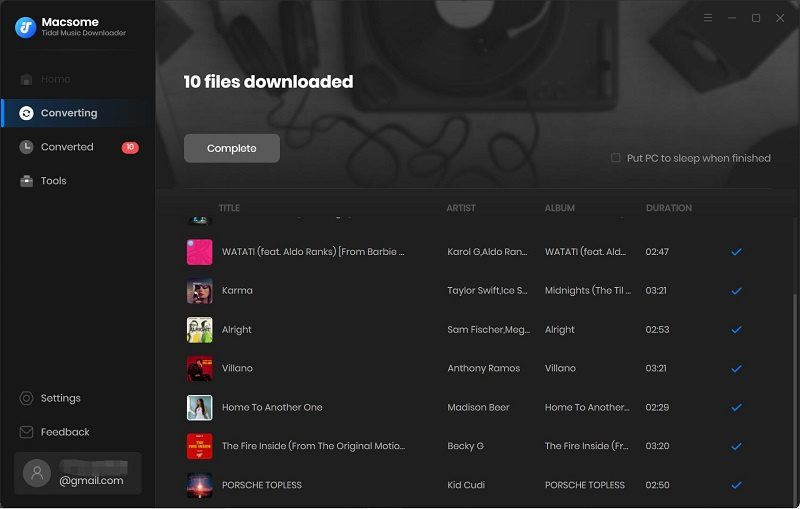 Step 5. Add Offline Tidal Songs to Serato DJ Pro
Open Serato DJ Pro and sign in to your Serato account, select the downloaded Tidal tracks or the whole Tidal music folder you'd like, and then drag them to the Serato DJ Pro library directly. Now you can mix offline Tidal songs in Serato DJ Pro without limits.
Conclusion
Upon reading this article, we hope you will find that mixing Tidal songs with Serato DJ Pro is not as complicated as you might think. Serato has joined partnerships with Tidal. If you have a Tidal subscription, you can link Tidal with Serato DJ Pro directly. On the other hand, by using Macsome Tidal Music Downloader, you can download songs from Tidal to offline files on your computer locally, so that you are able to mix offline Tidal tracks in Serato DJ Pro.
Learning how to use Tidal with Serato DJ Pro has never been easier, and we hope this article will help. Also, you can use the free trial version of the Macsome Tidal Music Downloader, which allows you to download the first minute of each song. You can unlock the time limitation by purchasing the full version.