Best Solution to Save Spotify Music to Local Computer
'How to save spotify music to your computer? I am brand new to Spotify Premium. I have been on spotify free for a long time. I joined premium so I could save my music to my computer. But I have searched and I can not figure out how to do it and I am also not computer savy. I do not know how to save it to my files on my computer. I hope someone can explain to me how to do it... Thanks' - Cindy asked on the Spotify community.
As we all know, Spotify is one of the most popular streaming service. With the Premium subscription, you can access Spotify Radio, watch music videos and save tracks for offline listening. It lets you stream up to 10,000 songs on up to five different devices. If you have a huge music collection or want to download a song from Spotify without Premium, is there a way?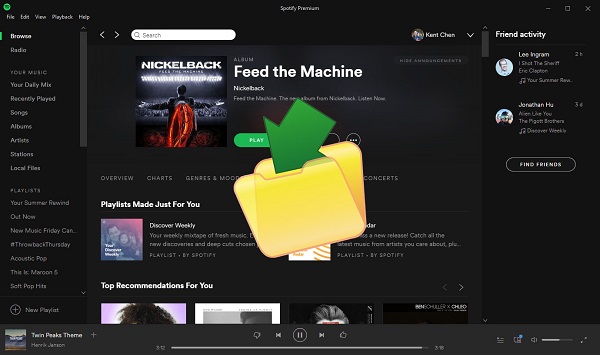 You're in luck - it's totally possible, and we're about to show you how to do it. In the following part, we are going to guide you how to download music from Spotify to your computer for offline listening, as well as provide an alternative way to save Spotify songs, podcasts or playlists to your computer without Spotify Premium.
1. Download Music from Spotify to Computer for Offline Listening
Spotify is officially available for Windows PCs and Apple Macs. Before we started, Spotify Premium subscribers need to have the Spotify client installed on your computer. And please keep the network in good working order.
Step 1. Open the Spotify app on your Mac or PC, sign into your Premium account.
Step 2. Navigate to the library and playlist, just turn the Download toggle gray button to green, and you will be seeing the songs being downloaded.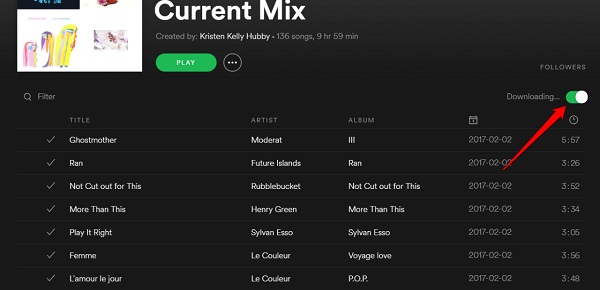 Step 3. After you've downloaded your selected playlists, Windows users can open Spotify app and click File in the top-left corner, choose the Offline Mode option. Mac users can click Spotify in the main menu, then select Offline Mode.
All the downloaded songs will be saved on the local folder of your computer. Now you are allowed to listen to your downloaded songs on your computer no matter if you're connected to the internet or not.
2. Save Spotify Songs to Computer with Macsome Spotify Downloader
With the method above, you can only sync and play the downloaded files within the Spotify app. What's more, the downloaded files are only cached copies, not actual songs. If you cancel Spotify Premium, you can't listen to them without internet. Besides, Spotify uses Ogg Vorbis as their streaming format with DRM copyright protection, which prevents you from saving songs from Spotify to your local computer.
To solve all the problems, we highly recommend Macsome Spotify Downloader to you. It is a professional Spotify Downloader yet Spotify Converter, which lets both Spotify free and Premium users to download single track, playlists, albums and podcasts to MP3 or other popular audio formats. Therefore, you can save Spotify music to local computer without limits. The following is the steps on converting Spotify tracks to your local computer.
Step 1. Download, install and launch Macsome Spotify Downloader on your PC.
If you are a Mac user, please download the Spotify Downloader for Mac version.
Step 2. Import the song or playlist from Spotify to the program.
Click "+" button, then you will see a pop-up window which indicates you to drag and drop the songs or playlist here. Open Spotify application, check the songs or playlist you would like to convert, then drag and drop them to add window.
Plus, you can also directly copy and paste the link of a song or playlist to the clipboard.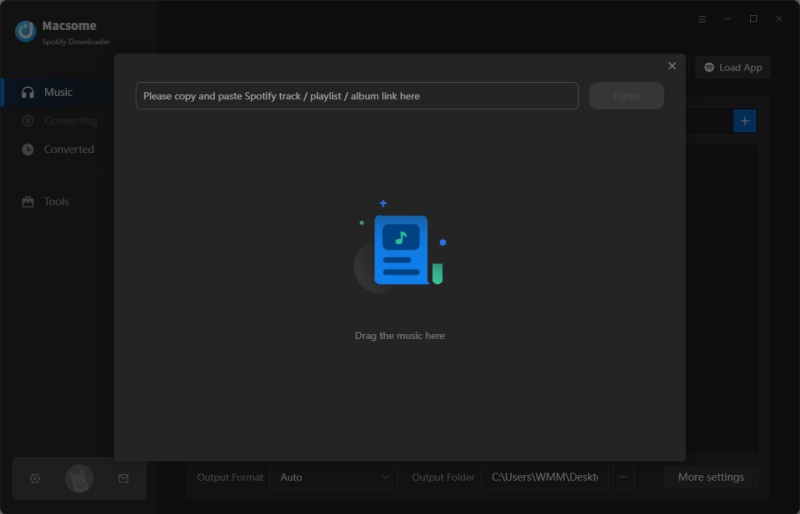 Step 3. Set Output Format.
Now move to the upper right corner of the interface and click the settings button. Now you can customize your output parameters as you like. Here we choose MP3 as the output format.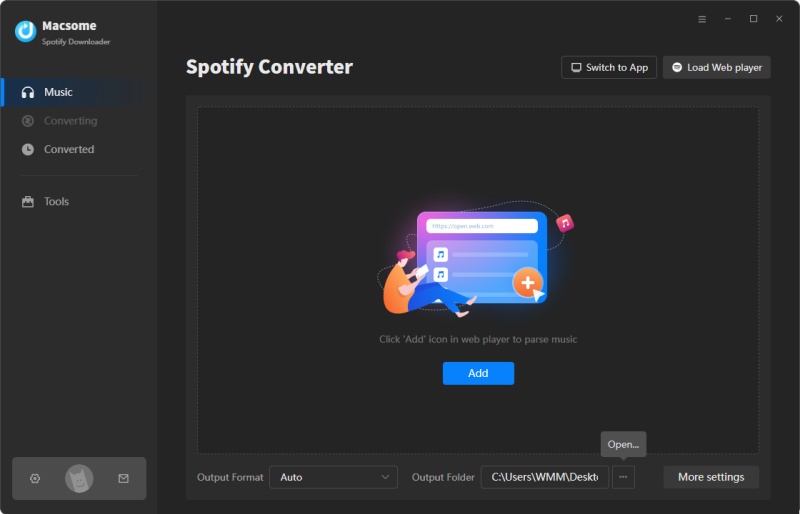 Step 4. Start to download Spotify Music to your computer.
Simply click "Convert" button to start downloading Spotify music to MP3 format.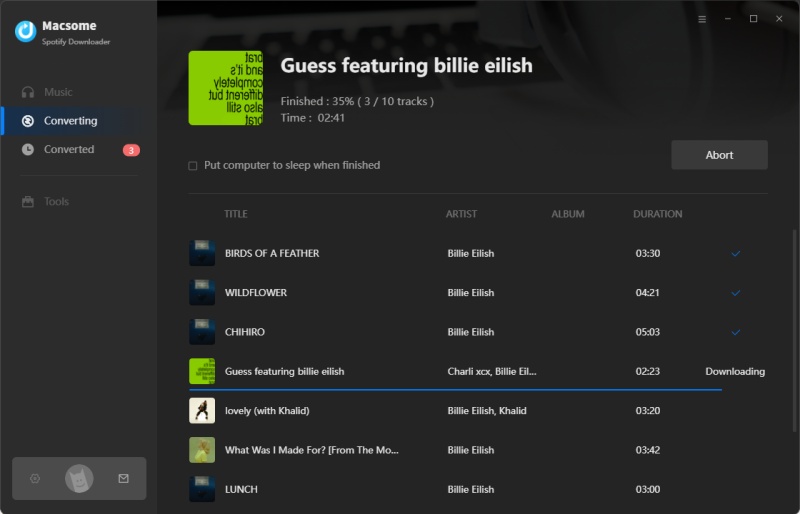 After conversion, you can find the downloaded Spotify songs in the "Converted" panel. Look, you can save Spotify songs on your computer easily.
Conclusion
With Macsome Spotify Downloader, you can download music from Spotify to MP3, AAC or other common audio formats on your computer. Although you cancel your Spotify Premium subscription, you can listen to the downloaded Spotify songs for offline.